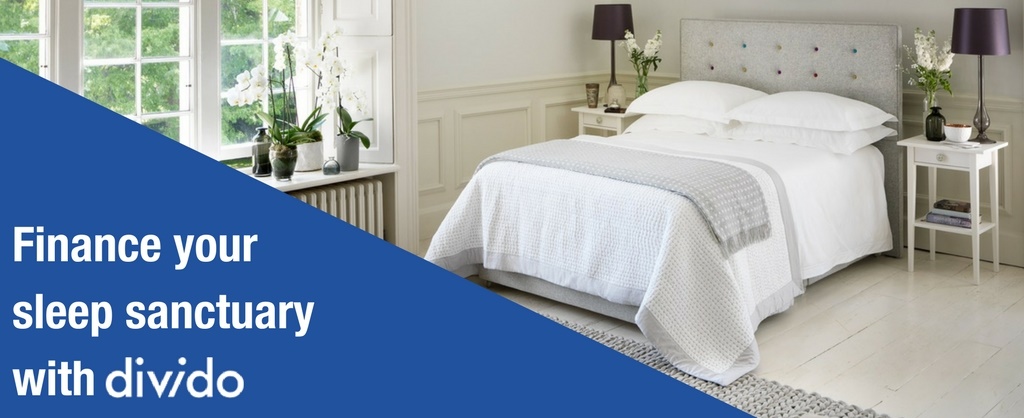 Woolroom have teamed up with multi-award winning technology company Divido to offer you a range of interest free instalment plans when you spend £450 or more with us on qualifying products.
The application process is simple, takes around 5 minutes to complete and is done online with a decision being made within just 30 seconds of completion.
Should you decide to take advantage of our 6, 9 or 12 month Interest Free instalment plans, you can sleep soundly (pun absolutely intended) knowing that there are absolutely no hidden charges...
For example, you could purchase:-
a Kingsize Dorset 5000 sprung wool mattress, with a suitable all-season deluxe bedding set from just £150.17 a month over 12 monthly instalments. (RRP £2002.21)
a Double Exmoor 1000 sprung wool mattress, with a light deluxe bedding set from just £63.54 a month over 12 monthly instalments. (RRP £847.21)
Am I eligible for finance?
Applying for an instalment plan is similar to applying for a new credit card. The details you provide are checked against public registers, such as credit-rating agencies. To increase the chances of acceptance, ideally, you will have good credit history (no late payments, CCJ's etc) - and meet the following criteria:
Be a UK resident
Be over 18 years of age
Have 3 years of UK address history
Be working at least 16 hours per week
Have a valid phone number and email address
Delivery must be made to the address that was submitted as part of the finance application
I have a question
You may find the answer to your question on our
FAQ's page
. If not, don't hesitate to get in touch by emailing info@thewoolroom.com, or by calling 01780 461217. A member of our team would be happy to assist.