Baby Sleeping Bags
Wool fill sleeping bags are the perfect solution for keeping little ones at a comfortable sleeping temperature and remove the ability to kick off their covers!

Filter

Filter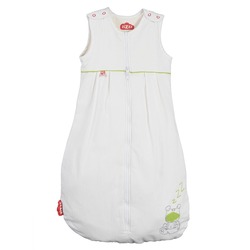 Wool Sleeping Bags - Wool babies are happier babies
At woolroom you can buy wool sleeping bags which are made from 100% cotton and Swiss wool.

The luxurious Swiss-wool sleeping bags we have for sale are perfect for babies to snuggle up with at night. These sleeping bags are designed for babies 0-6 months old and 6-24 months old.

Wool pillows and duvets are advised for babies 12 months plus, but when you buy these wool sleeping bags they are ideal for newborns right through to the troublesome twos! Wool helps your baby manage its personal micro-climate, what this really means for your baby is they'll be more comfortable at a more consistent temperature throughout the night and during nap times too.

Did you know that scientific research has shown that babies sleeping in wool wake fewer times, cry less, gain weight faster and are even noticeably less cranky throughout the day?! Wool is the one accessory your baby should never be seen without!!

Browse the wide range of wool sleeping bags for sale at woolroom today.