Classic Wool Duvet - Light
product code: 0102CLASSLIGHT
Our Classic Light Duvets are made with 100% British wool & medium thread count cotton. Suited to hot sleepers or night sweat sufferers.

Available for Home Delivery or Click & Collect

Available for Home Delivery
Description
Best Value British Wool Duvet
Our Classic Wool Duvet Range is our entry level range of wool duvets. This range of British wool filled products still offers many of the fantastic benefits of wool whilst also offering great value for money.
Our Light Classic duvet contains 250 gsm (3-6 tog) of 100% British wool filling and covered in a 220 thread count cotton outer to enhance breathability and aid thermoregulation.
The quilted stitched pattern ensures that the wool, and therefore your temperature, remains evenly spread. Wool also helps to regulate your temperature and is hypoallergenic. Being all natural, these duvets are totally sustainable, renewable, recyclable and biodegradable.
Compare Our Duvet Ranges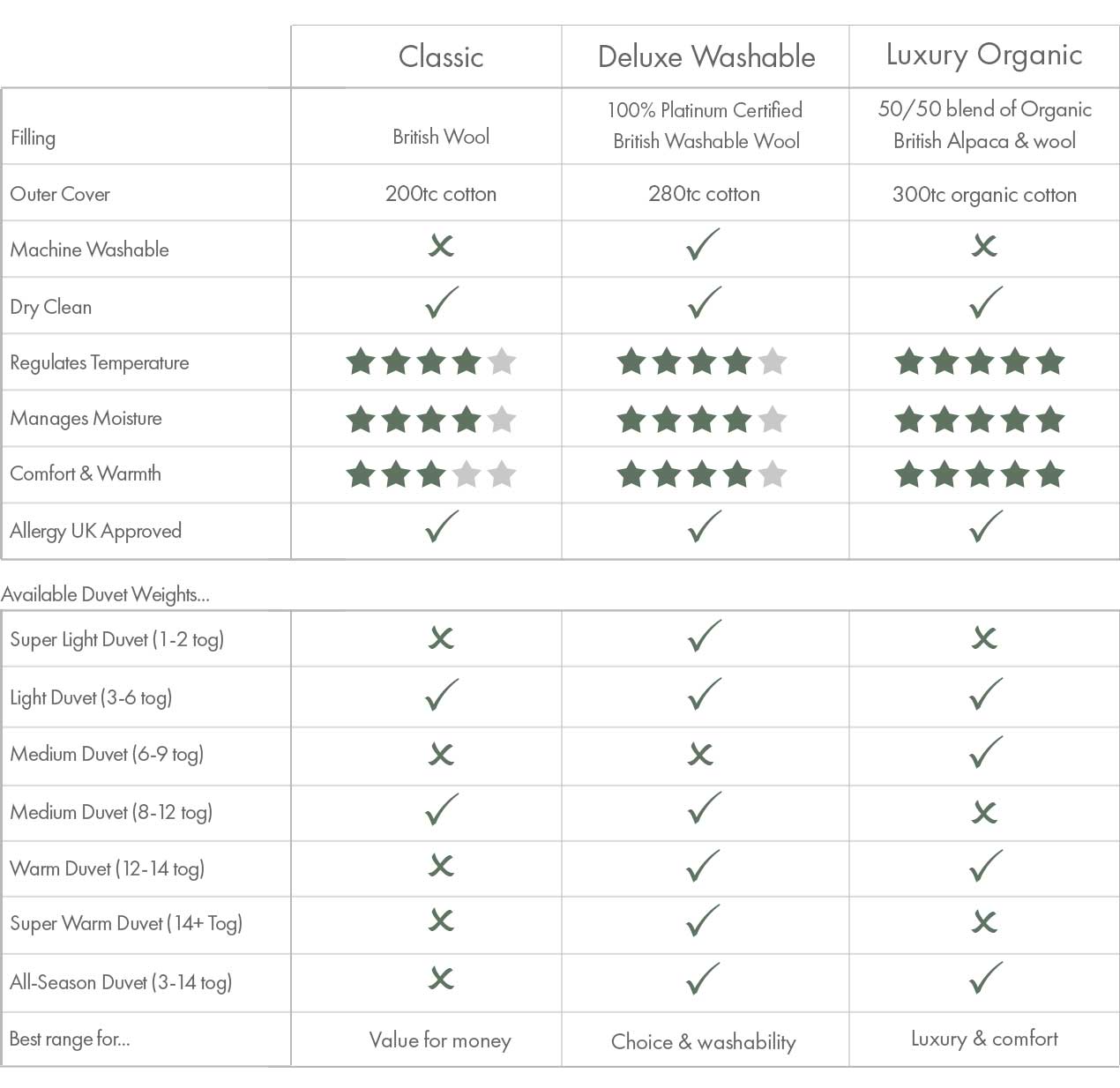 The Wool Room's range of wool bedding is the only proven natural hypoallergenic bedding option on the market. Scientific testing over a period of six weeks has shown that dust mites,cannot survive in wool which is why our range has been awarded the Allergy UK Seal of Approval. Great for those with asthma and allergies with no need to wash at 60 degrees or freeze your bedding to stay allergy free.
Construction
100% British Wool filling is completely held in place by quilted stitch pattern, no synthetic interliner, 100% natural. 200 thread count 100% cotton outer.
Washing
DRY CLEAN ONLY. Do not machine wash or tumble dry.
Care Instructions
Dry clean only.DO NOT MACHINE WASH OR TUMBLE DRY.
You might also want to consider...
The Wool Room
You can thank generations of experts for our excellent array of woll products - The Wool Room's specialists have been in the wool industry since 1888, and that's a lot of time to get to know about whool's miracle properties - and a lot of sheep to share! Our team of experts wants to bring the very best wool products to the market, so no woll blanket or wool duvet has left our workshop without going through over a decade of testing, tinkering and trialling

We had a low cost hollow fibre duvet, & due to my age, I was feeling boiling hot & then cold at night. I researched thoroughly what might be able to help, and wool duvets came up. I purchased one from the Wool Room, which had fantastic reviews, and am absolutely amazed at the difference it has made. My husband thought that I was going to force him to sleep under a duvet that was going to make him feel cold. Anyway, we are both toasty warm with our different temperature requirements!
Sarah Wilkins
X
Based on your location we've identified your currency should be USD
Please select your preferred currency.

GBP

EUR

USD