Deluxe Wool Duvet - All Season
product code: 0102DELALLSEASON
Versatile and flexible. Combines two wool duvets to put you in control of your sleep environment. Made with 100% British wool and natural cotton.

Available for Home Delivery or Click & Collect

Available for Home Delivery
Description
A Wool Room Deluxe All Seasons Duvet will give you the flexibility of matching your duvet to the seasons, along with a lifetime of value!
Our best selling range of British Wool Duvets offers great choice and flexibility whilst also providing the practicality of being machine washable. Wool is nature's miracle bedding fibre; it works to ensure you remain cool when it's hot and warm when it's not, it can also adjust to two different sleeper's temperatures. Sleeping with wool means you can enjoy 25% more Stage 4 regenerative sleep and wake up refreshed and full of vitality! Wool duvets are especially beneficial to those who suffer from allergies and asthma as wool is naturally hypoallergenic. Our deluxe range of duvets are easy to care for and long lasting; they contain 100% platinum certified British Wool and a 100% cotton high thread count outer cover.
woolroom's all season duvet is a combination of a light-weight and medium-weight duvet which you can popper together to make a winter-weight duvet! This duvet can be changed with the seasons to ensure you're never too hot or too cold in bed. The light-weight duvet is equivalent to approx. 3-5 Tog and the medium is appox. 6-9 Tog, so when combined they provide a cosy 11-14 Tog. The combination of strong poppers and deeper sleep (thanks to our wool) ensure your duvet stays put.
Compare Our Duvet Ranges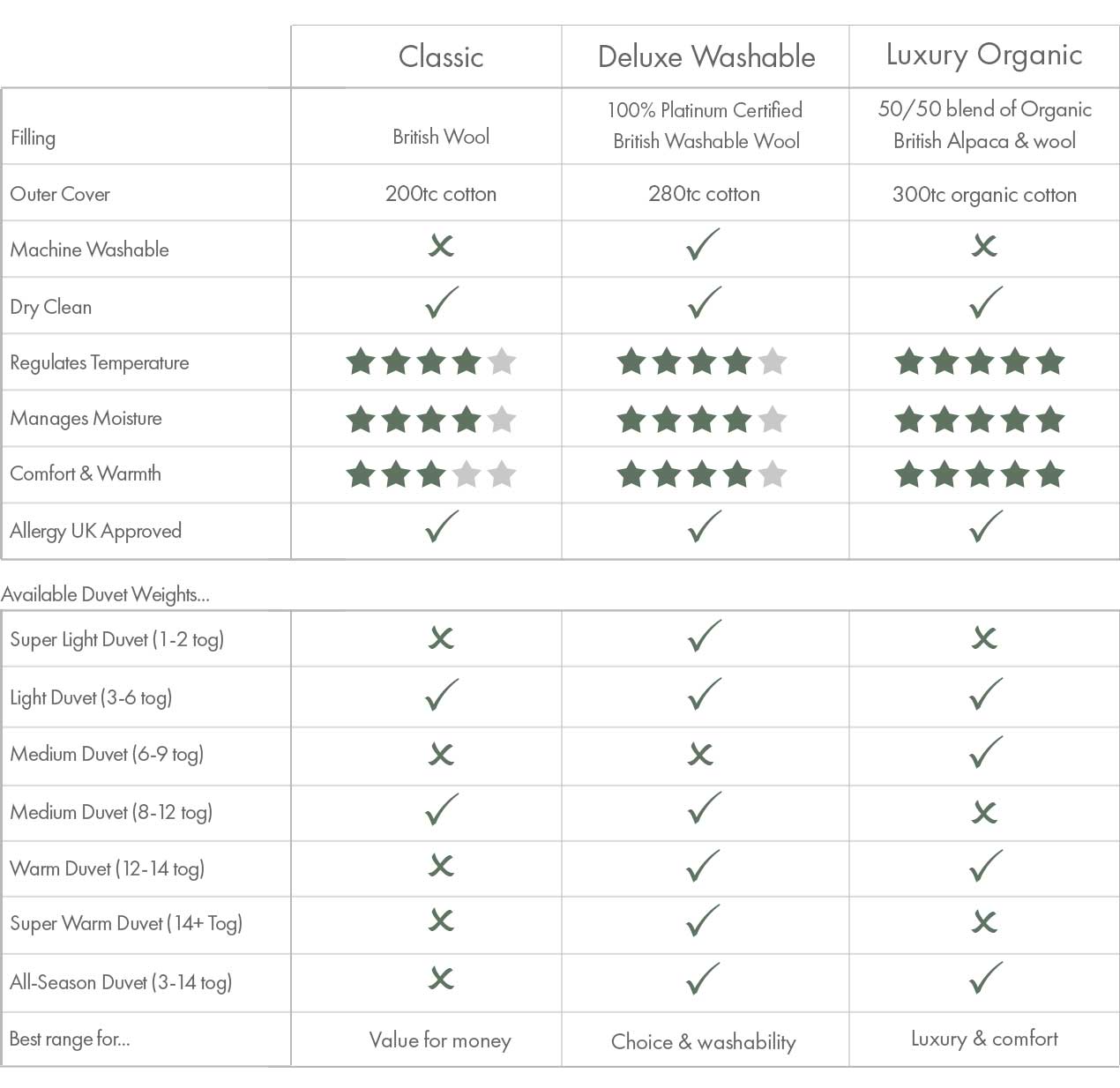 woolroom's range of wool bedding is the only proven natural hypoallergenic bedding option on the market. Scientific testing over a period of six weeks has shown that dust mites,cannot survive in wool which is why our range has been awarded the Allergy UK Seal of Approval. Great for those with asthma and allergies with no need to wash at 60 degrees or freeze your bedding to stay allergy free.
Construction
Pure washable 100% Platinum certified British Wool. No synthetic layer. Wool layer is completely held in place by quilted stitch pattern. 100% pure cotton outer.
DUVET 1:
200gsm (3-5 tog approx)
DUVET 2:
300gsm (6-9 tog approx).
COMBINED:
500gsm (11-14 tog approx).
No synthetic layer. Wool layer is completely held in place by quilted stitch pattern. 100% pure cotton outer.
Washing
Machine washable on wool cycle at 30 degrees with woolroom's duvet wash or other wool detergent. Line Dry only.

Care Instructions
Machine washable at 30 degrees on delicate or wool cycle with special wool detergent. Line or air dry only, DO NOT TUMBLE DRY.
You might also want to consider...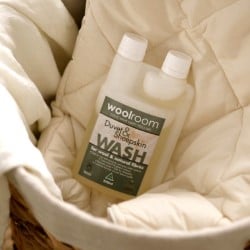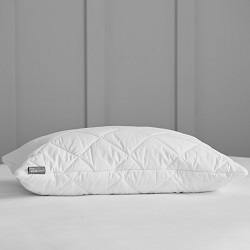 British wool, adjustable tention, washable pillow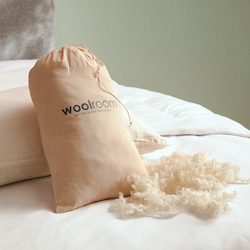 Make your Deluxe pillows firmer with extra filling - 250g
After searching the Internet for a wool mattress topper we decided to go for the Deluxe, due to its higher GSM (1000gsm) compared to others. It is really well made; the elastic straps are effective and the cotton casing nice and soft. Thanks to the topper, both my husband and I are sleeping better in the night, turning less frequently. I used to feel achy in the morning but that has really improved. Having spent a lot on a high quality mattress, we did wonder whether the topper would make a difference but it has. Would really recommend to anyone! Delivery was quick and efficient.
Anna Cook