Deluxe Wool Duvet - Light
product code: 0102DELLIGHT
High thread count cotton and 100% British wool, combined to give warm sleepers and night sweat sufferers a great nights sleep.
Description
Wool duvets - the ultimate in cool.
Our best selling range of British Wool Duvets offer great choice and flexibility whilst also providing the practicality of being machine washable. Wool is nature's miracle bedding fibre; it ensures you remain cool when it's hot and warm when it's not and can adapt to two different sleeper's temperatures. This is because, as a naturally dry fibre, wool can absorb 33% of its own weight in moisture thus ensuring that you do not overheat.
Wool is also particularly beneficial for those who suffer from allergies and asthma as it is naturally hypoallergenic. All our wool duvets are made from 100% Platinum certified British wool, a natural, renewable and biodegradable resource.
Compare Our Duvet Ranges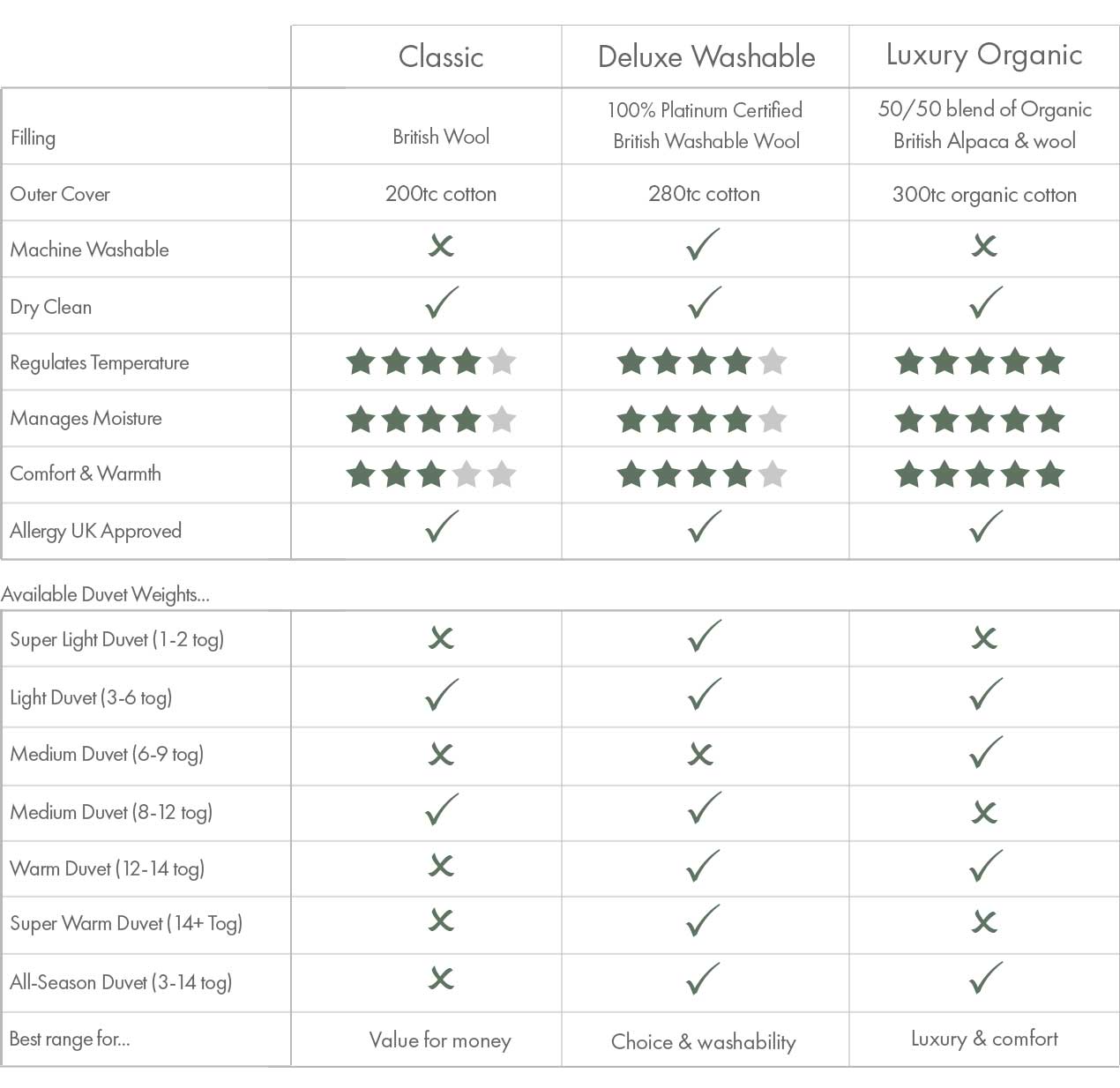 The Wool Room's range of wool bedding is the only proven natural hypoallergenic bedding option on the market. Scientific testing over a period of six weeks has shown that dust mites,cannot survive in wool which is why our range has been awarded the Allergy UK Seal of Approval. Great for those with asthma and allergies with no need to wash at 60 degrees or freeze your bedding to stay allergy free.
Construction
Pure washable 100% Platinum certified British Wool 250gsm (3-6 tog approx). No synthetic layer. Wool layer is completely held in place by quilted stitch pattern. 100% pure cotton outer.
Washing
Machine washable on wool cycle at 30 degrees with The Wool Room's duvet wash or other wool detergent. Line Dry only.

Care Instructions
Machine washable at 30 degrees on delicate or wool cycle with special wool detergent. Line or air dry only, DO NOT TUMBLE DRY.
You might also want to consider...
First I bought two pillows which are excellent - as firm or soft as you want to make them, and no more "hot heads" since they really do breathe. So, timidly, I bought a luxury double duvet - and am thrilled. Your descriptions are not hyperbole, the duvet really does suit us both. I am cosy and warm at last, while my husband is not longer too hot and throwing the duvet off by morning. Your products are excellent value because I can tell they will last much, much longer than conventional duvets and pillows. Well made, beautifully packed and rapidly dispatched. Thank you!
Lesley Reynolds