Deluxe Wool Duvet - Super Light
product code: 0102DELSUPLIGHT
Our Super Light wool duvet is the UK's lightest 100% natural wool duvet. If you are just too hot; this is the duvet you need in your life.

Available for Home Delivery or Click & Collect

Available for Home Delivery
Description
Far Too Hot in Bed? Keep cool with The Wool Room Superlight Duvet
Our Super Light duvet is aimed at the 'ultra hot sleeper' - those who really struggle with overheating at night and therefore only use a sheet or thin bedspread in the summer.
The Super Light Deluxe duvet comes with all the fabulous benefits of our deluxe range. It is machine washable, hypoallergenic, temperature regulating and dust mite resistant. It is made from platinum certified wool and has a 100% cotton outer.
Along with the rest of our range, it can help you get up to 25% more regenerative sleep. It is filled with only 150gsm of platinum certified British wool this equates to 1-2 tog.
Compare Our Duvet Ranges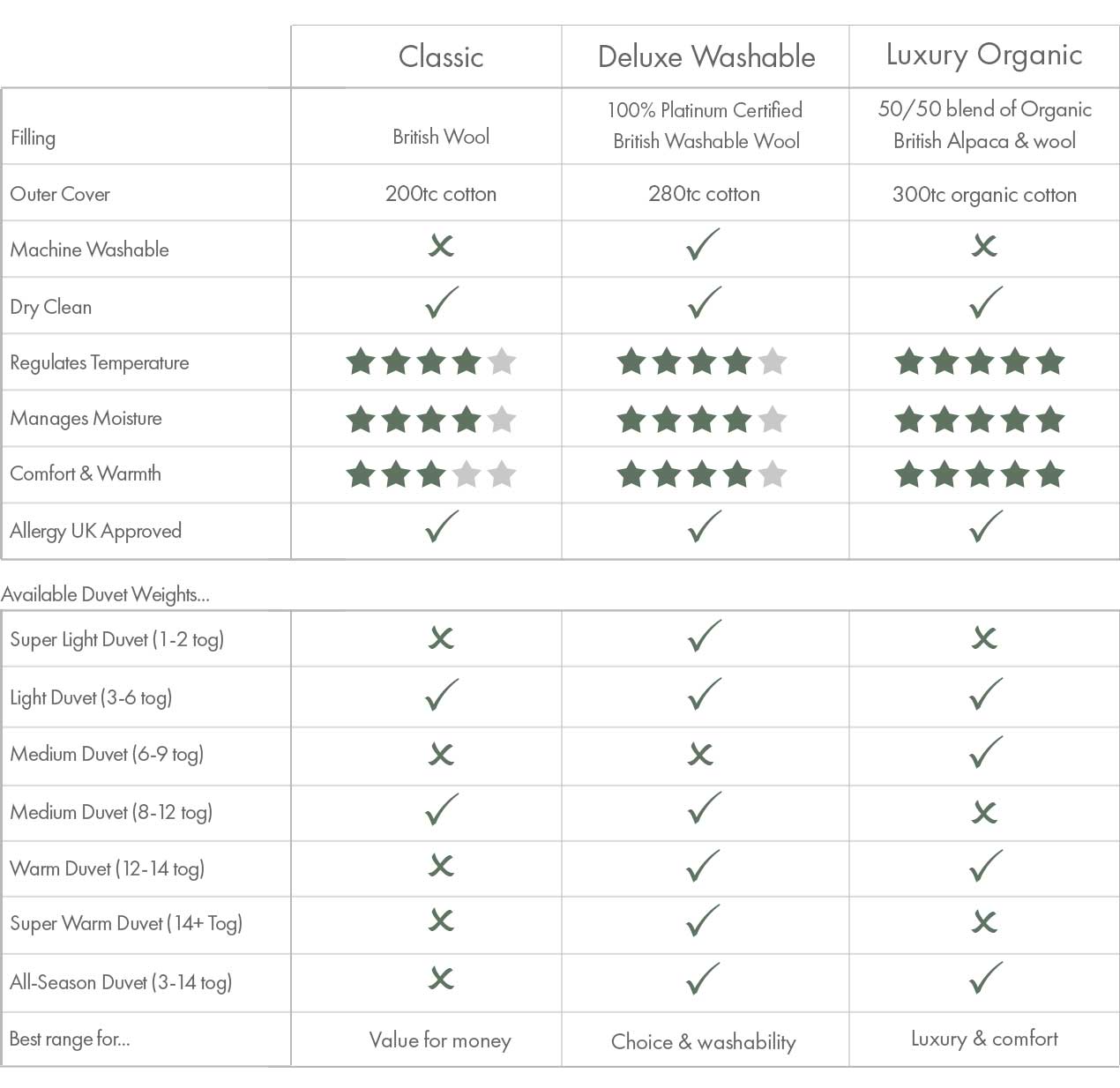 The Wool Room's range of wool bedding is the only proven natural hypoallergenic bedding option on the market. Scientific testing over a period of six weeks has shown that dust mites,cannot survive in wool which is why our range has been awarded the Allergy UK Seal of Approval. Great for those with asthma and allergies with no need to wash at 60 degrees or freeze your bedding to stay allergy free.
Construction
Pure washable 100% Platinum certified British Wool 150gsm (1-2 tog approx). No synthetic layer. Wool layer is completely held in place by quilted stitch pattern. 100% pure cotton outer.
Washing
Machine washable on wool cycle at 30 degrees with The Wool Room's duvet wash or other wool detergent. Line Dry only.

Care Instructions
Machine washable at 30 degrees on delicate or wool cycle with special wool detergent. Line or air dry only, DO NOT TUMBLE DRY.
You might also want to consider...
Service was quick and efficient. Product was well packaged and arrived in good condition. I bought a pillow and a medium superking quilt. I love that you can adjust the pillow stuffing to suit. Both products seem to do exactly as advertised. Early days but I think my bedtime allergies have reduced.
Aileen Woodland
X
Based on your location we've identified your currency should be USD
Please select your preferred currency.

GBP

EUR

USD