EU Size Deluxe Wool Pillow
product code: 0103DELUXEU
Our best selling Deluxe adjustable & hypoallergenic pillows are now available in European sizes.

Available for Home Delivery or Click & Collect

Available for Home Delivery
Description
Sleep naturally with the UK's best adjustable Deluxe Wool Pillow
Our unique wool pillow makes an excellent healthy addition to the wool sleep experience. Offering all the moisture control properties of wool, this pillow contributes to giving you 25% more Stage 4 regenerative sleep.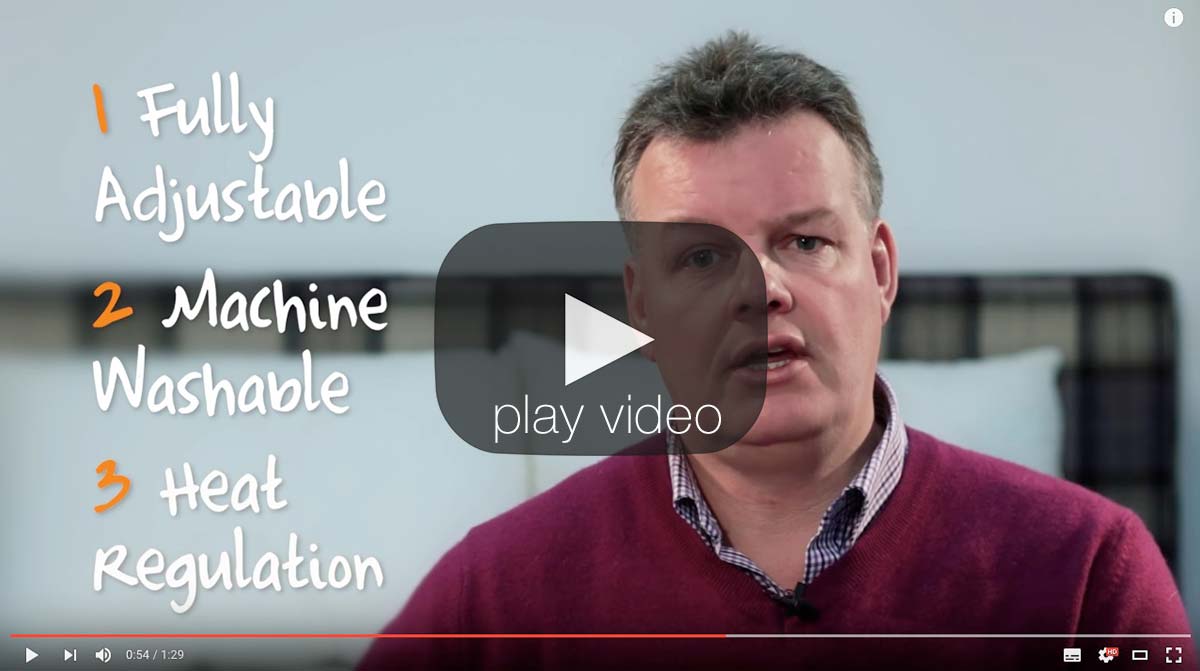 This pillow is truly adjustable. You can tailor the filling to make it into the perfect pillow for you!
When your pillow arrives, simply un-zip the tab-less safety zip by sliding it open using your thumb and index finger. Inside you'll find a filling of natural wool clusters, which we call 'wool balls'.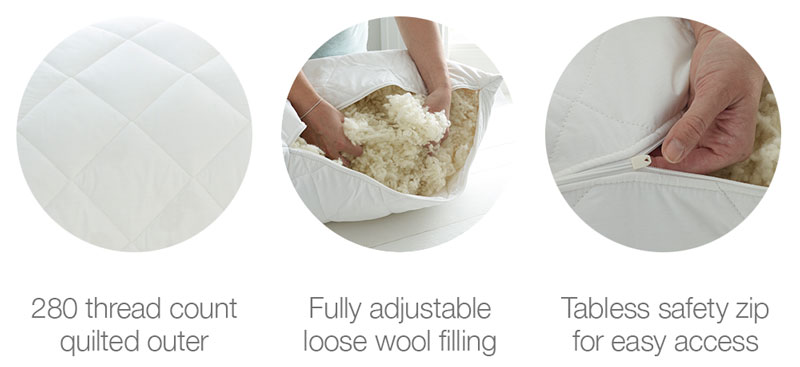 Softer Pillow
If you like a softer pillow - dig your hands in and pull the clusters apart adding air and plumping up your pillow.
Flatter Pillow
If you like a flatter pillow, remove a suitable quantity of wool to make the pillow just the right height for you.
TOP TIP: Use the calico bag that your pillow arrives in to store any excess wool
Deeper, Firmer Pillow
If you like a deeper, firmer pillow you can buy
extra wool
to stuff your pillow really full! The longer you leave your pillow the firmer it will start to feel, so for a softer fluffier pillow, feel free to regularly shake it up and pull apart the wool inside. Perfect!
The Wool Room's range of wool bedding is the only proven natural hypoallergenic bedding option on the market. Scientific testing over a period of six weeks has shown that dust mites,cannot survive in wool which is why our range has been awarded the Allergy UK Seal of Approval. Great for those with asthma and allergies with no need to wash at 60 degrees or freeze your bedding to stay allergy free.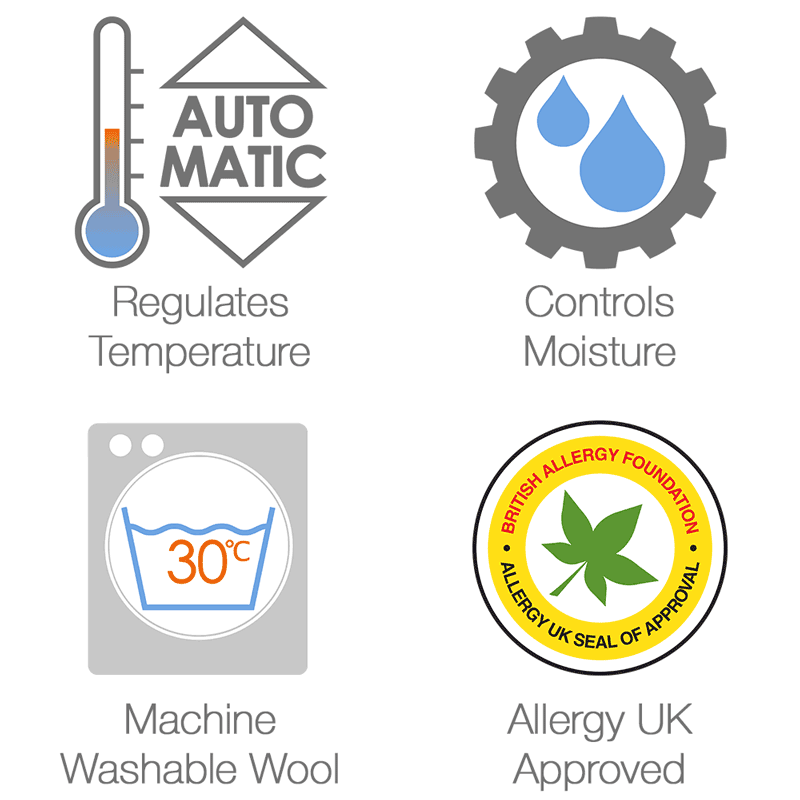 Construction
Washable 100% British Wool filling, removable and washable 280 thread count 100% cotton outer quilted with 100% British wool
Washing
Machine washable at 30 degrees. Line or drip dry. DO NOT TUMBLE DRY.
Care Instructions
Machine washable at 30 degrees on delicate or wool cycle with special wool detergent. Line or air dry only, DO NOT TUMBLE DRY.
We had a low cost hollow fibre duvet, & due to my age, I was feeling boiling hot & then cold at night. I researched thoroughly what might be able to help, and wool duvets came up. I purchased one from the Wool Room, which had fantastic reviews, and am absolutely amazed at the difference it has made. My husband thought that I was going to force him to sleep under a duvet that was going to make him feel cold. Anyway, we are both toasty warm with our different temperature requirements!
Sarah Wilkins