Finlay Fox Felt Slippers
product code: 0307FFOXSLIP
Hand made felted slippers. Designed in the UK and traditionally made using chemical free techniques using natural materials.
Description
Little friends for little feet!
These slippers are designed in England and beautifully hand made in Kathmandu, providing sustainable, traditional work for women in rural Nepal. Each little pair of these cute little slippers is therefore unique and crafted with a great deal of skill.
Our felt slippers are crafted by shaping the organic Tibetan wool with soap, water and hand pressure, no chemicals are used during the process and all our pigments are eco friendly. Once made, the felt shapes are then left to slowly dry under the warm Nepalese sun; delicately sewn features and soft non slip suede soles finish these perfect little animal slippers.
Eco-friendly and beautiful, these slippers are made from a natural, renewable resource.
Size
Various
Construction
100% Organic Tibetan Wool
Washing
Dry Clean Only
Ideal For
Snuggling little feet!
Care Instructions
Dry clean only.DO NOT MACHINE WASH OR TUMBLE DRY.
Other Baby Boots & Slippers...
2-3 YRS UK 8
(£23.99)

£12.95
4-5 YRS UK 10
(£23.99)

£12.95
0-1 yr UK 1
(£23.99)

£12.95
1-2 yrs UK 4
(£23.99)

£12.95
2-3 YRS UK 8
(£23.99)

£12.95
4-5 YRS UK 10
(£23.99)

£12.95
6-7 YRS UK 12
(£23.99)

£12.95
0-1 yr UK 1
(£23.99)

£12.95
1-2 yrs UK 4
(£23.99)

£12.95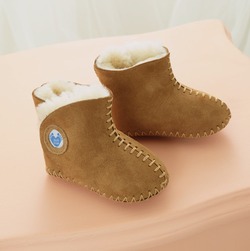 After searching the Internet for a wool mattress topper we decided to go for the Deluxe, due to its higher GSM (1000gsm) compared to others. It is really well made; the elastic straps are effective and the cotton casing nice and soft. Thanks to the topper, both my husband and I are sleeping better in the night, turning less frequently. I used to feel achy in the morning but that has really improved. Having spent a lot on a high quality mattress, we did wonder whether the topper would make a difference but it has. Would really recommend to anyone! Delivery was quick and efficient.
Anna Cook