Luxury Alpaca Duvet - All Season
product code: 0102LUXALLSEASON
Take control of your sleeping environment with our most sumptuous and beautiful Luxury All Season duvets. 100% British wool & alpaca with 100% organic cotton.

Available for Home Delivery or Click & Collect

Available for Home Delivery
Description
All natural and all luxurious...
Our exclusive Luxury British Alpaca wool duvets are the lightest and most sumptuous of our bedding range.The Luxury Alpaca range uses a blend of British Alpaca and Platinum certified British wool and wrapped in a 300 thread count organic cotton cover.
This bedding is proven scientifically to give you up to 25% more regenerative sleep by harnessing the natural thermoregulating properties of natural wool fibres, and what's more, as with all of our bedding the Luxury Alpaca range of duvets carries the Allergy UK Seal of Approval because of its hypoallergenic properties co you can be sure you'll get a better nights sleep.
All seasons duvets combine two different weight duvets giving you all year round comfort; one at a light-weight 200 gram per square metre (3-5 tog) and a medium-weight 300 gram per square metre (6-9 tog). When combined they create a 500 gsm (9-14 tog) warm duvet for the colder months with extra warmth.
Compare Our Duvet Ranges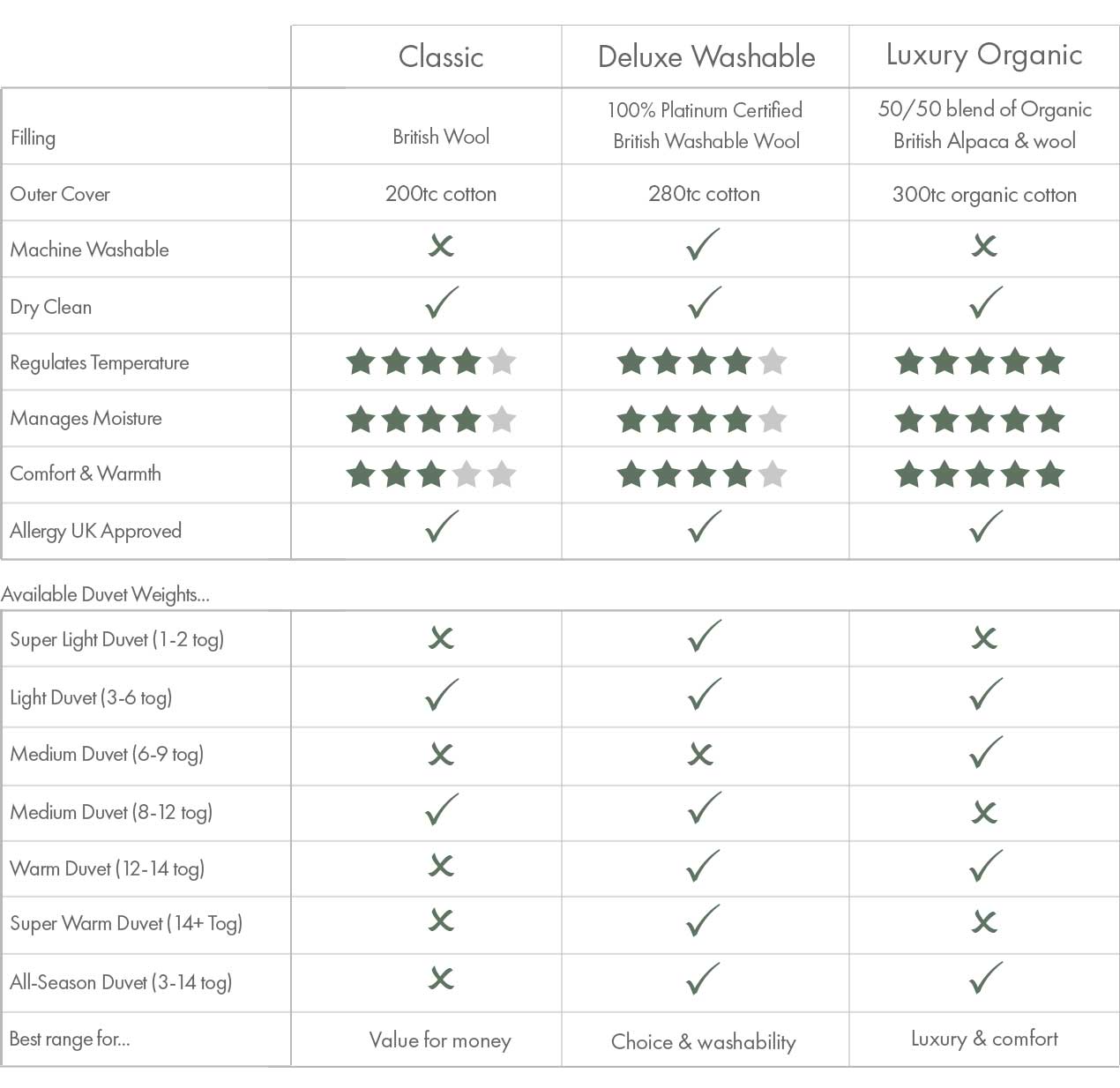 The Wool Room's range of wool bedding is the only proven natural hypoallergenic bedding option on the market. Scientific testing over a period of six weeks has shown that dust mites,cannot survive in wool which is why our range has been awarded the Allergy UK Seal of Approval. Great for those with asthma and allergies with no need to wash at 60 degrees or freeze your bedding to stay allergy free.
Construction
50/50 British wool & British Alpaca filling, 100% organic 300 thread count cotton outer.
DUVET 1: 200gsm (3-5 tog approx).
DUVET 2: 300gsm (6-9 tog approx).
COMBINED: 500gsm (11-14 tog approx).
No synthetic layer; filling is completely held in place by quilted stitch pattern.
Washing
Dry clean only. DO NOT MACHINE WASH. DO NOT TUMBLE DRY.
Care Instructions
Dry clean only.DO NOT MACHINE WASH OR TUMBLE DRY.
You might also want to consider...
This bedding has changed my life. After a 3 year desensitising programme at the allergy clinic, emptying my bedroom of carpets and curtains, boil washing bedding twice a week, buying new pillows every month I now have a normal approach to bedroom life. I sleep better, don't have to set the alarm for 6.00am in order to take my decongestion tablets, anti histamines and sprays so that I can get up and go to work. The allergy clinic should be informed about the value of wool. I saw at least 3 different consultants who gave me loads of suggestions but not one mentioned wool bedding. Thank you
Denise Davies
X
Based on your location we've identified your currency should be USD
Please select your preferred currency.

GBP

EUR

USD