Luxury Alpaca Duvet - Light
product code: 0102LUXLIGHT
Beautifully light and luxurious, this is the lightest duvet in our Luxury range. British Wool & alpaca is blended to offer you superior temperature control.

Available for Home Delivery or Click & Collect

Available for Home Delivery
Description
All natural and all luxurious...
Our exclusive Luxury British Alpaca wool duvets are the lightest and most sumptuous of our bedding range. The Luxury Alpaca range uses a blend of British Alpaca and Platinum certified British wool and wrapped in a 300 thread count organic cotton cover.
This bedding is proven scientifically to give you up to 25% more regenerative sleep by harnessing the natural thermoregulating properties of natural wool fibres, and what's more, as with all of our bedding the Luxury Alpaca range of duvets carries the Allergy UK Seal of Approval because of its hypoallergenic properties co you can be sure you'll get a better nights sleep.
Our Light Luxury duvets are made with 200 grams per sq. metre (3-5 tog) of 100% British wool & British alpaca blend. Designed for the warmer months of the year, hot sleepers and those suffering with extreme night sweats. This is because wool has the ability to regulate your temperature by wicking away moisture, thus helping you to stay warm and cosy without overheating.
Compare Our Duvet Ranges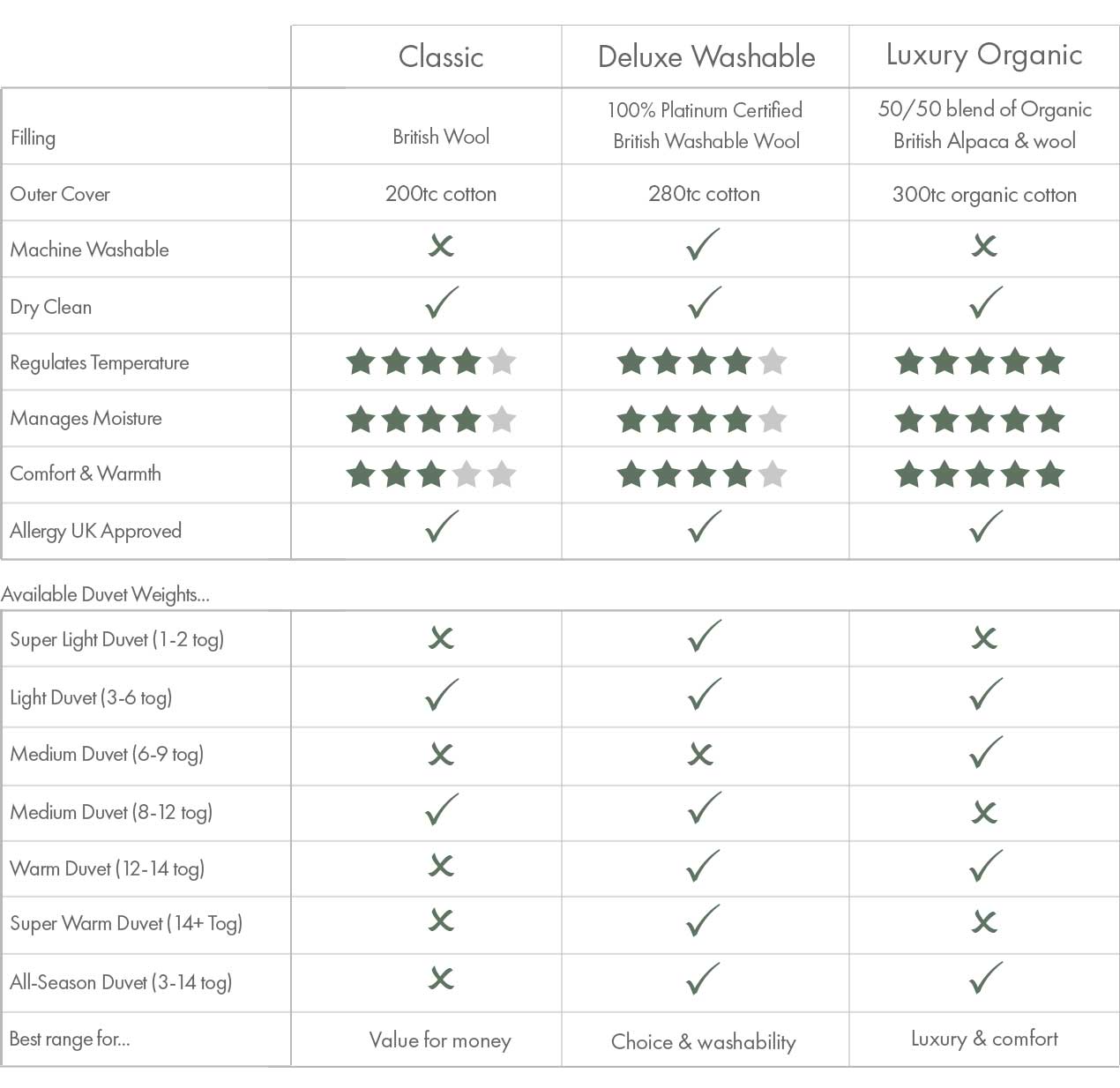 woolroom's range of wool bedding is the only proven natural hypoallergenic bedding option on the market. Scientific testing over a period of six weeks has shown that dust mites,cannot survive in wool which is why our range has been awarded the Allergy UK Seal of Approval. Great for those with asthma and allergies with no need to wash at 60 degrees or freeze your bedding to stay allergy free.
Construction
200gsm (3-5 tog approx) 50/50 British wool & British Alpaca filling, 100% organic 300 thread count cotton outer. No synthetic layer; filling is completely held in place by quilted stitch pattern.
Washing
Dry clean only. DO NOT MACHINE WASH. DO NOT TUMBLE DRY.
You might also want to consider...
We had a low cost hollow fibre duvet, & due to my age, I was feeling boiling hot & then cold at night. I researched thoroughly what might be able to help, and wool duvets came up. I purchased one from the Wool Room, which had fantastic reviews, and am absolutely amazed at the difference it has made. My husband thought that I was going to force him to sleep under a duvet that was going to make him feel cold. Anyway, we are both toasty warm with our different temperature requirements!
Sarah Wilkins