Luxury Alpaca Pillow
product code: 0103LUXURY
Our most beautiful pillow giving superior comfort and rebound. Made with the same 100% British wool & alpaca blend as the rest of our Luxury bedding collection.

Available for Home Delivery or Click & Collect

Available for Home Delivery
Description
Discover the benefits of our finest all natural, wool and alpaca pillows
Our Alpaca Luxury pillows are soft, sumptuous and, most importantly, promote an excellent nights sleep.

Filled with a 50/50 blend of alpaca and platinum certified British wools they are an excellent solution for allergy sufferers and restless sleepers.
Multiple Tensions
Soft Tension

- The soft tension pillow is best suited to front/back sleepers, or those with particularly narrow shoulders

Medium Tension

- The medium tension pillow is best suited to side sleepers, or those with slightly more broad shoulders

Firm Tension

- The firm tension pillow is really quite firm, therefore is best suited to those who really do like a lot of support from their pillow
Our pillows are certified by Allergy UK as being almost 100% resistant to dust mites without the use of additional products or treatment and also benefit both asthma and eczema suffers.
Wool also helps against night sweats by aiding your body in temperature regulation and the ability to wick away moisture more effectively than synthetic fibres and traditional down fillings.

Size
48x74cm (18.5"x29" approx.)
Filling
Soft tension: 700gsm of 50/50 British Wool/Alpaca Blend
Medium tension: 900gsm of 50/50 British Wool/Alpaca Blend
Firm tension: 1100gsm of 50/50 British Wool/Alpaca Blend
Cover
100% 300 thread count organic cotton. Quilted 300gsm. No synthetic layer
Washing
Inner pillow Dry clean only. Air and shake regularly. Outer quilted cover can be machine washed on a delicate cycle with suitable detergent.
Ideal for
Our alpaca bedding is beneficial for those who suffer night sweats, restless nights, asthma and allergies
When combined with an Alpaca Luxury duvet and mattress enhancer you will be able to achieve a deeper sleep; up to 25% more regenerative sleep! This is due to the unique properties of wool.
Need help choosing your ideal bedding? Call us on: +44 (0)1780 461217 or email us at: info@thewoolroom.com
Care Instructions
Dry clean only.DO NOT MACHINE WASH OR TUMBLE DRY.
You might also want to consider...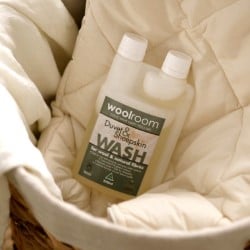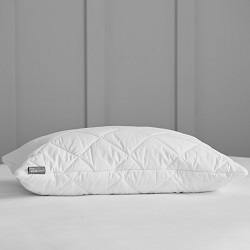 British wool, adjustable tention, washable pillow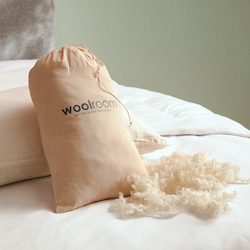 Make your Deluxe pillows firmer with extra filling - 250g
Buying a wool filled quilt was the best thing I've ever done. No more getting hot one minute and cold the next. As a chronic insomniac, I am pleased to report an improvement in my sleep also. I also completed my bed with a wool under blanket and pillow. All products are of a very high standard of manufacture and arrived promptly by courier. Highly recommend the Wool Room and it's first rate products.
Theresa Coates