Fleece Mattress Enhancer
product code: 0105MERINOFLEECE
Double sided fleece enhancer with short and long pile sides. This is our best performing and most flexible mattress enhancer.
Description
Enhance your comfort...
Made with luxuriously soft merino wool, this mattress enhancer is the bed topper of your dreams. We've made this enhancer double sided - one side is shorter wool and one side is longer. Pick your favourite or flip your topper over with the seasons for extra comfort, the shorter side keep you cooler in the summer and the longer side keeps you warmer in the winter. Add this enhancer to your mattress to provide temperature control, add depth and offer superior comfort from the luxuriously soft merino wool. You can either sleep on the enhancer directly or cover with your usual cotton bedlinen, the choice is yours. Secured by elastic straps on each corner of the bed, this enhancer is easy to manage and is even machine washable on a wool cycle! New and improved design for 2015 available now!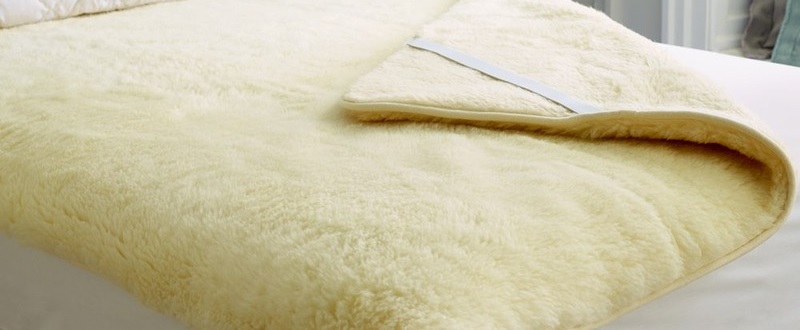 Filling
1350gsm of wool. (Long 750gsm & Short 600gsm). 100% Merino Wool
Construction
Double sided merino wool with elastic corner straps
Washing
Machine wash on wool cycle at 30 degrees with wool detergent. Line or drip dry
Product depth
Approximately 3-4cm (1.5 inch).
Care Instructions
Machine washable at 30 degrees on delicate or wool cycle with wool detergent. Line or air dry only, DO NOT TUMBLE DRY.
You might also want to consider...
Other Wool Mattress Toppers...
We had a low cost hollow fibre duvet, & due to my age, I was feeling boiling hot & then cold at night. I researched thoroughly what might be able to help, and wool duvets came up. I purchased one from the Wool Room, which had fantastic reviews, and am absolutely amazed at the difference it has made. My husband thought that I was going to force him to sleep under a duvet that was going to make him feel cold. Anyway, we are both toasty warm with our different temperature requirements!
Sarah Wilkins