Wool Cot Mattress Enhancer
product code: 0301COTENHANCER
Lambs wool enhancer for your baby's mattress. Promotes rested sleep by regulating temperature and drawing moisture away while they sleep.

Available for Home Delivery or Click & Collect

Available for Home Delivery
Description
More than just a mattress protector...

We often consider what bedding our child has covering them while they sleep, but not the materials they are sleeping on top of. Since your baby needs plenty of rest in it's early years a machine washable wool mattress protector from woolroom is the perfect addition to your travel cot bed to ensure a happier and healthier night's sleep.

Synthetic materials can stop your baby's skin from breathing naturally, but scientific studies have shown that babies+sleeping+in+wool+bedding+sleep more soundly, gain weight faster and even cry significantly less! This is because a 100% natural wool mattress protector not only adds extra comfort thanks to a quilted layer of wool equivalent to a light weight duvet, but more importantly+it helps to regulate the baby's temperature throughout the night thanks to the clever natural properties of wool fibres.

Our Babywool range is a great natural alternative for young ones with allergies and asthma as it's been awarded the Allergy UK Seal of approval for resistance to dust mites, dust mite allergens and fungus. It's even a great choice for babies with eczema as it keeps your baby's skin comfortable and dry.

This product has been certified by Oeko-Tex Standard 100.
Care Instructions
Machine washable at 30 degrees on delicate or wool cycle. Line or air dry only, DO NOT TUMBLE DRY.
You might also want to consider...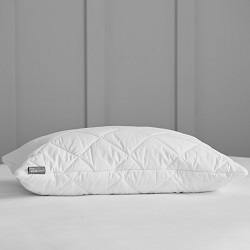 British wool, adjustable tention, washable pillow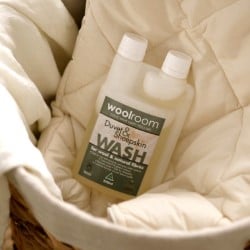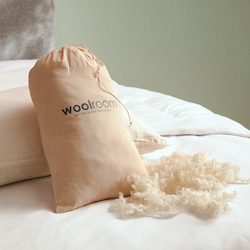 Make your Deluxe pillows firmer with extra filling - 250g
Other Wool Baby Bedding...
After searching the Internet for a wool mattress topper we decided to go for the Deluxe, due to its higher GSM (1000gsm) compared to others. It is really well made; the elastic straps are effective and the cotton casing nice and soft. Thanks to the topper, both my husband and I are sleeping better in the night, turning less frequently. I used to feel achy in the morning but that has really improved. Having spent a lot on a high quality mattress, we did wonder whether the topper would make a difference but it has. Would really recommend to anyone! Delivery was quick and efficient.
Anna Cook