Deluxe Wool Mattress Protector
product code: 0104PROTECTOR
Protect your mattress and your sleep. Our Wool Filled Protector is made with 250g of wool to add a hypoallergenic, temperature regulating layer to your mattress.

Available for Home Delivery or Click & Collect

Available for Home Delivery
Description
A Wool Base-Layer - A Wool Protector that performs!
Quite simply the best wool protector on the market, this investment is changing the lives of our customers. Not only does it complete the ultimate wool sleep system to make the perfect wool sleep cocoon, it simply is the best natural addition you can make to your mattress, whatever its construction. Wool is the miracle bedding fibre. It helps to control moisture management and therefore your temperature, giving you a much more comfortable nights sleep.

Memory foam mattresses for example, can retain alot of heat - this wool mattress protector acts as a barrier taking away the moisture, leaving you cooler and more comfortable, so you sleep deeper and better. This substantial quilted mattress protector is filled with a good 250 gsm layer of carded wool, made from 100% British wool, for added comfort and insulation from below. It is the ideal humidity controller - keeping you warm in Winter and yet cool in Summer.

The Wool Room's range of wool bedding is the only proven natural hypoallergenic bedding option on the market. Scientific testing over a period of six weeks has shown that dust mites,cannot survive in wool which is why our range has been awarded the Allergy UK Seal of Approval. Great for those with asthma and allergies with no need to wash at 60 degrees or freeze your bedding to stay allergy free.
Filling
Pure washable Sunrise wool. No synthetic layer
Cover
100% Cotton Construction, Wool layer (250gsm) is completely held in place by quilted stitch pattern. 35cm deep elasticated skirt.
Construction
Wool layer is completley held in place by quilted stitch pattern
Washing
Machine Wash on wool cycle with The Wool Room's Duvet Wash or other wool detergent, line dry for best results.
Care Instructions
Machine washable at 30 degrees on delicate or wool cycle. Line or air dry only, DO NOT TUMBLE DRY.
You might also want to consider...
Other Wool Mattress Protectors...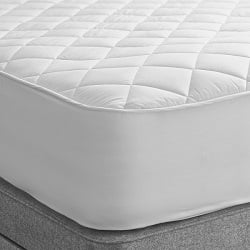 140x200 cm
(£104.99)

£83.99
180x200 cm
(£109.99)

£87.99
160x200 cm
(£114.99)

£91.99
200x200 cm
(£139.99)

£111.99
EU sizes - multiple options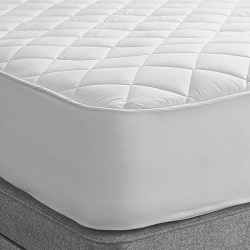 Twin (39x75 inch)
(£99.99)

£79.99
Full (39x80 inch)
(£119.99)

£95.99
Queen (60x80 inch)
(£139.99)

£111.99
King (76x80 inch)
(£169.99)

£135.99
US sizes - multiple options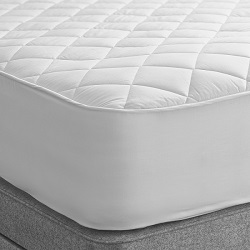 single (90x190 cm)
(£84.99)

£67.99
single XL (90x200 cm)
(£89.99)

£71.99
double (135x190 cm)
(£94.99)

£75.99
small double (120x190 cm)
(£94.99)

£75.99
king (150x200 cm)
(£104.99)

£83.99
superking (180x200 cm)
(£114.99)

£91.99
emperor (200x200 cm)
(£149.99)

£119.99
UK Sizes
For years I have been throwing the duvet off myself numerous times every night due to the time of my life. I have tried more duvets than I care to remember. I can honestly say since sleeping under the deluxe wool duvet both my partner and I are having the best night's sleep we can remember. We wake up feeling refreshed and ready for the day. Thank you for such an amazing product.
Dorothy Haydn