WOOLSIE - The Wool Filled Onesie - Ladies
product code: 0405WOOLSIELDY
The affectionately named Woolsie is essentially a duvet that you can wear all day - lush!

Available for Home Delivery or Click & Collect

Available for Home Delivery
Description
We are currently only taking orders for the fitted Ladies variant of this product, Gentlemens and Childrens sizes will follow in the near future. Please see our size guide in the gallery before placing your order.

Picture this; you wake up on a miserable grey morning, you can hear the wind and rain battering your windows and the very last thing you want to do is get out of bed. We've all been there, right? Well the Woolsie might just make those mornings a bit more bearable.

What is a Woolsie?
It's a onesie that's made from 100% British Wool. It will eventually be available in a range of different sizes tailored for men and women (currently only ladies sizes are available). It's essentially a wearable wool duvet.

Why is a Woolsie better than a Onesie?
The Woolsie is more than just a fad, it harnesses the natural properties of wool, meaning it'll regulate to your body's temperature, making it a suitable option year round and because it's made from wool it will keep allergies at bay. You can't say fairer than that!

When can I get hold of a Woolsie?
Please view our size guide in the image gallery to ensure correct fitting.
Care Instructions
Machine washable at 30 degrees on delicate or wool cycle. Line or air dry only, DO NOT TUMBLE DRY.
You might also want to consider...
Other Woolsie...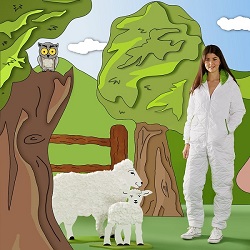 Buying a wool filled quilt was the best thing I've ever done. No more getting hot one minute and cold the next. As a chronic insomniac, I am pleased to report an improvement in my sleep also. I also completed my bed with a wool under blanket and pillow. All products are of a very high standard of manufacture and arrived promptly by courier. Highly recommend the Wool Room and it's first rate products.
Theresa Coates