A baa-rilliant card from one very happy customer!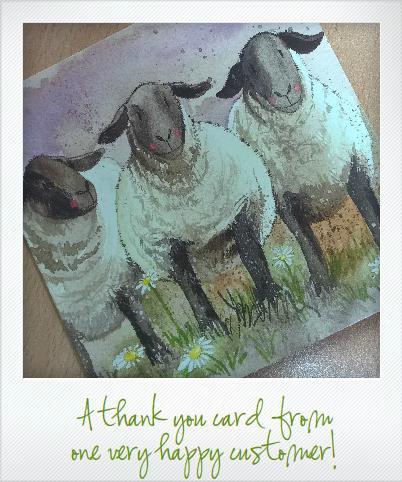 We preach daily about the benefits that wool can have on your health and well-being, so its always lovely to get some positive feedback from our flock; be it a review through reviews.co.uk, face-to-face in one of our stores (
or on the phone
) or a lovely card like the one below...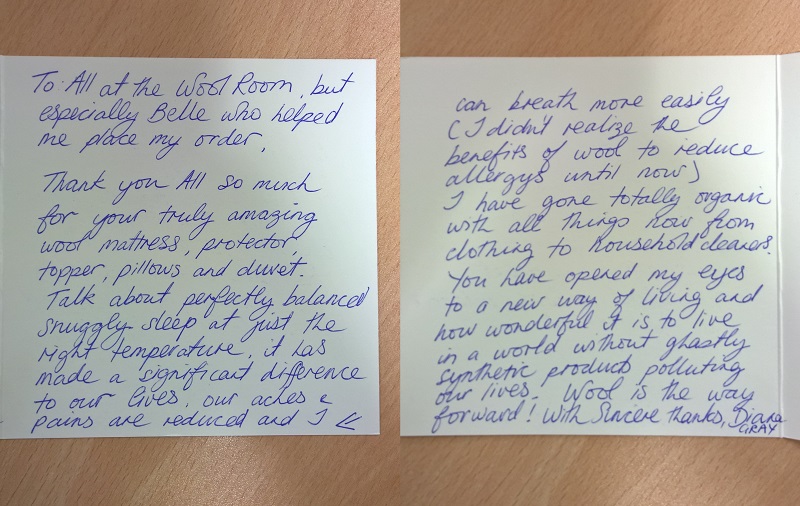 The thank you card from Mrs Gray - who ordered a number of items recently - including a
wool mattress
,
wool protector
,
wool topper
,
deluxe wool pillows
and one of our British
wool duvets
reads...
"To all at The Wool Room, but especially Belle who helped me place my order,
Thank you all so much for your truly amazing wool mattress, protector, topper, pillows and duvet.
Talk about perfectly balanced snuggly sleep at just the right temperature, it has made a significant difference to our lives. Our aches & pains are reduced and I can breath more easily (I didn't realise the benefits of wool to reduce allergys until now).
I have gone totally organic with all things now, from clothing to household cleaners.
You have opened my eyes to a new way of living and how wonderful it is to live in a world without ghastly synthetic products polluting our lives. Wool is the way forward!
With sincere thanks, Diana Gray"
You can find hundreds more genuine reviews from our customers
here
.
Leave your comment
Your email address will not be published. Required fields are marked*