Best Duvet Filling? Wool Is Better Than Down for Sleep, Study Reveals
Choosing a new duvet? The material you select matters more than you might think, as a new study reported in the
Daily Mail
has revealed.
Research carried out by the University of Leeds, and commissioned by The Wool Room, has shown that sleeping under a
wool duvet
boosts your chance of a good night's sleep when compared with other alternatives.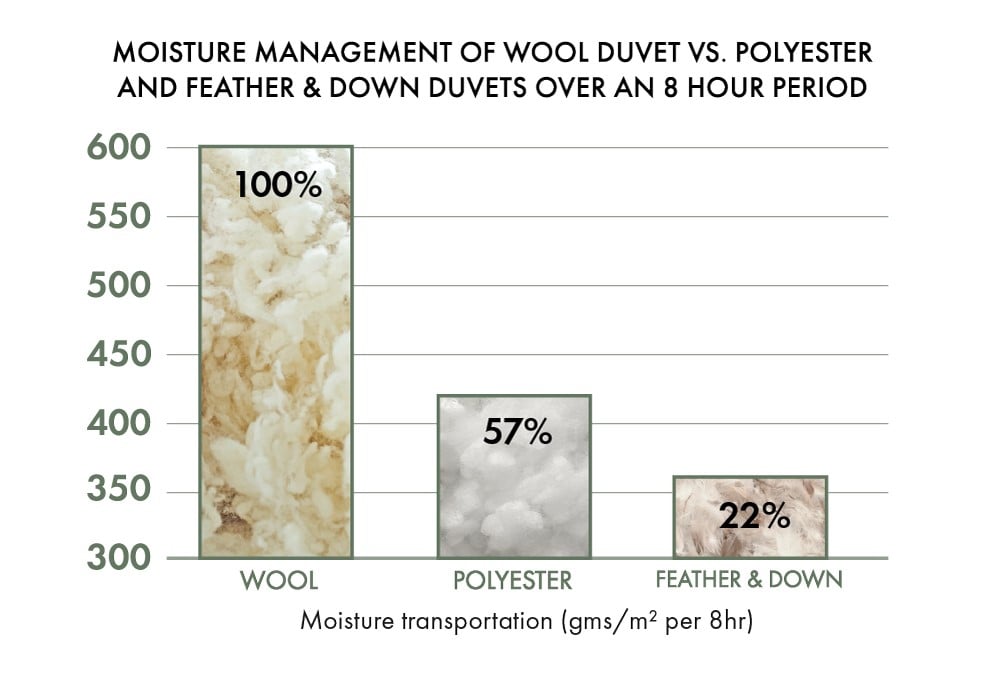 Effective temperature and moisture management key to sleep
When it comes to quality of sleep, overheating and the sweating it causes is one of the most common causes of waking at night. After all, disrupted sleep can lead a person to feel tired and unrefreshed, even when they have had an early night.
In order to identify the best duvet filling for sleep, the study looked at both thermal insulation and moisture management – two key qualities for keeping cool and reducing night time sweating.
Wool helps you reach optimum temperature for sleep
The researchers tested the wadding from wool, feather/down and polyester duvets in two different environments – one in the cooling down phase from 70°C and the second in the warming up phase from 17°C. They found that in both environments, wool was the most effective at managing moisture. In fact, it performed significantly better than both polyester and feather/down duvets over an eight hour period.
The study also found that wool reached the optimum temperature for sleep (35.1°C), faster than polyester and feather/down and was able to maintain this temperature consistently – crucial qualities to prevent waking during the night. By contrast, feather/down and polyester were unable to maintain the optimum temperature consistently, instead reaching 36.1°C and above.
Feather/down least effective for moisture management
The study also found that feather/down duvet wadding was the least efficient material for moisture management. It allowed the least amount of moisture to escape and was outperformed by wool by 67%. In other words, sleeping under a feather/down duvet is more likely to result in waking hot and sweaty during the night when compared with both wool and polyester alternatives. Wool also provided 43% more moisture transmission than polyester, making it by far the most effective at providing a cool, comfortable sleeping environment.
More reasons wool is the best duvet material for sleep
While the study focused on heat and moisture management – two of the most important qualities for a great night's sleep – wool offers other benefits too. For example, its hypoallergenic properties make it a great choice for people who suffer with asthma and other allergies, as its resistance to dust mites and fungal spores helps to prevent allergy symptoms at night. And of course, it offers a natural sleeping environment too.
Ready to discover more about the sleep-enhancing properties of wool? Read 5 Reasons to Choose Wool Bedding for more information on why this miracle material is the smart choice for sleep.
If you're looking for a particular sized duvet, the links below may help:
Comments
I like the idea of using wool but I can't wear pure wool/lamb's wool, is it really ok for allergy suffers please?
Woolroom's Customer Care Team
Hi, We have found it is really rare to have an allergy to wool and it could be the Lanolin in the wool that is causing the reaction. Our bedding products are all encased in cotton too so there would be no direct contact with the body. We do offer a free returtn policy on any used goods so if you wanted to order and see how it all felt you could use that option.

Thanks,
Woolroom
It is environmentally friendly - and British. We raise sheep and need to use their wool!
Leave your comment
Your email address will not be published. Required fields are marked*