Celebrating British Wool Week 2016
Wool will once again take centre stage as the UK prepares to celebrate Wool Week, taking place 10th to 16th October. Organised by
The Campaign For Wool
, and backed by HRH The Prince of Wales, Wool Week sees a week of woolly activities take place across the country to raise awareness of this amazing natural fibre.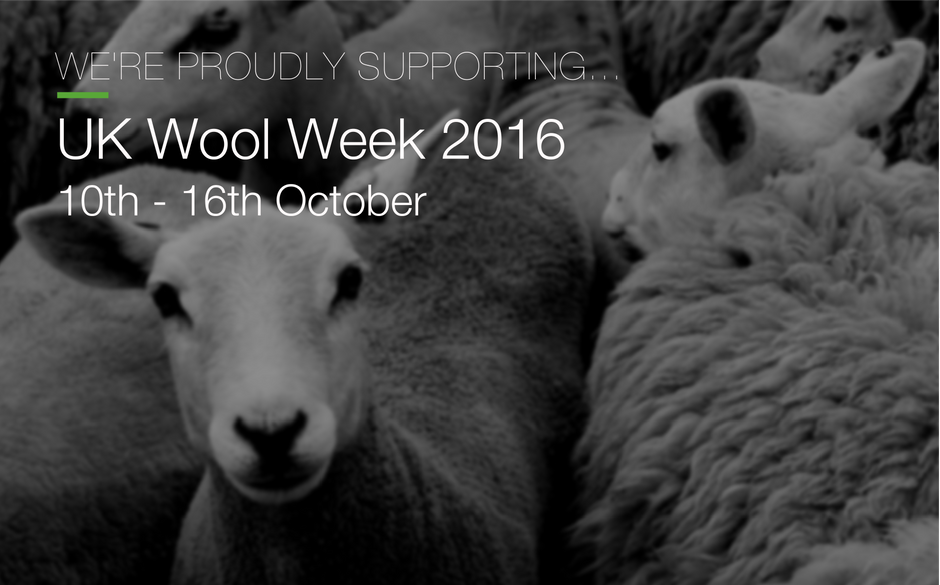 Wool Week gives the wool industry a chance to showcase the products made by wool, and the many benefits of using wool as a versatile and durable material. Wool is a completely natural product, and as such it is sustainable and recyclable. The main aim of Wool Week is to encourage more consumers to buy wool-rich products.
This year's British Wool Week will see a whole host of baaarilliant events taking place, including High Street showcases of wool-led autumn collections, a late-night shopping Wool Night Out, the opening of a 'Baaatique Hotel' at the Design Centre in Chelsea Harbour, and a presentation by Alex James on 'Slowing down fast fashion'.
The Wool Room is excited to once again be involved in this annual event, now in its seventh year, as we work together with leading fashion, interior and craft brands, along with the wool industry, to extoll the virtues of wool.
Snuggling down with wool
As part of Wool Week 2016, we'll continue spreading the word about the many benefits of
wool bedding
to get a good night's sleep. Here are just some of the
benefits of wool bedding
:
Wool is a natural fibre and, as such, it is great at regulating body temperature and moisture levels as we sleep. This is particularly beneficial if you share a bed with someone who is naturally hotter or colder than you.
Wool is hypoallergenic. Wool bedding has been found to reduce the symptoms of skin and respiratory allergies.
Wool is great at alleviating the symptoms of hot flushes in menopausal women due to its ability to regulate body temperatures.
Woolly Hat Day
Finishing off the wool festivities for Wool Week 2016 will be Woolly Hat Day. Taking place on the 14th October, The Campaign for Wool has teamed up with 'The Mission to Seafarers' and is encouraging the wool loving community to host wool-centred events, such as knitting hats or scarfs.
Wool is such an amazing, natural fibre to work with, and we at The Wool Room are proud to be supporting Wool Week 2016. We hope you will also get involved and make the UK's Wool Week one to remember.
Leave your comment
Your email address will not be published. Required fields are marked*