The Great Woolly Bake Off – Adam's Sheep Cake Pops
Week 6 of the Great Woolly Bake Off coincides with The Campaign for Wool's annual
Wool Week
. With that in mind, our Digital Marketing Manager, Adam, made these woolly cake pops.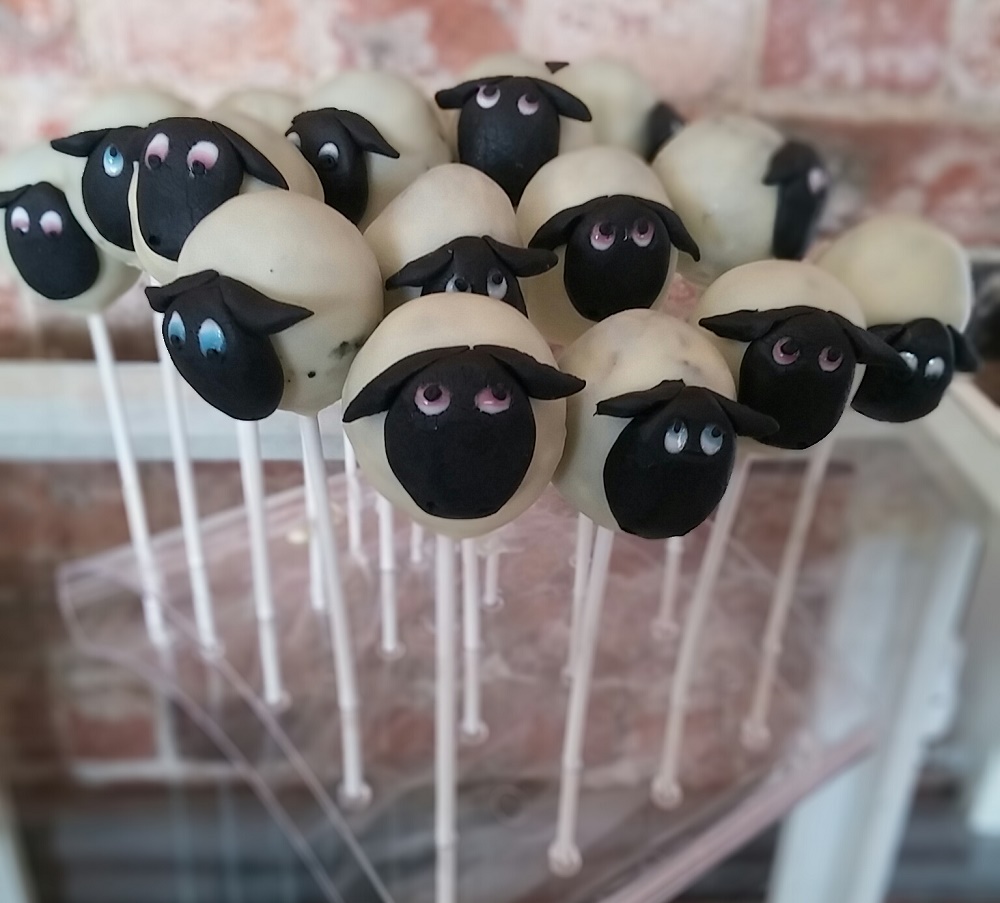 Ingredients:
Roughly 3-4 packets of Oreos
Cream Cheese, enough to bind the Oreo's together
3 large bars white chocolate
Black sugar paste
Coloured icing pens
Method:
Adam started by putting his Oreo cookies through a food processor until they turn into a crumb.
Once all of his Oreo's had been 'crumbed', Adam then added small quantities of cream cheese until the crumb was able to be formed into balls.
Adam rolled the mixture into balls about the size of a table tennis ball. He melted an amount of white chocolate, and dipped his cake pop sticks into it, before pushing them gently into the bottom of the rolled cake balls.
Adam used a cake pop stand to rest his cake pops, but a piece of polystyrene could work as well. He then left his cake pops in the refrigerator overnight until the cake mixture firmed and the chocolate set.
The next day, Adam melted a couple of large bars of white chocolate in a glass bowl over a pan of simmering water (it's important not to let the bottom of the bowl touch the water in the pan). He then dipped his cake pops into the melted chocolate and twisted the lolly until all of the cake mixture had been covered with chocolate before returning them back to the fridge for the chocolate to set.
Once the chocolate coating had set, Adam then made the sheep's faces using black sugar paste. He rolled a 1cm piece of the paste into a ball and then flattened slightly to make the face. He rolled smaller pieces into a tear drop shape and then flattened to make the ears
To make the eyes, Adam used the end of a cake pop stick and pushed it into the face. The hole was then filled with a white icing pen, and then a choice of blue or pink icing for the iris' before then rolling a tiny piece of black sugar paste again for the pupil. Adam then dabbed the end of the stick into water and pushed the eyes to ensure they didn't run or fall off.
Finally, Adam used a cocktail stick to make the nostrils and then pushed the face onto the cake pops before leaving in the refrigerator again to cool.
The result:
These cake pops were perfectly themed for Wool Week and because no baking was involved, they'd be fantastic to make with little ones…
Leave your comment
Your email address will not be published. Required fields are marked*