EU Size Deluxe Wool Mattress Topper
product code: 0105DELWASHTOPPEREU
Our Deluxe Wool Topper is the perfect addition to your sleep environment for those looking at add comfort to their mattress. Hand-crafted from 1000gsm of traceable British wool combined with an organic cotton outer cover to provide an all-natural comfort like no other.
SAVE 35% ON THIS PRODUCT IN OUR
BLACK FRIDAY SALE!


Available for home delivery or collect at store

Available for Home Delivery
Description
Fully Farm Traceable
Following the launch of our Luxury Organic Range, we are delighted to be able to introduce traceability into our best-selling Deluxe Range of wool bedding. Full traceability combined with genuine comfort make this bedding range quite unique. Our wool in our Deluxe range has always been sustainable, renewable, biodegradable. Now, it is also fully traceable!
Wool is already a fundamental part of the Woolroom DNA when it comes to bedding, mattresses and accessories, so our focus has always been on buying the right kind of wool, as your comfort is at the forefront of our mind. We have always been proud of our ability to offer high quality, clean and responsibly sourced wool. With the introduction of our traceable wool, we can now offer definitive proof of the sustainable, ethical nature of our wool - right back to the very farm.
We can guarantee that the wool we buy has been grown responsibly, the sheep have been looked after and the land well managed, but most importantly that British farming communities are being supported. Our exclusive relationship with Woolkeepers is an industry first, and assures the next step of our evolution of our supply chain, with 100% British Wool that's traceable right back to the farm. This exclusive relationship for our Deluxe and Luxury bedding ranges is the first of its kind here in the UK and is spreading the awareness of where the fibres are sourced - and just how important it is to know what goes into your bedding.
This relationship means that every part of our supply chain from a Woolkeepers assured farm onwards is robustly audited, from the collection, washing and combing of the wool, to going into a carefully hand-crafted Woolroom Traceable product that is identifiable by a high fibre quality, strong animal welfare policies and full farm provenance.
The Woolroom Difference
Compared to other types of common bedding fills like feather, down, and synthetics you'll notice a difference immediately. All of our Deluxe range of bedding is designed to keep you sleeping for longer at just the right temperature as wool is a true natural super fibre ideal for sleeping on and under! The unique combination of fillings allows this range to manage heat and moisture effectively to reduce humidity throughout the night, bringing you a natural healthy sleep. If that's not enough, all Woolroom products are free from chemicals and fire retardants providing a 100% natural, clean sleep.
Sustainibilty is a big part of the Woolroom ethos which is why we're completely committed to reducing the impact that plastic is having on our beautiful planet. All of our bedding items can be recycled and/or composted at the end of their life, and come lovingly packaged in an iconic part of the Woolroom brand; an all-natural and reusable calico bag.

Still not Convinced?
We offer a 30 Night Sleep Trial when you buy a full bedding set, consisting of a duvet, pillow(s) and a mattress protector or topper.
If you're not totally satisfied that it's delivering the benefits of a better night's sleep, we'll honour our 30 Night Sleep Trial; Better Sleep or Your Money Back! You can't say fairer than that!
Product Benefits
Our Deluxe Topper lets you drape your mattress with a luxurious layer of natural comfort. Filled with 100% traceable British wool, weighted at 1000gsm and measuring approx. 5cm in depth, the Deluxe topper provides a reassuringly tactile top layer for your bed.
Constructed using traceable British wool & unbleached organic cotton for the ultimate natural sleep
Fully tracable back to a unique farm right here in the UK by scanning the QR code on your Deluxe product - a first for bedding in the UK!
Sustainable, Renewable, Biodegradable and now Traceable
Contains no synthetic materials or fibres - the most natural night's sleep available to date
Naturally flame retardant without any unpleasant chemicals (as tested by Bangor University, Wales)
Naturally hypoallergenic - approved by Allergy UK
Naturally mould, mildew and dust mite resistant
Technical Specification
Technical Specifications


Perfect for: Added additional comfort to a firm or old mattress. Good for temperature regulation too.


Filling weight: 1000gsm


Thickness: 4-5cm


Filling: 100% traceable British wool


Outer Fabric: 100% unbleached 200 thread count organic cotton


Attachment: Elasticated corner straps


Construction: Carded traceable wool enveloped in 200 thread count organic cotton


Care Instruction: Dry clean using a non-toxic service for best results. This topper cannot be machine washed or tumble dried.


Lovingly hand-crafted in the EU, using beautiful, traceable British wool


Other Super King Mattress Toppers...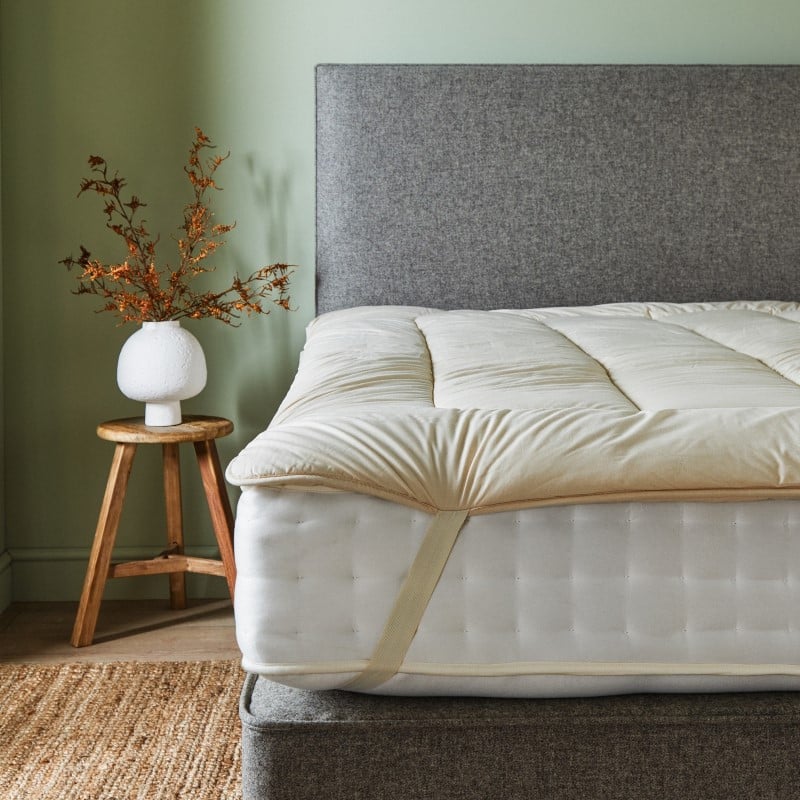 From
£100.74
(was £154.99)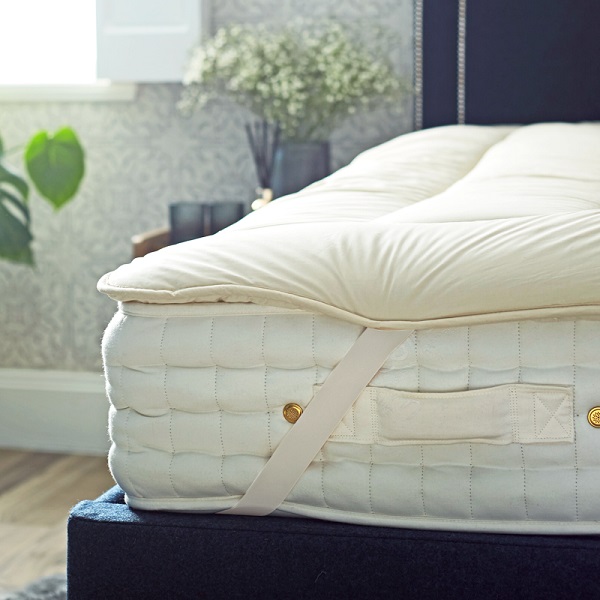 From
£103.99
(was £159.99)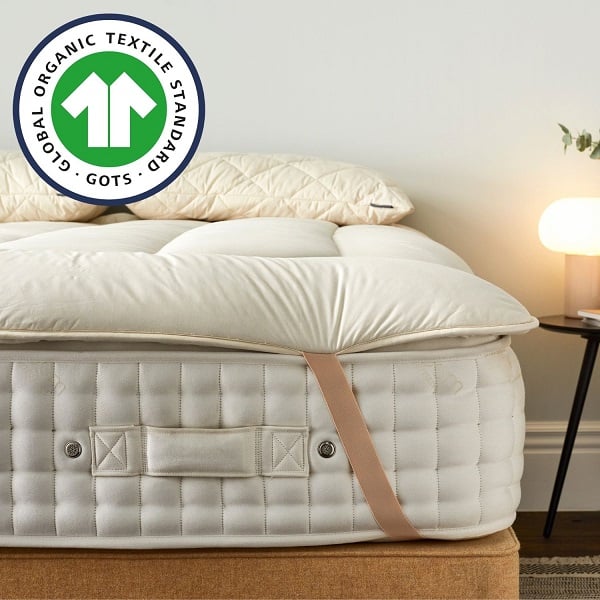 From
£162.49
(was £249.99)