Cambridge 25750 Mattress
product code: 0201CAMB25750
Affectionately named 'The Beast' by the Woolroom team, the Cambridge is a double-sided mattress that comes in at a huge 36cm in depth (approx). It is packed with 25750 of the finest springs for the most incredible support, and also features beautiful Wool ID® Traceable British wool to ensure that it will work with your fluctuating body temperature for the ultimate night's sleep.



Like all Woolroom mattresses, it's free from any unpleasant chemicals and comes with a 100 Night Sleep Trial (when purchased with a mattress protector or topper).
SUMMER SALE IS NOW LIVE
SAVE 30% OFF THIS PRODUCT


Available for next working day delivery or collect at store

Available for Home Delivery
Description
Introducing the Cambridge mattress - our most luxurious mattress ever designed, delivering unparalleled comfort and support using 25750 of the very latest spring technology combined with the finest, hand-selected natural fillings. Each mattress is hand finished with 5 rows of hand side stitching delivering superlative performance and comfort night after night.
The combination of springs and natural fillings offer a beautifully supportive and comfortable sleeping surface, while a Merino wool blended outer cover ensures this mattress (like all in our range) is completely chemical free.
If you are looking for a mattress of the highest comfort and quality, look no further than the Cambridge!

The Cambridge - Product Benefits:
Designed, developed and handmade in the UK
25750 springs provide exceptional comfort and support as well as longevity
Fully recyclable at end of life due to no glue being used on pocket springs
Naturally Fire retardant through the merino wool blend covering and the hand-selected surface wool layer meeting strict UK regulations for flammability
Latex, Foam, Synthetic, flame retardant free for a 100% natural mattress with no toxic off-gassing
Double sided for extra durability
100 Night Sleep Trial when purchased with a Chatsworth Wool Mattress Protector or any Topper
Hand-crafted by the highest skilled craftsmen to your exact specification
10 year manufacturing warranty
The Cambridge - Technical Specifications:
Spring Count: 25750 (based on a K/S)
Spring Type: Cortec Quad (750), Posturfil x 2 (2000), HD 2.5k x 2 (5000), HD 4k x 2 (8000), HD 5k x 2 (10000)
Mattress Depth: Approx. 36cm
Fillings: Hemp, Flax, Cotton, British Wools, Wensleydale Wool, Egyptian Cotton, Mohair, Yorkshire Wool, Alpaca, Cashmere
Ticking: Natural Merino/Viscose Blend (No fire retardant sprays used)
Tufting: Hand-tufted with wool pom-pom tufts delivering reduced movement of fillings during the life of the mattress
Side Stitching: 5 Hand-stitched rows for edge-to-edge support
Chemicals: None - including no glue used
Available Tensions: Soft, Regular and Firm
Suitable for adjustable beds: No
This mattress naturally meets the required flammability standard BS7177:2008 ' A1:2011 in accordance with BS EN 597-1 and BS EN 597-2 (for both domestic and commercial use)
Divan shown in image is not included, but can be purchased separately with a choice of wool upholstery options
Wool ID®-Traceable Wool by Woolroom
Our traceability program,
Wool ID®
, assures that every part of our supply chain from the farm onwards is robustly audited, from the collection, washing and combing of the wool, to going into a carefully hand-crafted Woolroom Traceable product that is identifiable by a high fiber quality, strong animal welfare policies and full farm provenance.
Find out more about Wool ID® here >
The Latest Spring Technologies Coupled With Natural Fillings
Using the latest Cortec Quad spring technology combined with the finest natural fibres we have created a mattress that performs exceptionally well in both support and comfort. The main core spring unit provides extra resilience and stability right to the edge of the mattress whilst the Posturfil, HD 2.5k, HD 4k and HD 5k springs above provide 3 dimensional support for yourself as you move throughout the night. These small, high density springs contour to the shape of your body and ensure that every part of it is evenly supported to keep postural alignment correct.
Completely Chemical Free No Glues, Foams or Synthetics
The Cambridge uses only the finest natural materials which is how we can achieve a completely chemical free product. The outer fabric (ticking) on all Woolroom mattresses is developed using a blend of merino wool, which allows us to achieve British standards for flammability without the use of any unpleasant chemicals. There is no glue present in the mattress meaning the Cambridge is one of the healthiest, most natural mattresses available on the market at an affordable price point whilst also being easily recyclable at end of life.
Free 2 man Delivery and Optional Recycling
As standard, we offer a FREE 2-man delivery to a room of your choice. This means no boxes to dispose of, no rolled up mattress and no heaving a heavy mattress upstairs. Our friendly delivery team will even install your purchase if required.
For a small fee, we can even offer the recycling of your old mattress.
To add this service then please click here >
100 Night Sleep Trial
We're so confident that you'll sleep better on one of our natural wool mattresses that we'll offer you a 100 night sleep trial when purchased with one of our wool mattress protectors. Simply put, if you're not sleeping markedly better, we'll offer you a full refund on your mattress.
Find out more here >
Mattress Care
View Our Mattress Care Guide >
You might also want to consider...
Other Super King Mattresses...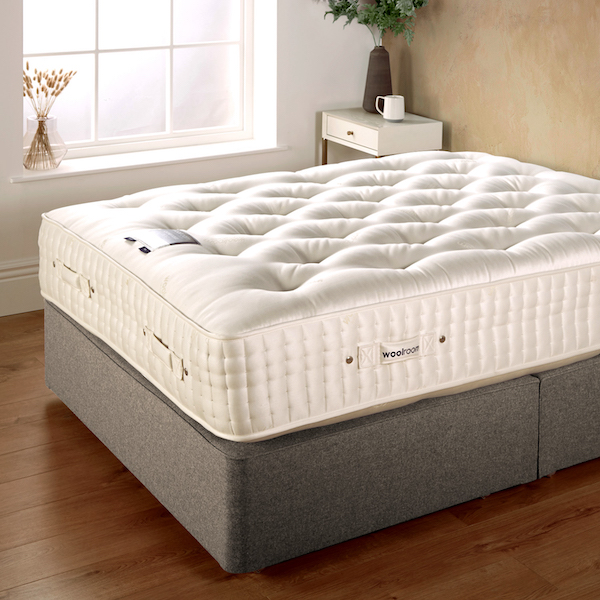 From 
£2,344.30
(was £3,349)
From 
£894.50
(was £1,789)