Dorset 5000 Mattress
product code: 0201DOR5000
The Dorset 5000 combines natural British fillings with an award-winning spring system to deliver you an incredibly sumptuous, breathable mattress.

A regular or firm tension with increased natural firmness when placed on a slatted base.

Activate your 100 Night Sleep Guarantee when you buy a mattress protector with this mattress



Sign up to our newsletter for an extra 10% off mattresses for this week only!


Available for Home Delivery or Click & Collect

Available for Home Delivery
Description
The Dorset 5000 combines natural British fillings with an award-winning spring system to deliver you an incredibly sumptuous, breathable mattress
The Dorset 5000 mattress is hand-crafted in the UK by experts with decades of experience.5000 springs are coupled with hand-picked British wool to offer a beautifully supportive and comfortable sleeping surface, while a Merino wool blended outer cover ensures this mattress (like all in our range) is chemical free.
All of our mattresses are a work of love, and passion.
Check out our video here

Free 2-man Delivery
As standard, we offer a FREE 2-man delivery to a room of your choice. This means no boxes to dispose of, no rolled up mattress and no heaving a heavy mattress upstairs. Our friendly courier team will even install your purchase if required.
For a small fee, we can even offer the removal and recycling of your like for like product.
Please note: if you're having a bed collected, this will need to be dismantled by yourself ahead of time.
Award-Winning Springs

The central core of the Dorset 5000 mattress features a series of award winning revolution pocket springs, which consist of a smaller spring housed within a larger pocket spring. This offers enhanced support compared to traditional pocket springs and will adapt to each different sleepers unique shape and sleeping position

Thousands of smaller High Density (HD) springs are layered close to the mattress surface. These move individually, and in conjunction with each other to offer targeted support across your body, relieving pressure on your knees, hip, back and shoulder joints.
Chemical-Free Comfort
The outer fabric (ticking) on all Woolroom mattresses is developed using a blend of merino wool, which allows us to achieve British standards for flammability without the use of any unpleasant chemicals.
Double Sided for Longevity
The Dorset 5000 mattress is double sided for enhanced comfort, and longevity.
To ensure even settlement, we'd ask that you turn and rotate your mattress weekly for the first three months, and then once a month thereafter. Note: this mattress is filled with lots of beautiful natural fillings, and therefore can be rather heavy.
100-Night Sleep Guarantee
We're so confident that you'll sleep better on one of our natural wool mattresses that we'll offer you a 100 night sleep guarantee when purchased with one of our wool mattress protectors, or toppers (we just ask that you try the mattress for a minimum of 60 nights, so your posture can adjust effectively).
Simply put, if you're not sleeping markedly better, we'll offer you a full refund on your purchase.
Find out more here
10-year warranty
We know that our mattresses are made with the utmost care and attention. That's why all our Deluxe (Dorset, Cheviot and Oxford) and Luxury (Suffolk and Cotswold) mattresses come with a full 10-year warranty as standard.
This covers workmanship and manufacturing fault.
Product Benefits
Cool when it's warm, warm when it's cool
Naturally flame retardant without any unpleasant chemicals
Naturally hypoallergenic
All natural fillings
Technical Specifications
Spring Count: 5000 (based on a K/S)
Spring Type: Award-winning Revolution pocket and HD springs
Mattress Depth: Approx.. 27cm
Fillings: British Wool and British Hempure
Ticking: Natural Merino/Viscose Blend
Tufting: Hand-tufted with wool pom-pom for added comfort
Side Stitching: 2 rows
Chemicals: None
Available Tensions: Regular and Firm (Please note - Using this mattress on a slatted base will increase the firmness)
Suitable for adjustable beds: YES
This mattress naturally meets the required flammability standard BS7177:2008 + A1:2011 in accordance with BS EN 597-1 and BS EN 597-2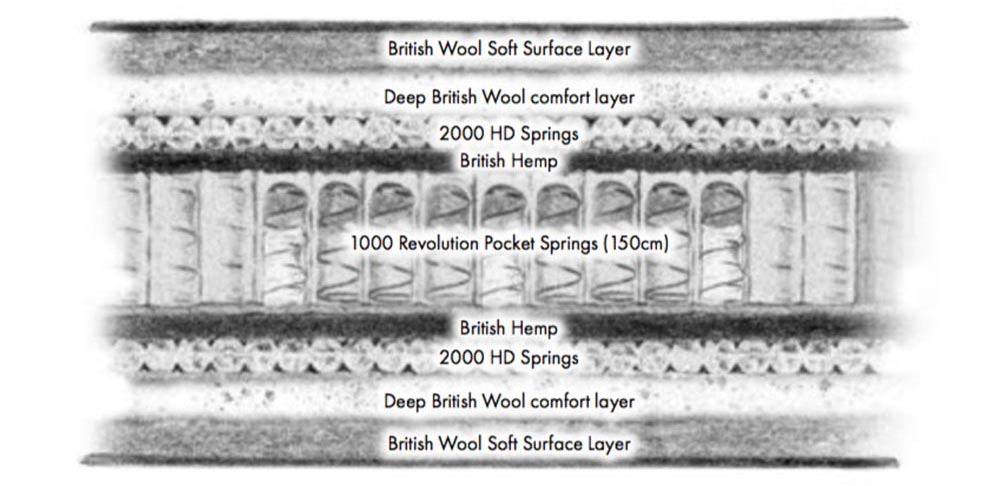 Interest Free Finance
Spread the cost of your purchase using our finance service, provided by Divido. Available online at the checkout and in-store, you'll be able to get a decision in minutes. We ask that you pay a minimum 10% deposite once you're happy to proceed, or you may choose to pay a larger deposite to reduce your monthly instalments. Minimum spend: £450.
EXAMPLES

| Value | Deposite | 6 month | 9 month | 12 month | TOTAL |
| --- | --- | --- | --- | --- | --- |
| £500 | £50 | £75 pm | £50 pm | £38 pm | £500 |
| £1,000 | £100 | £150 pm | £100 pm | £75 pm | £1,000 |
| £2,000 | £200 | £300 pm | £200 pm | £150 pm | £2,000 |
| £3,000 | £300 | £450 pm | £300 pm | £225 pm | £3,000 |
Technical Specification
It is recommended that the gap between the slats is no more than 7cm wide to ensure maximum performance of the mattress.
Other Single Mattresses...