An Update from Chris Tattersall (Managing Director)
UPDATED 17.06.2021 - WE ARE STILL DELIVERING AS NORMAL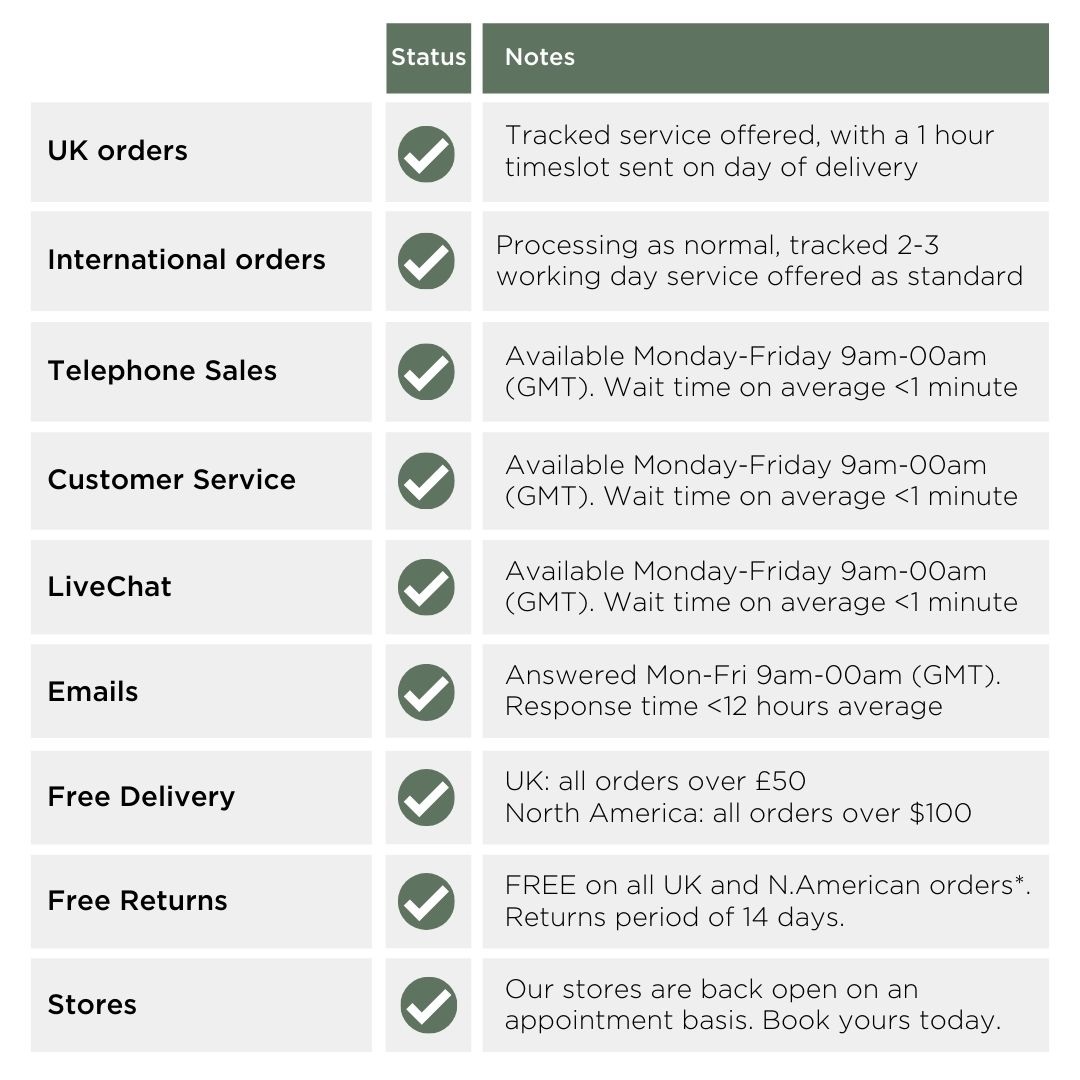 To all Woolroom customers this page is designed to update you on any updates that are required based on the current situation we are in regarding COVID-19.
We hope you and your families remain safe and healthy during these difficult times. As we face the difficult challenge of responding to COVID-19, our thoughts go out to the people affected by this event and I am sure you will join me in thanking our healthcare workers, local communities and governments around the world whom are working tirelessly to contain this unprecedented situation.
With everyone's safety at the forefront of our mind we would like to take this opportunity to assure our customers that appropriate safety and hygiene measures have been implemented across the business.
Due to the nature of our business supporting a healthy lifestyle and delivering the very best night's sleep (one of the ways of trying to reduce the symptoms and combat the virus), we will keep all aspects of our business open and functioning for as long as it's possible to do so.
As such we would like to make you aware of the following:
1. As of Monday 12th April, all Woolroom stores will re-open in accordance with the governments advice. As such, you will now be able to book appointments to visit our stores.
2. For our online customers our warehouse and courier partners (DPD Local, DHL and Keen and Able) have also implemented best practice as regards hygiene and wipe clean all surfaces between each picking process in our warehouse and of course fully sanitise before any delivery is made. They may well not ask you to sign the hand held device but will ask for verbal confirmation and sign on behalf of you at the time of the delivery. Please be assured that there are currently
no interruptions
to deliveries, and we're still able to offer a next working day, tracked service on all non-mattress deliveries.
Woolroom are closely monitoring the situation to ensure we are taking all necessary precautions to protect customers, colleagues and their families at this time and we will update you of any changes accordingly.
Whilst our stores our now closed please remember you can always shop online at www.woolroom.com in the UK or in North America at www.thewoolroom.com/us or speak to our sleep experts on 01780 461217 (UK) or +1 888 513 1092 (US)
Most importantly please take care of yourselves and your families and we remain committed to you, our customers as well as our colleagues and our community.
Delivery Information
DPD Local (UK bedding & accessory deliveries) continues to implement new plans in response to the Coronavirus situation in the UK following advice issued by HM Government. This will not affect delivery times and your products will still be delivered on a next working day service when ordered before the cut off time of 3pm.
New, no contact delivery process:
With immediate effect, we will no longer ask customers to sign our handheld units and instead our drivers will sign it on their behalf. We will record the consignees name and a 'Delivered on Authority' message in the signature section of the unit.
With this new process you will still get your full track and trace functionality, giving you complete visibility of all your parcels.
This now forms our proof of delivery process for all deliveries until further notice.
Returns: We are still offering free returns on all UK mainland, US and Canadian orders. As of Wednesday 6th January, DPD have closed all drop off points as they are located in non-essential shops that will be closed. As a result of this, we have extended our returns period until these shops re-open. Whilst this is an inconvenience please note that you are more than welcome to return any items at your own cost if you require a refund quicker. USPS drop-off locations are back open as normal so there are no disruptions there.
Mattress Deliveries
Our mattress delivery crews are still delivering as usual with no disruptions.
Our delivery teams are taking extreme precautions when delivering and will be wearing all forms of personal protective equipment when delivering as well as maintaining a safe distance of 2m at all times. If you have any special requests or wish to place your order on hold for the time being then please let our customer service know as soon as possible. We hope that this gives you some clarity on where we stand, we are very much open for business and contactable on all methods of communication via email, phone and livechat.
Please continue to stay safe, and healthy and we will pull through this pandemic.