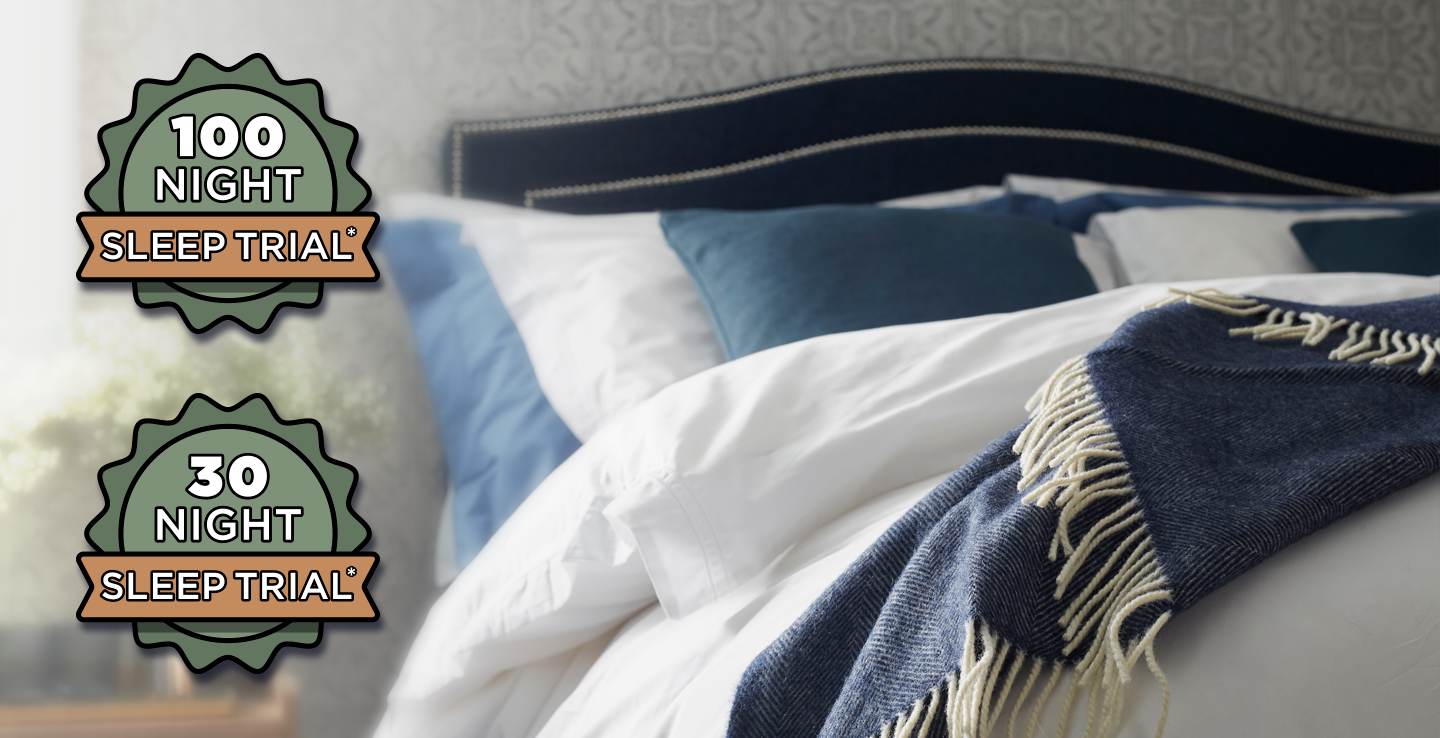 Here at woolroom we know the importance of a good night's sleep. The average person spends more than a third of their lives in bed. With that in mind, can you afford not to be entirely comfortable and well rested?

Wool is a fantastic fibre that can enhance your sleep immeasurably. This is achieved largely because of its incredible ability to regulate your temperature - naturally.

In addition to this, wool promotes an environment so dry (because it can desorb moisture back into the environment) that dust-mites simply will not inhabit it - Great if you suffer from a dust mite allergy (a staggering 20% of us will in our lifetime!), eczema or Asthma.

We're so confident that our wool bedding can enhance your sleep that we will give...
a 30 night sleep guarantee when you buy a full bedding set, consisting of a comforter, pillow(s) and a mattress protector or pad


Wool Bedding Set 30 night sleep guarantee
We guarantee that with a Wool Bedding Set from woolroom you'll enjoy the benefits of a better night's sleep from day one.
Why? Because we know that using wool in bedding, compared to other materials like feather, down or synthetic, gives much greater sleep benefits. The combined benefits of wools natural built-in temperature regulation, moisture control and hypoallergenic properties gives us the confidence to guarantee you'll sleep better than with your existing bedding solution - full stop.
If, once you've received your Wool Bedding Set, you're not totally satisfied that it's delivering the benefits of a better night's sleep we'll honour our 30 night Sleep Guarantee; Better Sleep or Your Money Back! You can't say fairer than that!
To be eligible for a 30 night sleep guarantee, you must purchase a complete bedding set. This comprises of...
A comforter of your choice (Classic, Deluxe or Luxury)
1x pillow of your choice (Classic, Deluxe or Luxury) if you're buying a set for a Twin or Twin XL bed or 2x pillows if you're buying a set for Queen sized beds and upwards
A mattress protector or topper of your choice
Your 30 night sleep guarantee is effective from the day your bedding set is delivered. Unfortunately, we cannot delay the guarantee, even if you've not yet slept with your bedding set due to other commitments (I.e. holidays, room not yet decorated).
While we're incredibly confident that you'll reap the benefits of wool with any one of pillows, comforters or mattress protectors or toppers, the 30 day sleep guarantee is only available on the full set as we've had the set tested and is scientifically proven to enhance your stage 4 (REM) sleep by up to 25% versus other bedding types. Using any wool product with a mixure of other types of bedding doesn't deliver the full benefit you see when you cocoon yourself in wool.