Our Organic Washable Collection uses organic wool, sourced from independently verified and audited farmers for complete assurance. Free from pesticides and toxic chemicals, these sheep have been fed on organic pastures, producing organic wool for our bedding. Meaning you get the most natural and sustainable night's sleep.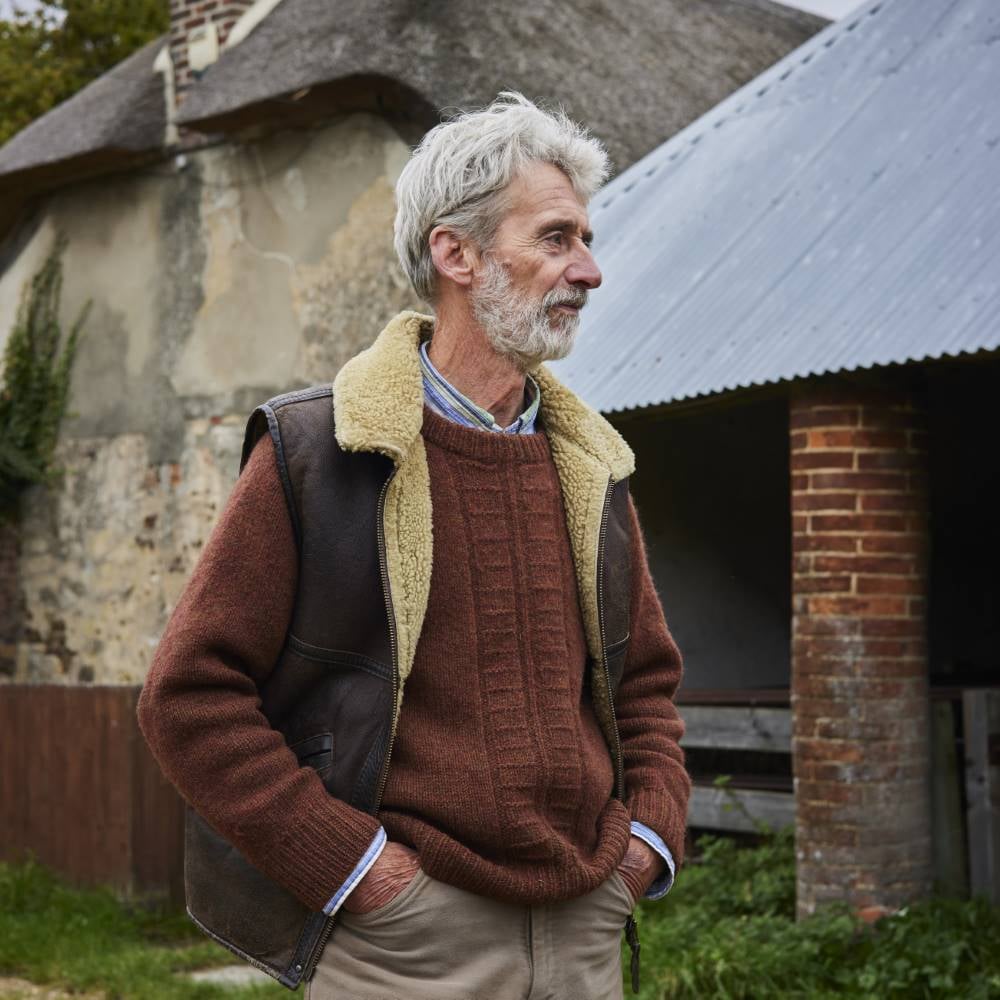 "I converted to organics in 1999, after making the change I wish I had started 20 years before...everything we do is entirely integrated, everything is connected and feeding into itself"
Our Organic Washable Collection Farmers
The wool found in the Organic Washable collection is a world's first. It's machine washable and GOTS certified organic, and can be traced back to the most incredible farms that the UK has to offer. These farms proudly boast the very best levels of animal husbandry, and their sheep produce the most beautiful, sleep enhancing wool, year after year.
| Farmer Number | Farmer Name | Wool Type | Flock Size (KG) | Location |
| --- | --- | --- | --- | --- |
| 1000829 | Tucker & Son | Hill | 1050 | Cornwall |
| 1016927 | Kiff & Son | Hill | 1525 | Devon |
| 1055513 | Heard & Son | Hill | 690 | Devon |
| 1098762 | May | Hill | 340 | Devon |
| 1100412 | Bertie | Hill | 80 | Devon |
| 1112208 | Davis | Hill | 350 | Devon |
| 1159231 | Lugg | Hill | 35 | Devon |
| 1173179 | Huckle | Hill | 390 | Devon |
| 1178611 | Maddever | Hill | 225 | Cornwall |
| 1192512 | Collinge | Hill | 100 | Cornwall |
| 1199496 | Emma Charlotte Farms Ltd | Hill | 420 | Devon |
| 1199959 | Bowden Farm | Hill | 170 | Devon |
| 1200232 | Tale Valley Farming Partnership | Hill | 385 | Devon |
| 1200443 | Vigus | Hill | 890 | Devon |
| 1200692 | Pascoe | Hill | 250 | Cornwall |
| 1200776 | Henbere Farm | Hill | 630 | Devon |
| 1201429 | Chugg | Hill | 40 | Devon |
| 1201810 | McCombe | Hill | 140 | Devon |
| 1201862 | Friend | Hill | 55 | Devon |
| 1202367 | Wrylands Farm | Hill | 610 | Somerset |
| 2030297 | Williams | Hill | 710 | Somerset |
| 2047196 | Hindon Farm Partnership | Hill | 650 | Somerset |
| 2048569 | Tout | Hill | 170 | Somerset |
| 2069489 | Broom | Hill | 450 | Somerset |
| 2193864 | Vickery & Son | Hill | 50 | Somerset |
| 2261937 | Sydling Estate | Hill | 2400 | Dorset |
| 1202504 | Bartlett | Hill | 760 | Somerset |
| 2014936 | Gooden | Hill | 200 | Somerset |
| 1199576 | Partridge | Hill | 700 | Devon |
| 1201814 | Goodfellow | Hill | 410 | Dorset |
| 2009005 | Cowling | Hill | 2680 | Somerset |
| 2038633 | Tolley | Hill | 90 | Dorset |
| 2111994 | Goodfellow | Hill | 180 | Dorset |
| 2254271 | Tweddell | Hill | 6320 | Dorset |
| 1202141 | Thirtle Mills Farm | Hill | 90 | Cornwall |
| 1202606 | Westcott Organics | Hill | 390 | Somerset |
| 2202669 | Elliott | Hill | 930 | Somerset |
| 1114113 | Brook | Hill | 500 | Devon |
| 2046626 | Walrond | Hill | 310 | Somerset |
| 2153573 | Throope Manor Farm | Hill | 1990 | Wiltshire |
| 2208798 | Eames & E S Eames | Hill | 650 | Somerset |
| 1000829 | Tucker & Son | Lowland | 1050 | Cornwall |
| 1016927 | Kiff & Son | Lowland | 1525 | Devon |
| 1055513 | Heard & Son | Lowland | 670 | Devon |
| 1098762 | May | Lowland | 340 | Devon |
| 1112208 | Davis | Lowland | 350 | Devon |
| 1142584 | Ley | Lowland | 740 | Devon |
| 1173179 | Huckle | Lowland | 390 | Devon |
| 1178611 | Maddever | Lowland | 220 | Cornwall |
| 1192512 | Collinge | Lowland | 100 | Cornwall |
| 1199959 | Bowden Farm | Lowland | 170 | Devon |
| 1200232 | Tale Valley Farming | Lowland | 390 | Devon |
| 1200692 | Pascoe | Lowland | 250 | Cornwall |
| 1201810 | McCombe | Lowland | 140 | Devon |
| 1202367 | Wrylands Farm | Lowland | 600 | Somerset |
| 2030297 | Williams | Lowland | 700 | Somerset |
| 2047196 | Hindon Farm Partnership | Lowland | 650 | Somerset |
| 2048569 | Tout | Lowland | 170 | Somerset |
| 2069489 | Broom | Lowland | 450 | Somerset |
| 2095863 | Hyde & Sons | Lowland | 1380 | Dorset |
| 2193864 | Vickery & Son | Lowland | 50 | Somerset |
| 2261937 | Sydling Estate | Lowland | 2400 | Dorset |
| 1202504 | Bartlett | Lowland | 760 | Somerset |
| 2014936 | Gooden | Lowland | 200 | Somerset |