Classic Wool Duvet - Warm
product code: 0102CLASSWARM
Our Classic Warm Duvets are made with 100% British wool & medium thread count cotton. Suited best for colder sleepers or colder months.
SPRING SALE NOW LIVE.
Order before 3pm for next working day tracked delivery


Available for next working day delivery

Available for Home Delivery
Description
Our Classic range of duvets are an introduction to a natural, healthy night's sleep. Because every duvet is made from 100% British wool, you know that it is naturally hypoallergenic, and has no man-made barriers. This means that it lets your body breather as you sleep.

Feel the Difference
Compared to other types of common duvet fillings like feather, down, and synthetics you'll notice a difference immediately. All of our ranges of bedding are designed to keep you sleeping for longer at just the right temperature. The beautifully hand-picked British wool fillings allow this duvet to manage heat and moisture to effectively reduce humidity throughout the night, bringing you natural healthy sleep.
Truly Sustainable
We're completely committed to reducing the impact that plastic is having on our beautiful planet. All our bedding items can be recycled and/or composted at the end of their life, and come lovingly packaged in an iconic part of the Woolroom brand; an all-natural and reusable calico bag.

Beautifully British
Our Classic bedding range is hand-crafted using British wool which is graded by British wool merchants with centuries of experience in selecting the finest quality fibres. The climate in the United Kingdom ensures a quality of wool that is unrivalled in the world for sleep products.
Product Benefits
Constructed using 100% British wool for the ultimate natural sleep. A quilted stitch pattern ensures there's absolutely no migration of fillings
Contains no synthetic materials or fibres
Naturally flame retardant without the need for any unpleasant chemicals
Naturally hypoallergenic, and approved by Allergy UK
Naturally mould, mildew and dust mite resistant
Technical Specifications
Filling weight: 500gsm (equivalent to approximately 11-14 tog)
Filling: 100% British wool
Outer Fabric: 200tc cotton
Construction: 100% carded British wool filling enveloped in 200tc cotton outer
Care Instruction: Our Classic bedding is entirely natural, so shouldn't need cleaning often (simply airing the product can do it the world of good). When you do come around to cleaning it, it would need to be taken to a dry cleaners. We highly recommend Johnson Cleaners, who have a fantastic, non-toxic service called Green Earth.
Find your nearest green earth cleaning store here >>

You might also want to consider...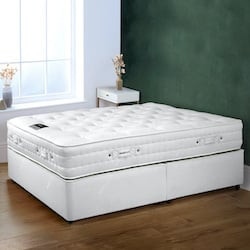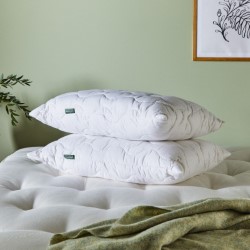 Other Superking Wool Duvets...