"
Wondering how to choose a comforter? With so many options out there, making the right choice isn't easy - and it all depends on what you're looking for. At Woolroom, we offer a variety of
natural wool comforters
that promise to provide a luxuriously comfortable and restful night's sleep. So if you've already decided that your bedding is the answer to achieving a healthy, happy sleep, but you're still not sure which comforter is best for you, we're here to help.
So, what is the best comforter? Have a look at our comforter buying guide below for advice on everything from lightweight comforters to the world's first washable, organic comforters.
Comforter Buying Guide: Why Wool?
At Woolroom, we're proud to be the first – and only – bedding company offering
traceable wool
. Ethically sourced from flocks of happy sheep around the green pastures of Britain, the wool used in our bedding can be traced right back to the farm it came from. Because of this, our wool comforters have a variety of qualities that benefit your health, comfort and wellbeing, including:
They're made from biodegradable, sustainable and renewable materials.
They offer long life durability.
They're naturally flame retardant.
They're temperature regulating.
They're made with 100% British wool.
They're naturally hypoallergenic.
They're delivered straight to your door in environmentally friendly packaging.
If you're settled on a wool comforter but need more advice on which one suits you best, our comforter buying guide will tell you everything you need to know about the types of comforters available at Woolroom.
How to choose a comforter from Woolroom
Our selection of Classic, Deluxe and Organic Washable comforters are perfect for tailoring to everyone's specific sleep needs – so whatever you're looking for in a comforter, you'll find it at Woolroom.
Classic Wool Comforter
Made from 100% British wool, our high-quality Classic comforters are perfect for a natural sleep. Encased in a 200 thread count cotton outer and with a range of thickness levels to choose from, our light, medium and warm Classic comforters retain all the benefits of wool at an affordable price point.
Looking for something with a few more features? Continue with our comforter buying guide and find out more about our machine washable Deluxe comforters below.
Deluxe Washable Wool Comforter
So, can you wash a comforter made from wool? With our Deluxe collection, you can! Offering full traceability and genuine machine washability, this comforter collection is truly unique. While the wool used in our Deluxe comforters has always been sustainable, renewable, biodegradable and machine washable, it's now fully traceable too. So when you invest in one of our Deluxe wool comforters, you're not only investing in your health, but the environment too.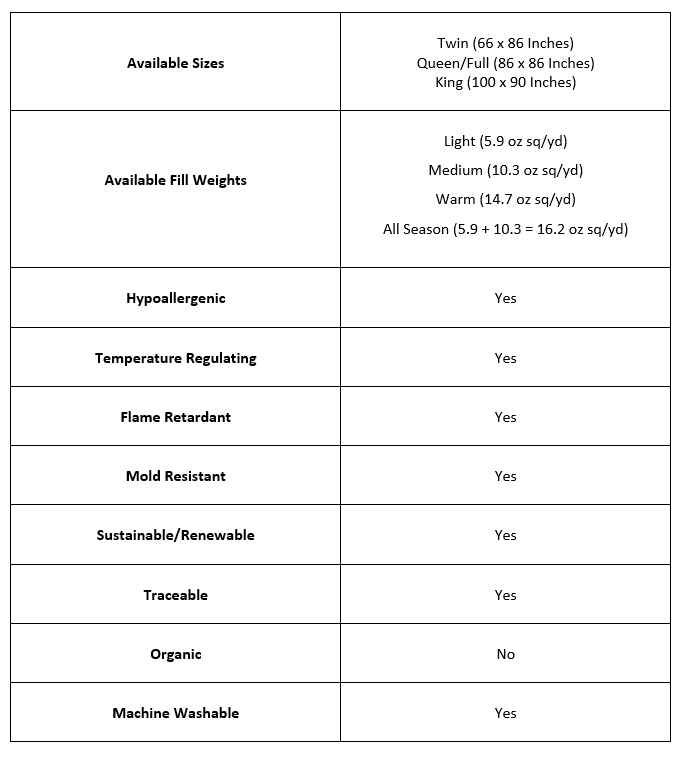 Searching for something with an added slice of comfort? Find out more about our traceable, Organic Washable range below.
Organic Washable Wool Comforter
For a lavishly cozy comforter that's truly organic, take a look at our world's first Organic Washable comforter collection. Made with British traceable wool fibers, 100% organic cotton fabric and fully machine washable, these comforters are guaranteed to give you a sleep worth dreaming about. With GOTS certification, our Organic Washable comforter collection is the ultimate solution to clean sleep, leaving you feeling healthy, happy and fresh night after night.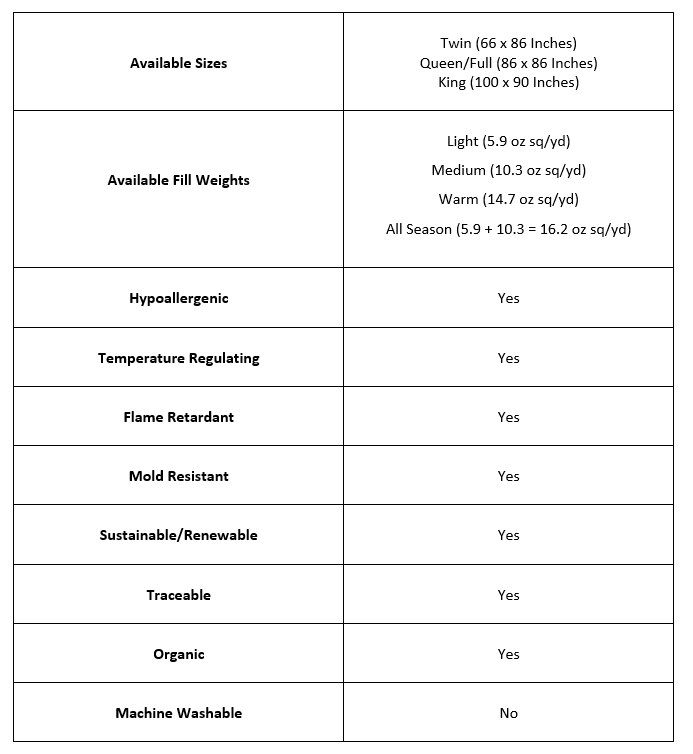 Still not made up your mind about which comforter is best for you? Our comforter buying guide continues below with some extra insights on finding the perfect comforter.
Which comforter is the warmest?
Wondering which comforter is the warmest? If you like to feel cozy and extra warm while you sleep, our medium and warm comforters are perfect for you. But if you want to go the extra mile and tailor your warmth to the changing temperatures, our
all-season wool comforters
are made up of two separate comforters that can easily detach and re-attach to work in your favor. But, whichever weight you choose, wool naturally controls your body temperature as you sleep, creating a cloud of warmth in the colder months and a cool layer of breathability when the weather starts to heat up.
Can you wash a comforter?
The short answer is…yes! Our Deluxe and Organic Washable wool comforters are completely washable. But how does it work? You might be thinking that it's impossible to make a wool product machine washable without some form of treatment – and that's why it's taken us over a decade to perfect a collection of washable comforters that promise quality and performs flawlessly.

At Woolroom, we bathe our wool in a chlorine solution which smooths out the natural barbs you find in wool. The wool is then rinsed twice to remove any residual chlorine, leaving you with less than you'd find in a glass of tap water! This process ensures that the wool's natural qualities aren't affected, and your bedding contains no nasty chemicals. This process is only carried out on our Deluxe collection. Our Organic Washable collection uses a GOTS certified process combining oxygen, natural minerals and water to bathe the wool fibers in to ensure they are suitable for washing. This process is completely organic and a world's first.

What is the best comforter for allergies?
Experiencing allergy flare ups at night? Luckily, all of our wool comforters are naturally hypoallergenic, working hard to keep those pesky symptoms at bay. So whether you suffer from hay fever, a dust mite allergy, eczema or anything else that leads to disrupted sleep, our natural wool comforters are here to keep you sleeping peacefully.
What is the best comforter for me?
Ready to introduce a natural, breathable comforter to your sleep? Take a look at our
wool comforter collection
for an eco-friendly sleep that simply can't be beaten.