Wool Mattress Protectors
Natural, comfortable and completely hypoallergenic. That's why our wool mattress protectors are the smart choice for sleep.

Browse and buy online today.

Filter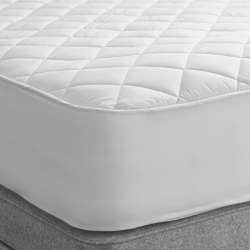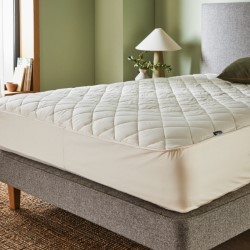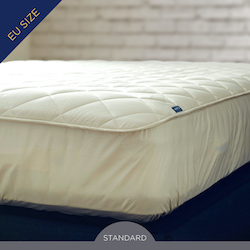 Why use a mattress protector?
When you've invested in a
high-quality mattress
, you want to keep it in tip-top condition for as long as possible. Mattress protectors are a great way to look after your mattress and make it even comfier.
Used between your mattress and your sheet, a mattress protector provides an extra protective layer to keep your mattress clean and fresh. What's more, wool mattress protectors are particularly effective, because they draw away moisture from the mattress and provide a hypoallergenic barrier against dust mites. When cared for correctly, one of our wool mattress protectors can prolong the life of your wool mattress by 2-3 years!
Mattress covers for an even comfier slumber
With your 100% wool bedding, mattress and cotton sheets, you're all set for a snuggly night's sleep. A wool mattress protector is the finishing touch, ensuring that you won't feel your mattress, allowing you to float into dreamland on a comforting cloud of wool.
Wool – the secret to a cool mattress protector
By choosing a wool mattress protector, you'll be harnessing the powers of this natural material to keep you warm when you're chilly and cool when you're hot. Wool mattress covers also help to draw away moisture from the body when you sweat, which can otherwise mean a clammy, disturbed night's sleep. All of which makes our natural mattress protectors a great choice if you want to turn your bed into a sleep-enhancing haven.
Meet our hypoallergenic mattress cover – Allergy UK approved
You understand the benefits of a mattress protector, and you know that wool is best. But did you know that Woolroom's wool mattress protectors are the only fully tested and certified natural hypoallergenic mattress covers on the market? Allergy UK has approved our natural mattress protectors as effective barriers against dust mites, dust mite allergens, fungus and mould – the leading trigger for bedroom allergies.
Our wool mattress protectors are also completely free from nasty synthetics. The filling is 100% British wool, while the cover is 100% cotton (another natural, breathable material that supports better sleep). Not only this, but our hypoallergenic mattress covers are also easy to machine wash on a wool cycle, so you can sleep sound, knowing that your bed is as clean as it is cosy.
Complete your wool sleep system
Your wool mattress protector is the perfect finishing touch to complete your wool bedding. Use it to protect your mattress and to enhance the sleep-supporting qualities of your duvet. For an added layer of comfort, why not combine with a
wool mattress topper
too? Then simply settle down and snooze.
Buy your wool mattress protector online today.