It goes without saying that we're advocates of wool; we devote our lives to spreading the word that it is an incredible fibre that delivers genuine health and sleep benefits.
You'll often find us shouting out about how wool bedding can deliver up to 25% more stage four regenerative sleep, or how it's a great solution for those who suffer from allergies and night sweats. We also love wool because it's incredibly fire resistant, which is more than can be said for goose down, duck feather or synthetic alternatives.
But not everyone shares this view. There are plenty of people who think they know the truth about wool and see it as an uncomfortable fibre to wear, expensive to buy and too hot for the summer months. But that's where they're wrong. So we've taken it upon ourselves to debunk the myths and make sure you know the real truth about wool.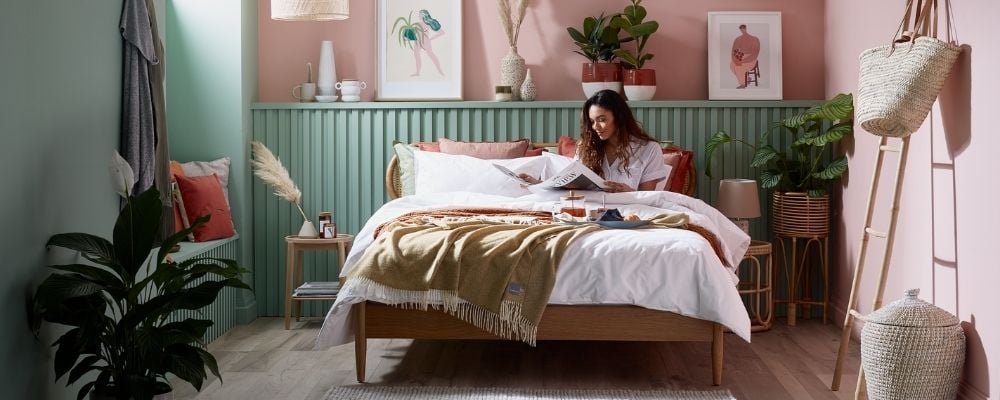 The truth about wool: 7 myths debunked
Wool myth number 1: Is wool itchy?
Possibly the most common misconception of wool – is wool itchy? It would be unfair to completely dismiss this myth without acknowledging that some coarser wools can in fact irritate delicate skin, because sheep that live in certain environments can produce coarser fibres. But in most cases, you'll probably find that the issue is lanolin, which is an oil that is found within wool. It can leave you with a nasty rash after wearing mass-produced wool clothing. But with wool bedding, it's a different story.
It's always best to choose the right wool for the right purpose, and the coarser wools are in fact more resilient and ideal for bedding and mattresses – which is why our products are encased in a 100% natural cotton outer as a protective barrier. But any lanolin is washed out during the manufacturing process, meaning that you can sleep soundly with all the benefits of wool, without feeling itchy.
Wool myth number 2: Does wool attract dust mites?
There's a lot of misleading information out there about these little critters! But they don't 'eat wool' and they don't 'eat dust' either. The truth is, they eat the bacteria and fungus that grows in the soft furnishings around our homes – yuk!
Synthetic and feather/down-filled furnishings create a great environment for bacteria and fungus to grow in because they hold moisture so well. But because of its temperature-regulating qualities, wool is too dry and therefore uninhabitable for dust mites and allergens – which is just one of many benefits of wool.
Wool myth number 3: Is wool flammable?
It's not entirely clear where this wool myth came from, but some people believe that wool is flammable. But that's just not the case. The truth about wool is that it's actually often used in situations where fire safety is paramount. In fact, the fabrics used in aircraft, cars and even in fire and military uniforms are all made of wool. Meaning that our wool bedding bundles are naturally flame retardant and safe to sleep in.
Wool myth number 4: Is wool warm?
It's true that wool is fantastic for keeping you warm in winter, but did you know that it will also keep you cool in summer? One of the best benefits of wool is that it has evolved over thousands of years to keep sheep healthy and comfortable, no matter how much wool they have on their backs. In fact, its microscopic structure can keep you cool by wicking moisture away from your skin – so that no matter the weather, with wool bedding you can sleep comfortably.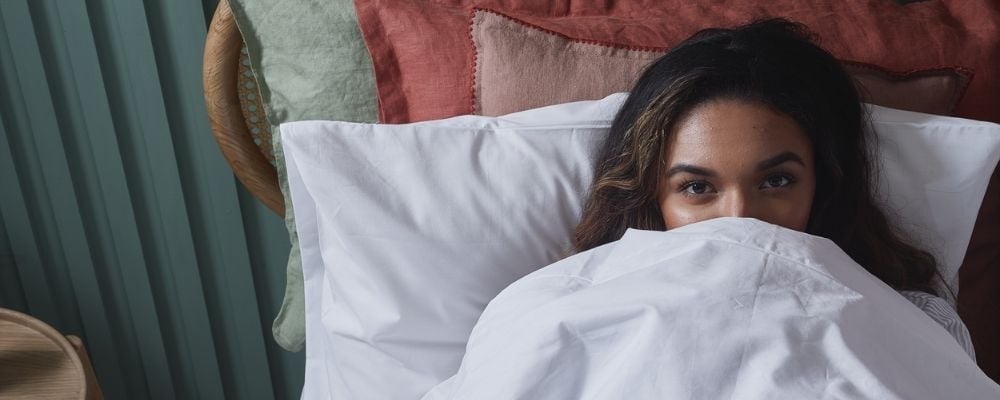 Wool myth number 5: Is wool expensive?
The truth about wool is, that on the face of it, it's pretty expensive when compared to synthetic alternatives – but what's not considered is the long-term value of this natural material. For example, a wool duvet can last you in excess of 20 years if looked after correctly; whereas a synthetic alternative is likely to last just three years. Add into the mix the extensive list of benefits of wool and it's easy to see why it is a better, long-term solution.
Wool myth number 6: Am I allergic to wool?
Genuine wool allergies are extremely rare, with approximately one person out of 100,000 suffering from them. So why do so many people think they're allergic to wool? It's simply a case of poor-quality fibres feeling prickly or itchy on your skin. In fact, it's the lanolin that most people are allergic to – which is washed out of our wool before being made into bedding.
Wool myth number 7: Does wool smell?
This wool myth likely stems from the fluffy animals that you see in the farm, rather than the natural fibre that we use in our bedding. The truth is that sheep do smell a little, which is understandable. However, your wool products (such as throws, blankets, bedding, clothing and yarn) are all specially washed to remove lanolin and any organic matter – which eliminates the risk of bad odours. But if your wool product does smell slightly, it's worth airing it for a day or two.
And that's the truth about wool! Now you know that every item in our
wool bedding collection
comes with a whole host of benefits, including temperature regulation, anti-allergy properties and all-natural qualities. Still worried about these wool myths? Our
wool bedding bundles
come with a 30-Day Sleep Trial – meaning that if you're not fully satisfied you're feeling all the benefits of wool, you can return it for a full refund. Order your wool bedding online today and experience your most natural night's sleep yet – or your money back.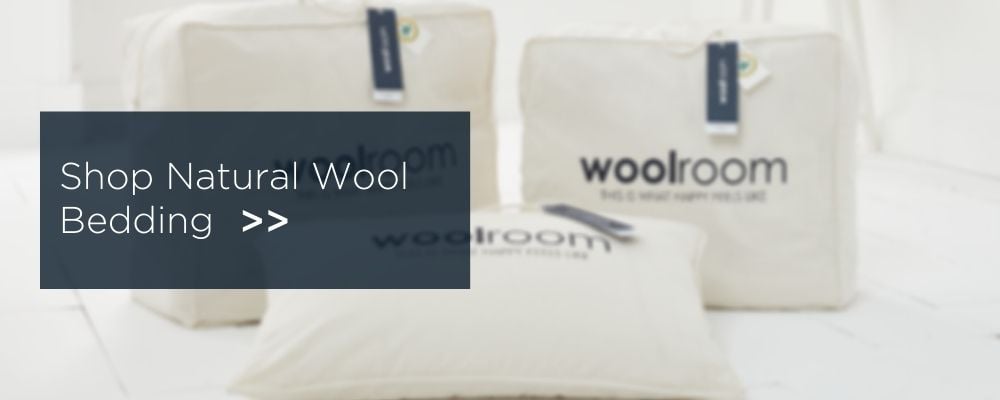 Comments
I really love wool but I'm worried about irritation. I can't wear wool clothing, even on top of shirts without feeling the prickle. Some times even cashmere upsets me. So I really need to know that a wool bed topper wouldn't irritate me before committing to buying. Can you give me any reassurance?
Woolroom's Customer Care Team
Hi Julie, thanks for getting in touch.

The wool is the magic inside the product, and wouldn't ever touch your skin due to the beautiful outer fabric. In over 10 years of trading, we've never had a return because of irritation against the skin.

Hope this helps, but don't hesitate to give us a call on 01780 461 217 if you'd like to discuss.

Thanks,
Adam
"
I Like To Buy British - Are These Made In The Uk
"
Hi,
I'm finally convinced I should buy a wool duvet but want to buy once as they do seem expensive compared to my current duvet.

Before I buy one of yours- I'd like to know if they are made in the UK as on Amazon I've read they're made in Europe somewhere?

Thank you,

Liney

Woolroom's Customer Care Team
Hi Caroline,

they are not made in the UK, they are made in Lithuania and Estonia. This is purely because the wool industry declined massively since the introduction of oil based synthetics and the quality of production and making them machine washable is consideribly better than in the UK, to ensure a quality product we make them in the EU by 4th generation specialists.

Kind regards,

Woolroom

by

Maria smith


05 Jun 2020
Is the wool used for duvets sourced from live sheep only?
Woolroom's Customer Care Team
Hi Maria, all our wool is sourced from British sheep that are still alive. They are not taking from sheep that have been killed.

Many thanks,

Ed
I think i would´ve taken this article more serious if it weren´t written so clearly biased. You guys say you are debunking myths but you actually create new ones aswell. Since when do synthetic fibers last 3 years only? There are many many outdoor Jackets made out of Polyester or Polyamid that last way beyond that. In fact if you take care of it you can make it last just as long as any wool coat. Those synthetic materials are known for their high durability that excels that of cotton.
Woolroom's Customer Care Team
Hi, thank you for the feedback. We are refferring to sythetic beddihng which has been proven to become collonised with dist mites over a period as little as 6 weeks so the lifespan of bedding items is alot less than a jacket that will only be used partially through the years.

Bedding is used daily and with washing, movement and drying it does not last as long as wool products do. Our bedding is completely natural and has manyh properties that you simply can not find in man made fibres and we love the fact that our bedding is anti allergy, chemical free and sustainable.

Thank you,
Woolroom
"
Wool Smell After Washing
"
I bought a few 100% wool baselayers and the smell after they have been washed is horrendous! What is this smell and how do I get rid of it?? I've now washed the items 4 times and the smell is not dissipating. It doesn't smell as bad when dried—not at all as bad but I still notice a very mild odor.
Woolroom's Customer Care Team
Hi Becky, I can't be sure exactly what the smell is, but would recommend contacting the place you purchased them from (it doesn't look like it was us).

Sorry I couldn't be of more help,

Kind regards,
Adam
I just purchased a large 10 x 10 wool hand tuffed rug that has an odor of maybe sheep? Is that what wool smells lime?. My windows are open, but Fall temps are starting to drop here. What can I do?
Woolroom's Customer Care Team
Hi David, I can't see an order for you, so assuming it's not one of our rugs (which we've had no feedback about smelling). Depending on the process the wool goes through, some rugs could smell. The best thing to do, is open a window just as you are doing and let the product air. If this isn't working, you could call the place you purchased the rug from and see what they suggest.

I hope this helps.

Kind regards,
Adam
In time do these rugs begin to smell due to the warmth of a house
Woolroom's Customer Care Team
Hi Nadia, As long as they have been aired properly then there is no reason for them to smell at all.

by

Charlotte Mason


14 May 2017
"
Wool Smell In Baby Nursery
"
I just purchased a wool mattress topper (online from UK) and a large wool rug (made by a local weaver here in Kenya), both for my baby's nursery, but both products smell really strongly of sheep.

I personally don't have a problem with the smell, but I'm worried in case it's a problem for my toddler.... With your wool expertise, could you advise if a significant sheep's wool smell is ok for a baby to sleep with? Both products are way too big to fit in my washing machine, so I'm hesitant to do a meagre hand-wash and risk worsening the smell...

Thanks!

Charlotte

Woolroom's Customer Care Team
Hi Charlotte,

I'm presuming your mattress topper isn't one of ours? I can't see an order on our system under your name, and our toppers are twice scoured to remove the lanolin, and most of the scent of wool.

As for the sheep smell, I don't see this being a problem for your toddler (though for safety purposes, I wouldn't like to guarantee it won't be). The smell of sheep should start to subside over time.
If this isn't the case, I'd suggest that you try and air the products as well as you can by hanging them over a washing line on a nice day.

I do hope this helps,

Kind regards,
Adam
Leave your comment
Your email address will not be published. Required fields are marked*