Struggle with high body temperature at night? Here we look at body temperature control and some of the reasons why you might overheat in bed. With our 30 and 60 night sleep trials available on selected products, we have taken the risk out of your purchase allowing you to try your products and if they don't help with your quality of sleep and aren't performing as you expect then you can return for a full refund. It really is that easy and completely risk free, it will even be delivered in 1-2 days at no extra cost!
"
"
What happens to your body at night?
Did you know, your body uses changes in temperature to help it get ready for and to stay asleep? Your circadian rhythm, or internal body clock, helps to manage your sleep and wake cycle. It does this by using hormones to lower your temperature in the evening helping you feel sleepy. It raises it again in the early hours to encourage you to wake. While these changes go unnoticed by many, unfortunately for some, this increase in temperature can lead to waking up feeling hot.
What's more, this rise in temperature can be exacerbated by other things. Just a slight increase can disrupt your body's circadian rhythm meaning you're waking up hot and sweaty in the morning and feeling tired and out of sorts the next day.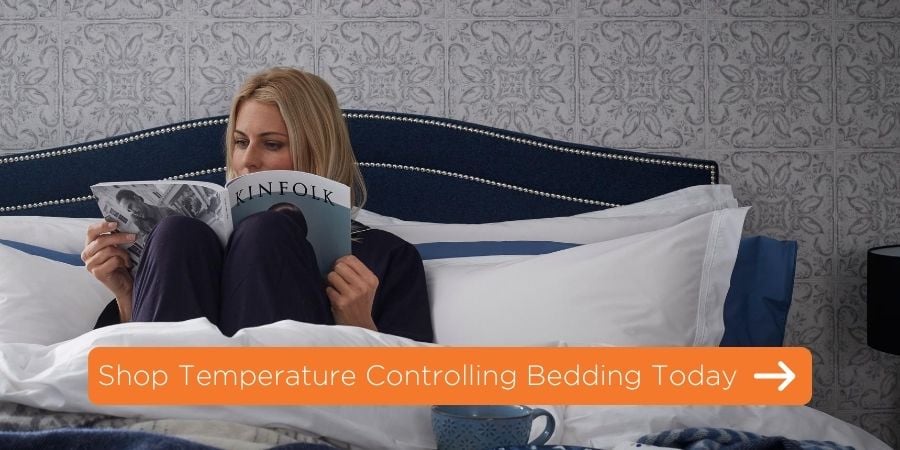 Why do I wake up sweating?
If you find yourself suddenly waking up drenched in sweat in the morning it pays to try to work out what's causing it. Here are some of the reasons you might be waking up feeling hot and sweaty:
Hot flashes associated with perimenopause and menopause can disrupt sleep. Sufferers suggest they often feel worse at night, sometimes waking up drenched in sweat – particularly as their body temperature rises in readiness for morning. Find out more about the menopause and night sweats.
A cold or fever may lead to your temperature increasing as your body fights to rid itself of infection.
Certain drugs, such as prescribed antidepressants and other psychiatric medications, can lead to high temperatures at night as well as night sweats.
Pregnancy can disrupt your body's temperature regulation processes due to the high levels of estrogen in your body. This can leave you more sensitive to those early morning temperature increases, leaving you waking up hot.
Certain medical conditions can affect the hormone levels in your body, once again disrupting your sleep/wake cycles and temperature regulation. Thyroid disease and some cancers are among the culprits, but it's important not to jump to conclusions. If you can't find a plausible reason to explain why you've started waking up at night sweating, or if you are at all concerned, make sure you contact your physician for advice.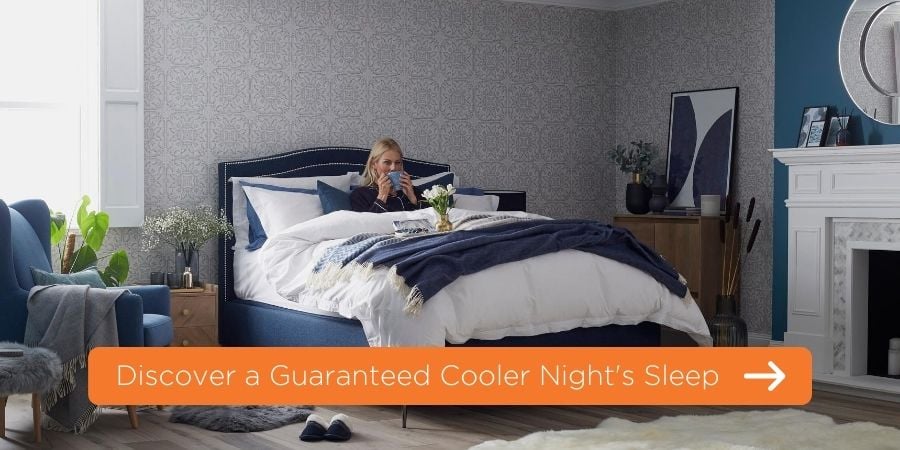 How can you help your body to regulate its temperature better?
So, we've learned that body temperature regulation is important for a good night's sleep and to help you avoid waking up covered in sweat and overheating in the morning. But what can you do if you're regularly waking up hot and sweaty?
First, keep your bedroom nice and cool - since your body recognizes a dip in temperature as a signal to ready itself for sleep, a cool room could be beneficial.
Second, create the perfect sleep environment. Find out why you should avoid choosing a memory foam mattress if you're prone to waking up hot, and choose bedding that can actually support your body in regulating its own temperature.
Breathable wool bedding is a great choice to help you avoid waking up hot and sweaty. Naturally thermoregulating, the beauty of wool is that it can help you to cool down naturally when your temperature spikes overnight. And with the added benefit that it wicks away moisture too, you should find you get a much more settled, and much drier, night's sleep.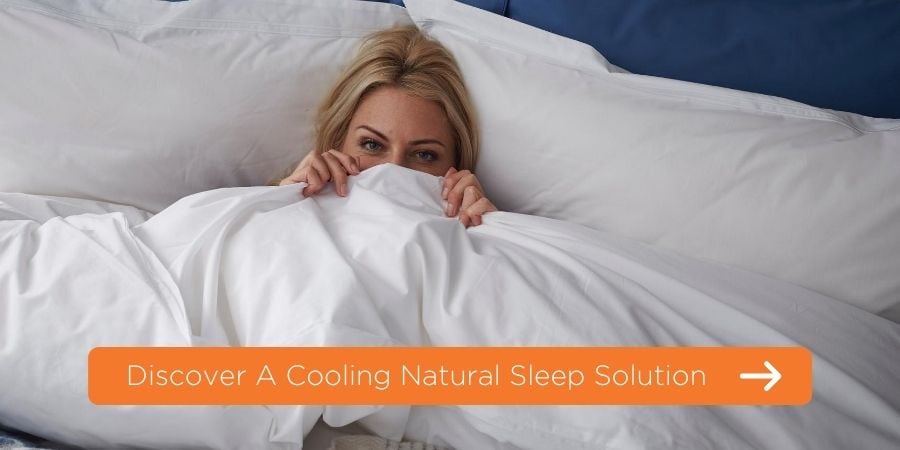 Discover our 30 and 60 Night Sleep Trials
Here at woolroom, we know the importance of a good night's sleep. The average person spends more than a third of their lives (26 years!) in bed. With that in mind, can you afford not to be entirely comfortable and well rested?
Wool is a fantastic fibre that can enhance your sleep immeasurably. This is achieved largely because of its incredible ability to regulate your temperature - naturally.
We're so confident that our wool bedding can enhance your sleep that we will give...
a 30 Night Sleep Trial on any individual bedding item which includes the following; comforters, pillows, mattress protectors and mattress toppers
60 Night Sleep Trial on bedding sets which consist of the following; comforter, pillow(s) and a mattress protector or topper
For more about night sweats and other conditions that can affect sleep, visit our
Sleep Health & Advice hub
.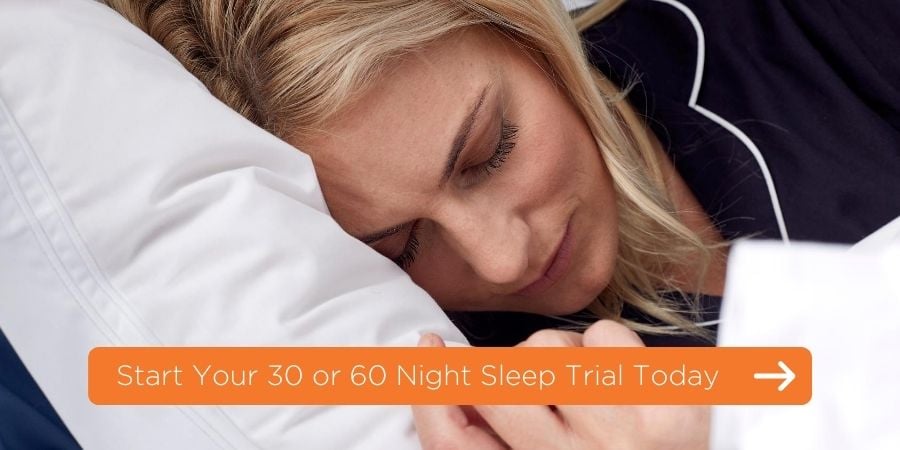 Comments
"
Well I Am Not Hot And Sweaty But Fever...
"
I have a low grade fever upon waking but it slowly goes down as i wake, then I am cold if I sit too much. I am allergic to wool, can i still use your bedding??
Woolroom's Customer Care Team
Yes, wool works great with allergies. If you would like more info please contact us or visit our website.

Kind regards,

Woolroom

by

Lori Strong


04 Apr 2021
I wake up early in the morning and my face is very hot! What can I do to stop this? I can never get back to sleep after!
Woolroom's Customer Care Team
Wool is very good for regulating your temperature throughout the night. If you would like more info please look on our website or contact us

by

Michelle Lewis


13 Jun 2020
Hi, I've been concerned about how long I've been experiencing waking up in the morning super sweaty and hot then i get cold and freezing still sweaty till i take a shower and i still continue to feel cold and kinda sweaty nist not as bad. Wondering if it something i should be concerned about and see my doctor. Idk.. But it's been happing a while now i wanna say a like 2-3 month's. I've had day's where i wake up ok nothing but that's not much. Thank you in advance.
Woolroom's Customer Care Team
Hi Michelle,

Thanks for getting in touch. I wouldn't like to suggest what's causing your morning sweats, and while it's likely nothing to be worried about, I would recommend you seek the advice of a medical professional if it's worrying you.

Kind regards,
Adam
why do I start sweating the first thing I wake up in the morning just as I move...I feel sweat and anxiety...but only about 5 seconds after I wake up....then it goes away after a couple of minutes
Woolroom's Customer Care Team
Hi Edith,

Thank you for reaching out. Unfortunately, I wouldn't be able to advise what is causing the issue, but would suggest it's worth reaching out to a medical practitioner if this is causing you issues.

I can however advice that Woolroom bedding is scientifically proven to reduce nightsweats and overheating while you sleep.

Sorry I couldn't help further.

Kind regards,
Adam

by

Alysia Taylor


10 Feb 2020
Just trying to figure out how I can stop sweating like crazy. Everytime I wake up or turn over.
Woolroom's Customer Care Team
Hi Alysia,

We'd advise taking a look at our bedding sets which will reduce sweating considerably. You also get a 30 night trial on the bedding sets to see if they help your sweats.

Kind regards,

Woolroom
Leave your comment
Your email address will not be published. Required fields are marked*