Choosing the best type of pillow can be tricky – as it depends on your preferences. What is your usual sleeping position? How often do you like to wash your pillow? These are all things to think about before settling on a choice of pillow. You've also got to consider other factors such as your personal health, any allergies you suffer from or environmental impact. So if you're wondering how to choose a pillow that ticks all the right boxes, read our wool pillow buying guide below.
Pillow Buying Guide: Why Wool?
At Woolroom, we're proud to be the first – and only -
traceable wool
bedding company in the UK. This means that all of our wool can be traced right back to the farm it came from, and is ethically sourced from a flock of happy sheep that are nurtured and cared for by our wool keepers. Because of this, our wool pillows have a variety of qualities that benefit your health, comfort and wellbeing, including:
Made from biodegradable, sustainable and renewable materials
Long life durability
Naturally flame retardant
Temperature regulating
100% British wool
Naturally hypoallergenic
Delivered in environmentally friendly packaging
If you're settled on a wool pillow but need more advice on which one suits you best, our pillow buying guide will tell you everything you need to know about the types of pillows available at Woolroom.
How to choose a pillow from Woolroom
Our selection of classic, deluxe and organic washable pillows are perfect for tailoring to everyone's specific sleep needs.
Classic Wool Pillow
Made from 100% British wool, this high-quality wool-filled pillow is perfect for the 'just right' sleepers. With a simple, classic design and a standard level of firmness, our
Classic Pillow
offers the right level of support to help you doze off peacefully.
Looking for something more adaptable? Continue with our pillow buying guide and find out more about our adjustable, machine washable deluxe pillow below.
Deluxe Wool Pillow
Filled with wool balls that allow you to adjust the firmness, our
Deluxe Adjustable Pillow
is also machine washable and made from 100% traceable British wool. Simply open them up, fluff up the balls and your pillow is as good as new! With traceable wool, you can source your bedding right back to the farm the wool was came from. So when you invest in one of our deluxe wool pillows, you're not only investing in your health, but the environment, too.
Searching for something with an added slice of comfort? Find out more about our world's first traceable, organic washable collection below.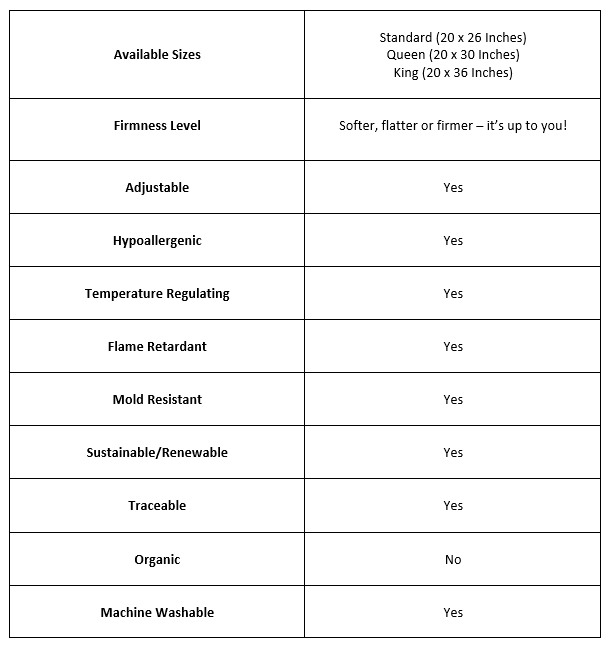 Organic Washable Wool Pillow
For lavishly comfortable pillows that are not only soft but equally supportive, take a look at our luxurious
Organic Washable Pillow
collection. Made with British traceable wool fibers and 100% organic cotton fabric, these world's first organic washable pillows are fully customizable for a guaranteed sleep worth dreaming about. The wool used in our Organic Washable collection can be traced right back to the farm that it was sourced from, and is ethically produced from a flock of happy sheep that are both nurtured and cared for by farmers. At Woolroom, we are committed to using eco-friendly materials at every step. Fully GOTS-certified, our Organic Washable bedding collection is the ultimate solution to clean sleep, leaving you feeling more comfortable and ready for sleep.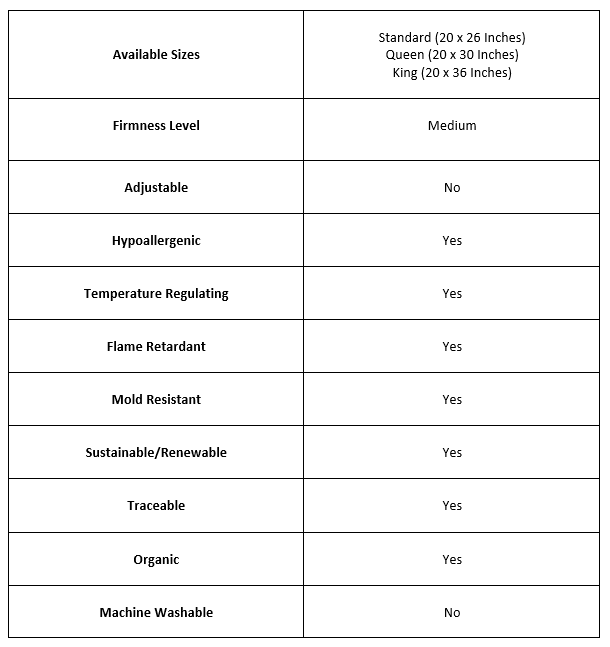 Still not made up your mind? Our pillow buying guide continues below with some extra tips for finding the perfect pillow.
What is the best cooling pillow for night sweats?
Wool makes for the perfect cooling pillow for night sweats. With the Woolroom range of organic, natural wool pillows, you can expect a breathable material that not only reduces overheating, but draws excess moisture away from your face and neck.
What is the best pillow for allergies?
Nobody likes irritating allergies coming to the surface late at night. But what is the best pillow for allergies and alleviating the symptoms? Our entire range of wool pillows is made from 100% British wool, so is hypoallergenic, having been stamped with the seal of approval from Allergy UK.
With our hypoallergenic pillows, the natural wool filling is effective at repelling dust mites and fungal spores, leaving you with an allergy eased sleep, night after night. You can learn more about choosing the best bedding for allergies in our
Sleep Health & Advice
hub.
Which pillow is good for health?
Helping our customers to achieve healthy sleep is a priority for us. That's why everything in our collection puts your health first. From the natural organic properties of the wool fibers, to the breathable temperature control that wool offers, our entire
collection of bedding
is built to enhance your sleeping environment. What's more, sleeping with wool bedding can help you to gain up to 25% more deep regenerative sleep – allowing you to wake up feeling refreshed and well-rested every morning.
What is the best type of pillow for my sleeping position?
The best type of pillow for you depends on your sleeping position. This will tell you what level of firmness to opt for when deciding on a pillow. If you sleep on your side, you'll find that a firmer pillow should offer the right level of support for you. If you're a back sleeper, you'll find that a pillow with a little less firmness works better. Or if you sleep on your front, you can get away with a much softer pillow. For most of us, a standard size rectangular pillow does the job. For that added luxury and comfort, our pillows are all available in Queen and King size. Or, for a pillow that offers a giant hug, why not take a look at our
Deluxe V-Shaped Pillow
?
After reading our pillow buying guide, you should now know how to choose the right pillow for you. Browse natural
wool-filled pillows
that are all designed to help you get a better night's slumber.