It's no secret that wool is a luxury, magical fabric that brings a whole host of benefits to our sleep. But what is it about wool that makes it so special? And why is wool better than alternative fibers?
What are the benefits of wool?
If you're wondering where to buy bedding, or what type of bedding is best for achieving the perfect sleep, look no further than wool. With its health benefits and its luxurious, enhanced comfort, wool has been proven to improve the quality of your sleep. How? Because wool bedding is naturally hypoallergenic, completely chemical free and even works to control your temperature at night. So when you cocoon wrap yourself up in wool, you're guaranteed a healthier, happier sleep, leaving you feeling fully rested and refreshed each morning.
At Woolroom, we're so confident about the comfort and health benefits of wool, that we offer a range of exclusive sleep trials.
Find out more about our fair sleep trials here
.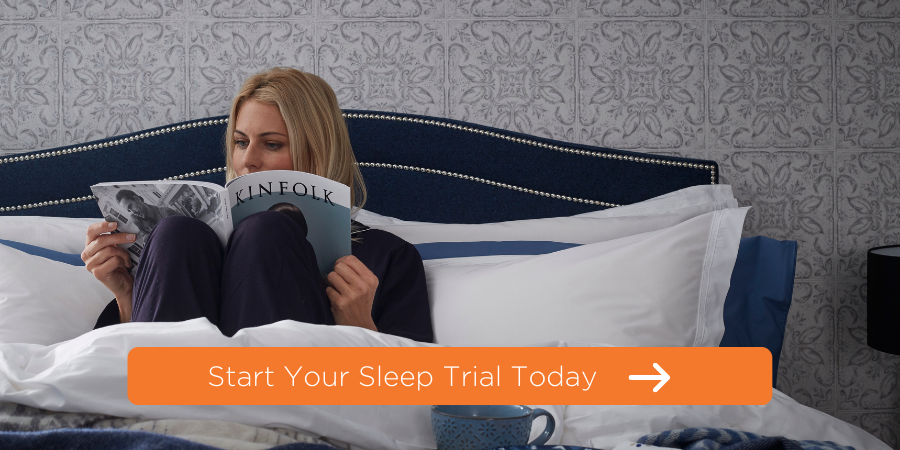 It's cool when it's hot, and warm when it's not!
Not only is the comfort element of wool more than enough to set it apart from other types of bedding, but it's also a natural insulator. This means you'll be kept warm in winter, and cooler in the summer – thanks to its temperature controlling capabilities and naturally breathable fabric. The wool fiber helps to keep your body at the optimal temperature zone for the right level of comfort and rest. The alternatives, such as synthetic fibers, down and cotton, do not breathe naturally in the same way that wool does, and are more likely to trap heat in your bed. Wool buffers the extreme cold or hot air on the outside, keeping your body in the ideal comfort zone. The perfect temperature for the perfect snooze.
It's naturally absorbent!
The health benefits of wool are vast – so it's easy to say why wool makes for great bedding. Being naturally absorbent is just another perk that it offers. Wool fibre fiber is the original wicking fabric, and wool bedding can absorb up to 30% of its weight without feeling heavy or damp. To put that into perspective, cotton fabrics begin to feel damp after 15%. The fibers in wool 'breathe' by absorbing moisture away from the body and releasing it back into the air. It's just like magic!
It's hypoallergenic!
If you're looking for anti-allergy bedding, you can't go wrong with wool, with its naturally hypoallergenic qualities. Although some people do have a rare natural allergy to Lanolin - the oil found in wool - most people's "allergy" to wool is actually a reaction to the many harsh and toxic chemicals that go into the treatment and finishing of conventional wool garments and bedding. Serious chemical abrasives are routinely used to wash raw wool for processing. With Woolroom, no such chemicals are used, so you can rest assured that your bedding is completely free of harsh chemicals or bleaches.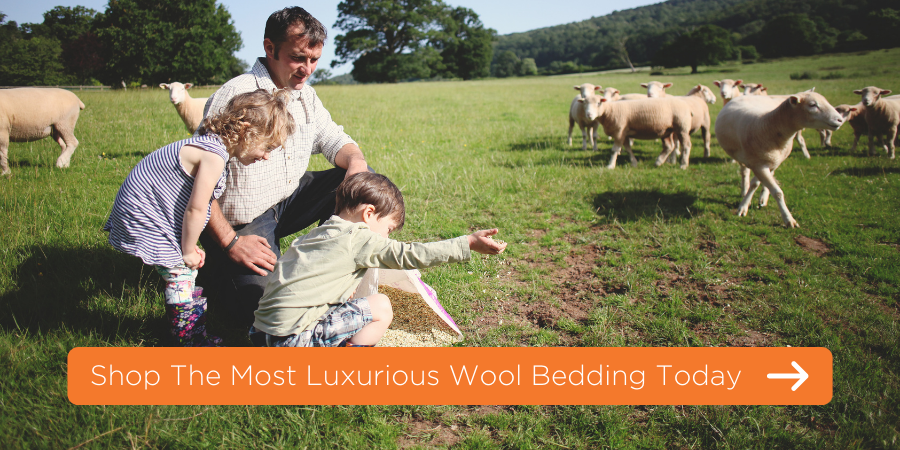 It resists mildew and mold!
Wool's natural resistance to mildews and molds comes from the way it repels moisture and lets it pass through its fibers without trapping it. Mildews and molds require moisture to live, and grow, which is why wool is the perfect material for bedding.
It's clean!
Wool works hard to resist dirt and dust. This makes it easy to clean, because any dirt will sit on the surface of the fiber. The outside surface of the wool fiber consists of a series of overlapping scales, similar to the feathers on a bird, making it easy to brush off and for stains to lift out.
It's durable!
Laboratory tests have shown that wool fibers resist tearing and can bend back on themselves more than 20,000 times without breaking. In comparison, cotton breaks after 3,200 bends, silk fibers break after 1,800 and rayon fibers break after just 75. That's why wool lasts, giving your bedding a longer, happier life.
It's naturally wrinkle resistant!
If you're wondering why wool will naturally resist the wrinkles in your bed sheets, it's because it's the most resilient fiber. It has a natural crimp that helps it keep its shape, and will bounce back to its original form even if it's stretched.
It's fire retardant!
Wool is safer to sleep in because of its natural fire-retardant properties. It can resist flames without the chemical treatment involved in fireproofing. Most synthetic fibers ignite easily, burn fiercely and melt at an alarming rate.
It's healthy for the sheep!
Wool is a renewable resource that can be shorn from sheep every year. Unlike the unpleasant processes involved in crafting down and feather bedding, sheep love getting their annual haircut. It relieves a lot of weight and pressure from them, and keeps them much cooler in the summer months – a bit like hanging up your winter jacket for the season! Our sheep mean the world to us, and we care deeply about their quality of life.
Read more about our Five Freedoms policy here
.
It's eco-friendly!
We know what it means to achieve the perfect sleep. That's why we're passionate about making a difference to the planet, too. As well as being renewable and sustainable, our wool bedding is also biodegradable. Wool is a natural fiber that doesn't shed plastic microfibers into the water the way polyester does - and it is compostable. That's why it's a much better alternative to oil -based synthetics, which contribute to air contamination and ultimately, climate change.
It's 100% organic!
As well as ensuring our bedding is completely sustainable, we also want to minimize the risk of pollution. Not only is our bedding made from 100% British wool, but it's also lovingly encased in organic cotton bed linen. Why? Because non-organic cotton uses 16% of the world's insecticides and 24% of the world's pesticides, putting our environment at risk of harmful contamination. By using an organic alternative, we're helping to reduce that impact.
Are you ready to reap the benefits of
wool pillows
,
comforters
,
toppers
,
mattresses
and more? Build your sleep sanctuary with
Woolroom bedding
today, and change your relationship with sleep.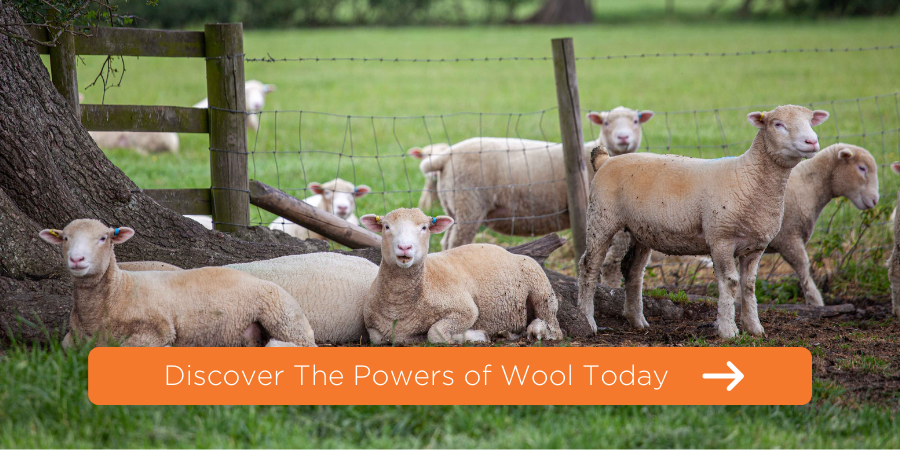 Comments

by

Linda Harrison


27 Jan 2022
Hi, I currently have a foam mattress and am ready to switch. I am wondering how to determine which tension is best - medium or firm. I am a side sleeper - have some hip issues which are worse if I am "sinking" in. I am looking at the Luxury mattress. Thank you.
Woolroom's Customer Care Team
Hello!

we would always recommend a regular tension if you are between 8 and 18 stone as this will be the most supportive and comfortable for your weight!

by

James Hathaway


04 Nov 2021
Tempur pedic king (2 twin xl memory foam mattresses)

I am suffering night sweats and need to insulate my body from excessive heat when my radiant heat cycles on, yet not freeze in the off cycle. Recommend?
Woolroom's Customer Care Team
Hello, thank you for the review, wool naturally helps regulate your temperate whilst sleeping, it does this by absorbing and desorbing the moisture around you! May i suggest you try wool bedding if you have not before?

Kind regard
Woolroom

by

Bridget Kelly


17 Mar 2021
Hello. I'm interested in the wool mattress but think I need reassurance that the mattress will not become too firm over time as the wool compresses. I will probably get the topper as well for extra coziness. Thank you.
Woolroom's Customer Care Team
Hi Bridget, our mattresses are made with carded wool so you should not experience a great deal of compression. Carding is a process where the Wool is compressed and layered into sheets, as long as you have the correct firmness of the mattress for your body weight you should find no issues.
Leave your comment
Your email address will not be published. Required fields are marked*