Wondering how to choose a mattress? We're here to point you in the right direction, from filling and comfort to sustainability and materials. Ready to get started? Read our mattress buying guide below and find out how to pick a mattress that makes a real difference to the quality of your sleep.
Mattress Buying Guide: Why Wool?
At Woolroom, we're proud to be the first – and only - traceable wool bedding company in the UK. This means that all of our wool can be traced right back to the farm it came from, and is ethically sourced from a flock of happy sheep that are nurtured and cared for by our wool keepers. Because of this, our wool mattress – The Wooly – offers a range of health benefits, as well as providing a luxuriously comfortable night's sleep.

If you're wondering what type of mattress is best for you, there are a few things to consider, including comfort, size, firmness and anything else relevant to your health. But when it comes to the choice of filling, you can't go wrong with the all-natural miracle fiber: wool. Choosing wool is not only an investment in your comfort, but your health too. Why? Because wool offers a variety of unbeatable perks, such as:

Wool is made from biodegradable, sustainable and renewable materials.
It has long life durability
It's naturally flame retardant.
It effortlessly controls your body temperature while you sleep.
Wool is naturally hypoallergenic.
Our wool mattresses are made with 100% British wool, and are delivered in environmentally friendly packaging.
If you're settled on a wool mattress but need more advice on which one suits you best, our mattress buying guide will tell you everything you need to know about how to pick the best mattress.
How to choose a mattress from Woolroom
Our mattress - The Wooly - is the perfect all-rounder, tailoring to everyone's specific sleep needs. Whether you suffer from allergy flare ups, night sweats, discomfort at night or you're simply looking for a mattress that is kinder to the planet, The Wooly encompasses everything you need for a happy, healthy sleep.
The Wooly Mattress
The Wooly Mattress combines 4500 coils with the finest hand-selected natural fillings, giving you a supportive and comfortable sleeping surface. It's temperature controlling properties offer complete breathability, while the Merino wool blended outer cover ensures that this mattress is completely chemical free, helping you to doze off peacefully night after night.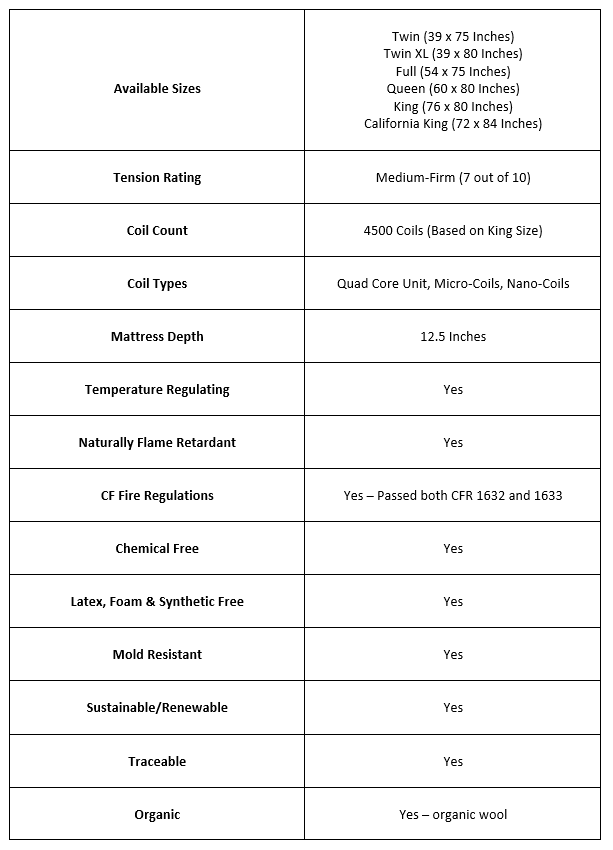 What is the most comfortable mattress?
A natural and handmade mattress, The Wooly combines layers of the latest spring technologies with layers of hand-picked British wool. This unique combination offers an exceptional level of support and comfort that fibers such as memory foam or latex simply can't match.
What type of mattress is best for the environment?
Unlike many other mattresses,
The Wooly
is free of foams, synthetics, glues and adhesives, petrochemicals and chemical flame retardants. This means that every component of The Wooly mattress is recyclable, breathable, eco-friendly and ethically sourced – providing a healthier sleep for you, and a healthier environment for our planet.
How to choose a mattress with Woolroom
Ready to transform the way you sleep? Take a look at
The Wooly mattress collection
for a natural, breathable and eco-friendly sleep that doesn't cost the Earth.