Your bedroom is your sanctuary – a safe haven for you to rest easy in at night and leave the worries of the day behind. A well-designed sleep environment can be the difference between a good and bad night's sleep. And because sleep makes us healthy, full of vitality and improves our general wellbeing, it's important that we get it right. But how do you create a calming space for your sleep? Find out how you can turn your bedroom into a peaceful oasis below.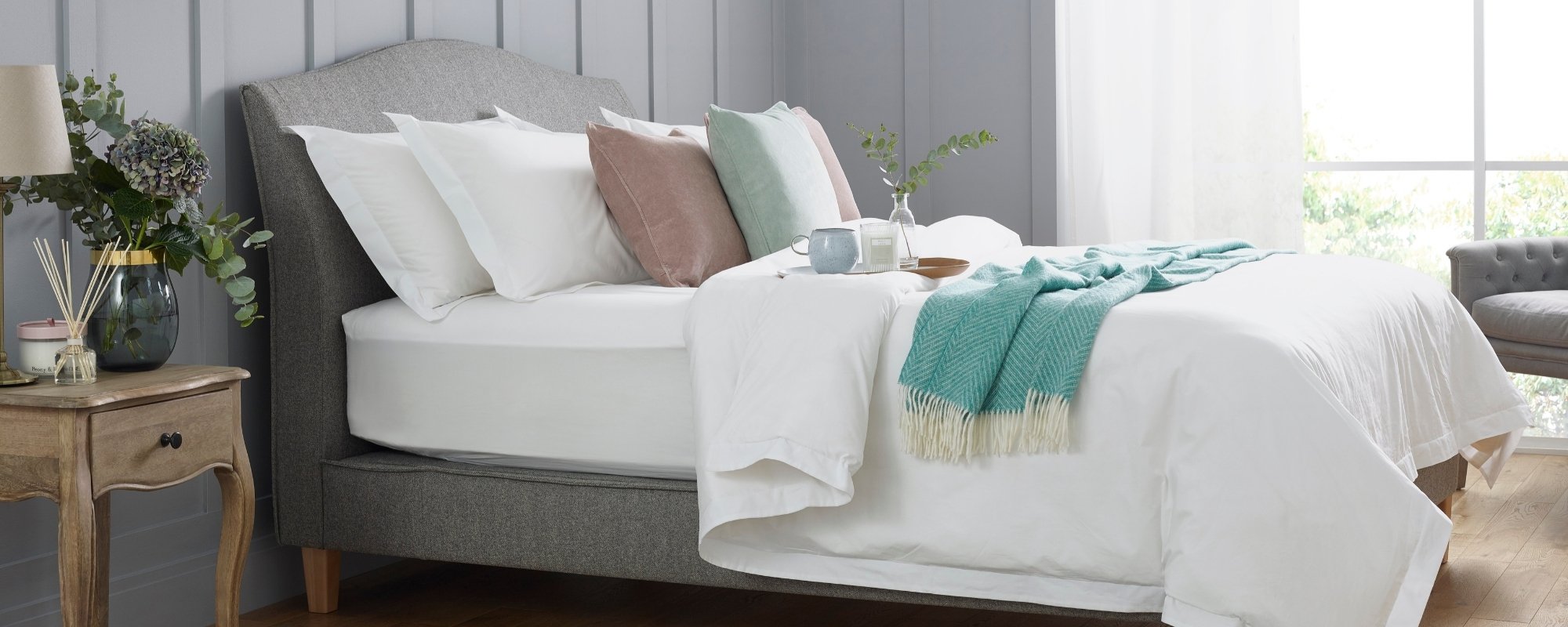 How to style a bedroom
Interior design is a broad concept that involves a lot of thought and consideration to get right. But bedroom styling isn't all about incorporating your aesthetic and reflecting your personality.
Your best bet for creating the best sleep environment is to keep it simple and add a few finishing touches.
Looking for some inspiration to help you create the perfect bedroom environment for good sleep? Follow our bedroom styling tips for designing the perfect sanctuary. Because with just a few simple changes, you can transform the look and feel of your bedroom – sending you off into sweet dreams.
Find out how to style a bedroom for better sleep in just a few simple steps.
Bedroom styling tip 1: Dim the lights
It's no secret that bright lights can affect your internal body clock – light is a cue for your circadian rhythm, which is a 24-hour cycle that helps to regulate your sleep. That means bright lights at night can trick your brain into thinking it's daytime, which then makes you more alert and less ready for sleep. Therefore, it's best to keep your bedroom as dark as possible. When it comes to lighting and bedroom styling, keep it simple and muted.
What you can do…
If possible, use dimmable light switches or lamps so that you can manage the strength of the light before bed.
If you don't have a dimmable light switch, stick to using smaller lamps at night that aren't as bright or overwhelming.
Make sure you use a lampshade to mute the brightness of the lightbulb at night, making it less harsh on the eyes.
Low colour temperature bulbs and wattages can help make it easier to doze off.
Opt for blackout curtains or blinds to avoid the disturbance of street lights, car headlights or an early sunrise.
Keep a sleep mask next to your bed to help cover your eyes. It should be comfortable with a secure band – breathable fabrics like cotton or silk are ideal.
Bedroom styling tip 2: Keep it cool
Too hot to sleep? The temperature of your bedroom should be kept at a comfortable level, as any excess heat can make it harder to sleep. Overheating at night is completely normal, and can be caused by a variety of factors – whether that's because the heating is set too high, your bedding is too heavy or it's simply just a warm night. But you may also be suffering with night sweats.
As well as adjusting your thermostat, there are a few simple changes you can make to help adjust your temperature at night.
What you can do…
Where possible, install a ceiling fan or implement an electric fan into your bedroom styling.
Keep a window open at night to let the fresh air circulate around the room.
Wear suitable nightwear made out of breathable, cool fabrics.
Choose breathable bedding to help control your body temperature – natural fibres are preferential over synthetics.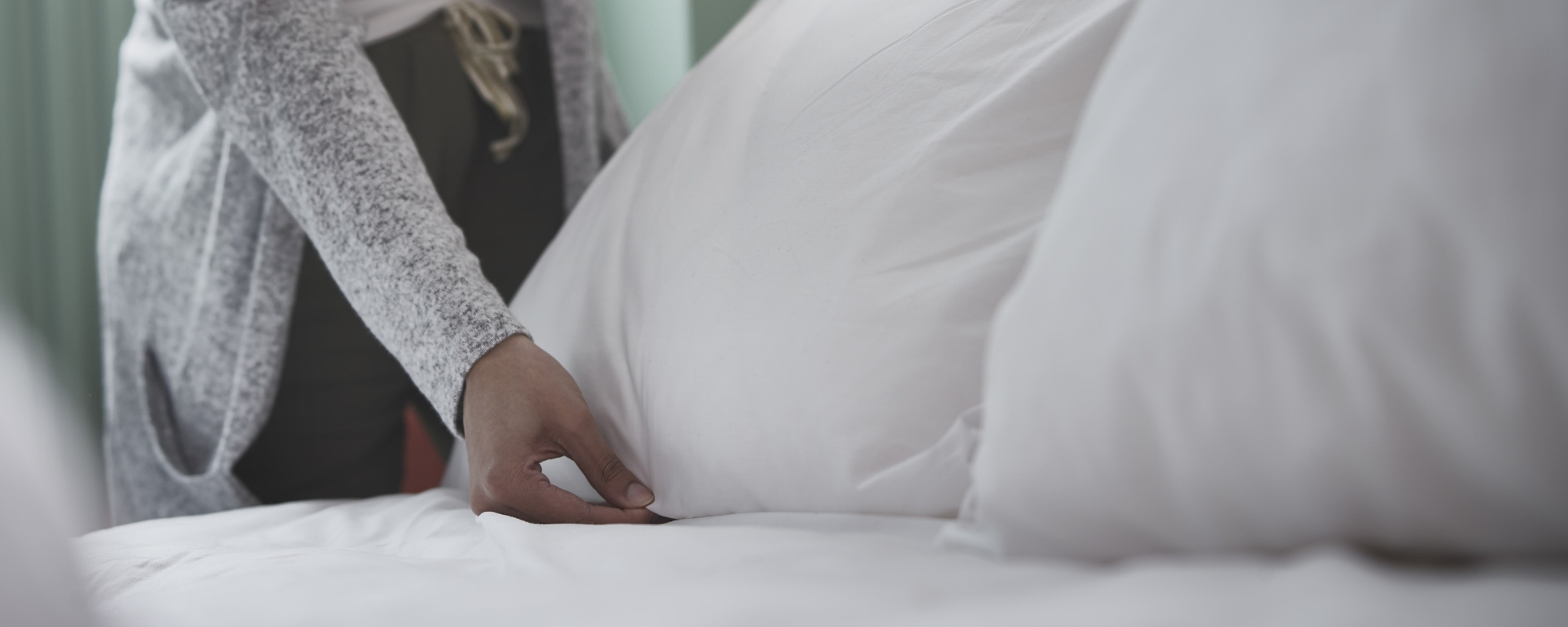 Bedroom styling tip 3: Cut the clutter
Mess and clutter can be the cause of a tense environment – and stress is a well-known factor that affects quality of sleep. Whether there's a pile of dirty laundry on the floor, or personal items that you haven't quite gotten around to putting away, you may start to feel overwhelmed with the feeling of unfinished business. Much like the worry of a looming task at work, housework can have a similar effect. And ultimately, this stress and anxiety can make it harder to settle down at night.
What you can do…
Make sure your bedroom has enough storage to hide away the clutter and leave your room feeling clean and tidy.
Only keep what you need. This will help to maintain tidiness in your bedroom and clear out unnecessary clutter – physically and mentally.
Spend a few minutes every day tidying and clearing up some of the mess – this helps to spread out the task and make it less overwhelming, while maintaining a positive sleep environment overall.
Bedroom styling tip 4: Turn off the screens
You might like to kick back in bed and watch an episode of your favourite TV show before you sleep, but electronics can actually have a negative effect on the quality of your sleep. As with lights, exposure to screens before bed can delay your body clock and impact the release of melatonin. The blue light from screens plays tricks on you, which surpasses your melatonin levels and makes it harder to fall asleep.
Find out more about
screen time and sleep
in our blog.
What you can do…
Try to avoid putting a TV up in your bedroom – keep it in the living room and away from your bedroom environment for good sleep.
Keep a book by your bedside table as an encouragement to read before bed, rather than looking at your phone.
Keep your phone in a separate room overnight to avoid temptation. If you charge your phone overnight, then move the charger too.
Place an alarm clock on your bedside table – that way there's no "I need my phone for my alarm" excuse!
Bedroom styling tip 5: Turn the volume down
Whether it's a TV, a snorer or the buzz of a busy road, there are many sounds that can prevent you from getting to sleep – or that can wake you up just as you start to settle down.
What you can do…
Soft rugs can help reduce noise – particularly where hardboard floors are involved. They can also act as sound buffers by dampening the vibrations and deflecting noise.
Upholstered furniture and beds also have a similar effect when it comes to reducing noise.
Pick up a sound machine to play relaxing sound patterns or white noise.
If your partner, or someone else in the house, is a snorer, try repositioning their pillow or looking for a different firmness to see if that helps.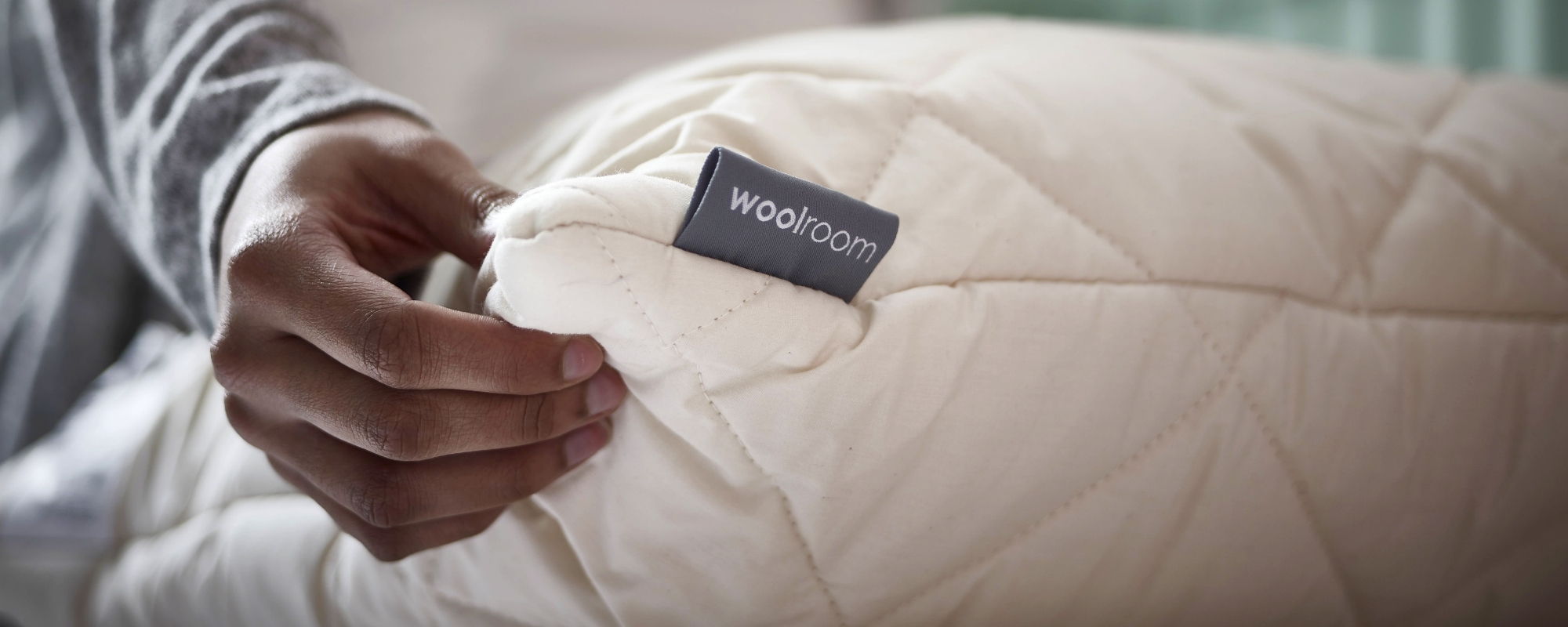 Bedroom styling tip 6: Say goodbye to synthetics
Your bedding plays a huge role in your quality of sleep – it's the centrepiece of the bedroom. And because you spend a third of your life in bed, you want to make sure that it's the best place to be, starting with the materials. Natural fibres like wool are the preferred choice, while synthetic fibres can make you feel hot and clammy. Wool is nature's miracle fibre which offers many benefits that man-made fibres can't match – from temperature regulation to naturally hypoallergenic qualities.
What you can do…
Use organic cotton bed linen that is designed to maximise breathability and naturally enhance the benefits of your sleep environment.
Invest in a new, natural fibre mattress that contains natural fillings, no synthetics and no flame retardant chemicals – giving you the ultimate clean sleep.
Pick up a new wool bedding bundle made from premium natural fibres – completely natural, hypoallergenic, 100% traceable and designed to be cosy and warm.
Bedroom design tips for better sleep
The above bedroom styling tips are quick-fire ways to transform your space for better sleep. But what about the overall look and feel of the room? From interior choices to conscious layout decisions, here are a few bedroom design tips for better sleep.
While you might like bright and vibrant colours, muted tones can often be better for those who have trouble sleeping – sticking to calm neutrals and pastels helps to design a peaceful sleep sanctuary. If you like a pop of colour, try using them within soft furnishings like cushions or throws, or within your artwork.
Carpets are typically the ideal choice when designing the best sleep environment – particularly if you or your partner tend to wake up in the night for a bathroom break. Soft flooring can help to tone down echoes and are quieter under the feet of midnight wakers.
Choose your layout wisely – a cramped space can cause frustration, leading to unsettled sleep. This starts with your bed. If your mattress is too big for the room, it's likely to go downhill from there. You can also make use of under-the-bed storage to free up some space.
Add plants or flowers to bring the tranquillity of the outdoors inside. They add a breath of life and personality to the room, while introducing a pop of natural colour to the space.
And that's how to style a bedroom for better sleep – from the finishing bedroom styling touches to bedroom design tips to create a calming sleep sanctuary.
Create your perfect sleep sanctuary with Woolroom – helping you sleep better, naturally. Browse the complete range of wool bedding online today.
Leave your comment
Your email address will not be published. Required fields are marked*