Moses Basket or Crib: What's Best for Your Baby?
Providing the right sleeping environment for your baby is important to help them sleep safe and sound. So if you're struggling to choose between a Moses basket or crib, or want to know when's the right time for your baby to move from crib to cot, we've put together this guide to help.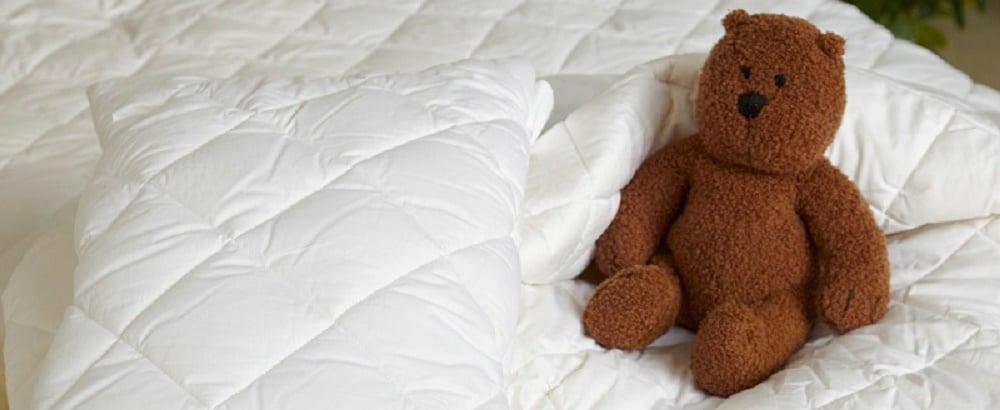 Moses Basket or Crib?
During your baby's first few months, they'll spend the majority of their time sleeping, making the right environment vital to their development. You have several choices for your newborn, but most parents choose between a crib or Moses basket for their baby's first few months.
So which is right for your baby? Actually, this depends on personal preference and how you want to manage your day and night-time routines. We weigh up the pros and cons of each below:
Why Choose a Moses Basket?
As the most portable sleeping option, Moses baskets are ideal if you want to keep your baby with you during the day. Their soft construction and compact size makes them a cosily reassuring space for newborns, helping to soothe them to sleep. For parents, the relatively small size means that you can easily move it from room to room, keeping your baby with you wherever you go.
One key thing to consider if you do choose a Moses basket is that they do offer limited space – meaning that your baby will grow out of it relatively quickly. They are also not suitable for use once your baby becomes more mobile. For most babies, that means they'll be ready for the transition to a crib by the time they're four months old.
Why Choose a Crib?
Much like a Moses basket, cribs can be used for babies from newborn upwards. As well as providing a relatively compact sleeping space, most cribs come with a rocking base that is ideal for lulling baby to sleep – perfect if you do find that your baby prefers to be in motion most of the time.
Because a crib is slightly larger and sturdier, it tends to have a slightly longer lifespan – meaning that you can expect it to be around six months before your baby is ready to transition from crib to cot.
One thing you do need to consider is that the sturdy frame means that it's not as portable as a Moses basket, and so can't be moved as easily from room to room.
The SnuzPod Solution
Still struggling to choose between a crib or Moses basket? It may be worth considering The SnuzPod. This hybrid solution provides a mesh bassinet on a rocking crib base. The bassinet can be detached and moved around in the day, much like a Moses basket, while the sturdy base is ideal for keeping your baby comfy at night. As an added feature, the mesh panels in the side allow you to keep your baby close throughout the night.
Cot or Cotbed?
Once your baby has outgrown their Moses basket or crib, the next stage is a cot or cotbed. Both offer a larger, sturdier sleeping space suitable for older babies – so which should you choose?
Why Choose a Cot?
As a sturdy piece of furniture, a cot provides a safe sleeping environment for your baby once they are more active or have outgrown their Moses basket. While larger than a crib, cots are smaller than cotbeds, making them a great space-saving solution for fitting into the nursery.
With plenty of growing room provided, most babies can stay in their cot until they are two years old – and ready to move to a regular single bed.
Why Choose a Cotbed?
If you're looking for a baby bed that will last a little longer, a cotbed can be a smart choice. Although they tend to be larger than a traditional cot, cotbeds are designed to be converted into a first bed for your toddler, simply by removing the tall side panels. This can help to make the transition from cot to grown-up bed a little easier during the terrible twos – although it's worth bearing in mind that cotbeds are still smaller than a full-size single bed, so will eventually need to be replaced as your child gets older.
Creating a Safe Sleeping Environment for Your Baby
While moving baby from Moses basket to cot can feel like a big transition, for you as well as your little one, it's important for your baby's wellbeing that they have the safest and most comfortable sleeping environment at each stage of their development.
As well as choosing the right bed, it's also important to choose the right bedding. To ensure your baby's comfort, look for mattresses and sleeping bags made from natural fibres such as wool, as these help to regulate your little one's temperature and keep them from overheating.
Here at The Wool Room, we've created a
Kids and Baby
range, designed specifically to help your baby benefit from the sleep-enhancing qualities of wool. Why not take a look today?
Leave your comment
Your email address will not be published. Required fields are marked*