Deluxe Washable Wool Quilted Outer Pillow Cover
product code: 0103DELUXECOVER
Our Deluxe Washable Wool Quilted Outer Pillow Cover is for the artisan in you. This is our Deluxe Wool Pillow quilted outer cover, ready to fill with your own fillings at home.


Available for Home Delivery or Click & Collect

Available for Home Delivery
Description
Our Deluxe Washable Wool Quilted Outer Pillow Cover gives you the perfect starting point to experiment with different fillings to create your dream pillow. You'll find great care has gone into our design, from the concealed safety zip that won't get in the way of sleep, to the temperature regulating wool quilted organic cotton.
Easy to care for, our outer covers are machine washable at home, so you can keep your covers looking and feeling great, no matter what you decide to fill them with.
Truly Sustainable
We're completely committed to reducing the impact that plastic is having on our beautiful planet. All our bedding items can be recycled and/or composted at the end of their life, and come lovingly packaged in an iconic part of the Woolroom brand; an all-natural and reusable calico bag.
The Home of Machine Washable British Wool Bedding
It is impossible to make a wool product machine washable without using some form of treatment on the fibre. It's complex and requires a lot of skill and knowledge. In fact, it's taken us over a decade to perfect a range that performs flawlessly, without losing any of the quality that customers expect from Woolroom products.
Ordinarily, if you wash wool, the moisture, heat and movement in the machine will cause it to felt. You might get lucky and get away with a single delicate wash, but over time the natural fibres will start damage beyond repair. Our Deluxe range overcomes this as the British wool we use is bathed in a chlorine solution, which smooths out the natural barbs you find in wool (these are what cause untreated wool to felt).
The solution is then thoroughly rinsed out of the fibre to ensure there is less residual chlorine than you'd find in tap water, and doesn't affect the performance of the fibre whatsoever. Some other brands claim that their wool bedding is machine washable, but unless the wool is treated in this way, it simply cannot withstand the vigorous motion of a washing machine.
In March 2018, we tested our whole range of bedding (including Deluxe) at the University of Bangor for chemical off gassing and we are very pleased to announce that no traces of chemicals or harmful toxins were found in any of our bedding. Please be assured that we always double wash our wool after undertaking this process and remove all traces of any chlorine ensuring that our wool achieves Oekotex Class 100 standard for safety.
Filling
None - customers provides their own
Cover
100% organic cotton, with quilted 100% British Wool layer.
Construction
Quilted Wool layer is completely held in place by quilted stitch pattern.
Washing
Machine washable on wool cycle with woolroom's duvet wash or other wool detergent. Line or drip dry. DO NOT TUMBLE DRY.
Size
This is a standard UK sized pillow (48cm x 74cm)
Technical Specification
Machine washable at 30 degrees on delicate or wool cycle with special wool detergent. Line or air dry only, DO NOT TUMBLE DRY.
You might also want to consider...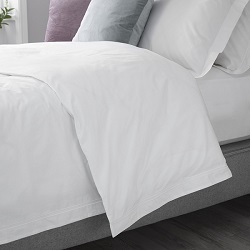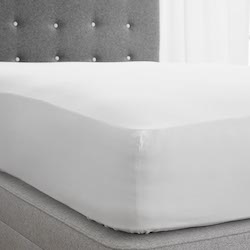 Other Washable Pillows...