The Woolly Mattress Topper
product code: 0105WOOLLYTOPPER
Probably the UK's best, most comfortable mattress topper! The Woolly topper is 9-10cm in depth, naturally hypoallergenic and temperature regulating.

It is hand-crafted using the finest micro spring technologies to ensure no loss of height or compression.

Under the surface you'll find a beautiful blend of hand-selected traceable British wools, which have been sourced through our exclusive Wool ID® programme. This wool ensures the topper works in tandem with your fluctuating body temperature for a well rested night's sleep. Bliss!


Save 25% on Toppers
for a limited time only


Available for home delivery or collect at store

Available for Home Delivery
Description
The Woolly Sprung Mattress Topper. The latest micro coil technology combined with a sumptuously soft layer of Wool ID® traceable British wool.
All the hypoallergenic and temperature regulating benefits of British wool in one package. We're offering quality support and natural comfort for you and your mattress.
Product Benefits
Introduction of micro coils ensures no loss of depth, and increases comfort and longevity
Naturally temperature regulating
Naturally hypoallergenic
Constructed using Wool ID® traceable British wool fibres for the ultimate clean sleep
Contains no synthetic materials or fibres, just 100% traceable British wool
Naturally flame retardant without chemicals
Naturally mould, mildew and dust mite resistant
Long-life durability
Natural, sustainable, renewable and biodegradable
5 year warranty
Technical Specifications
Coil Count:

1000

Coil Type:

30mm Micro coils

Topper Depth:

9-10cm

Fillings:

1000gsm ' 300gsm Wool ID® traceable British wool pad

Outer Cover:

Ticking - natural fire retardant merino/viscose sleep surface, quilted with 200gsm of Wool ID® traceable British wool

Base:

Naturally fire retardant BCI cotton base

Chemicals:

None - wool is naturally fire retardant, so no need for chemicals or sprays

Tension Rating:

Soft to medium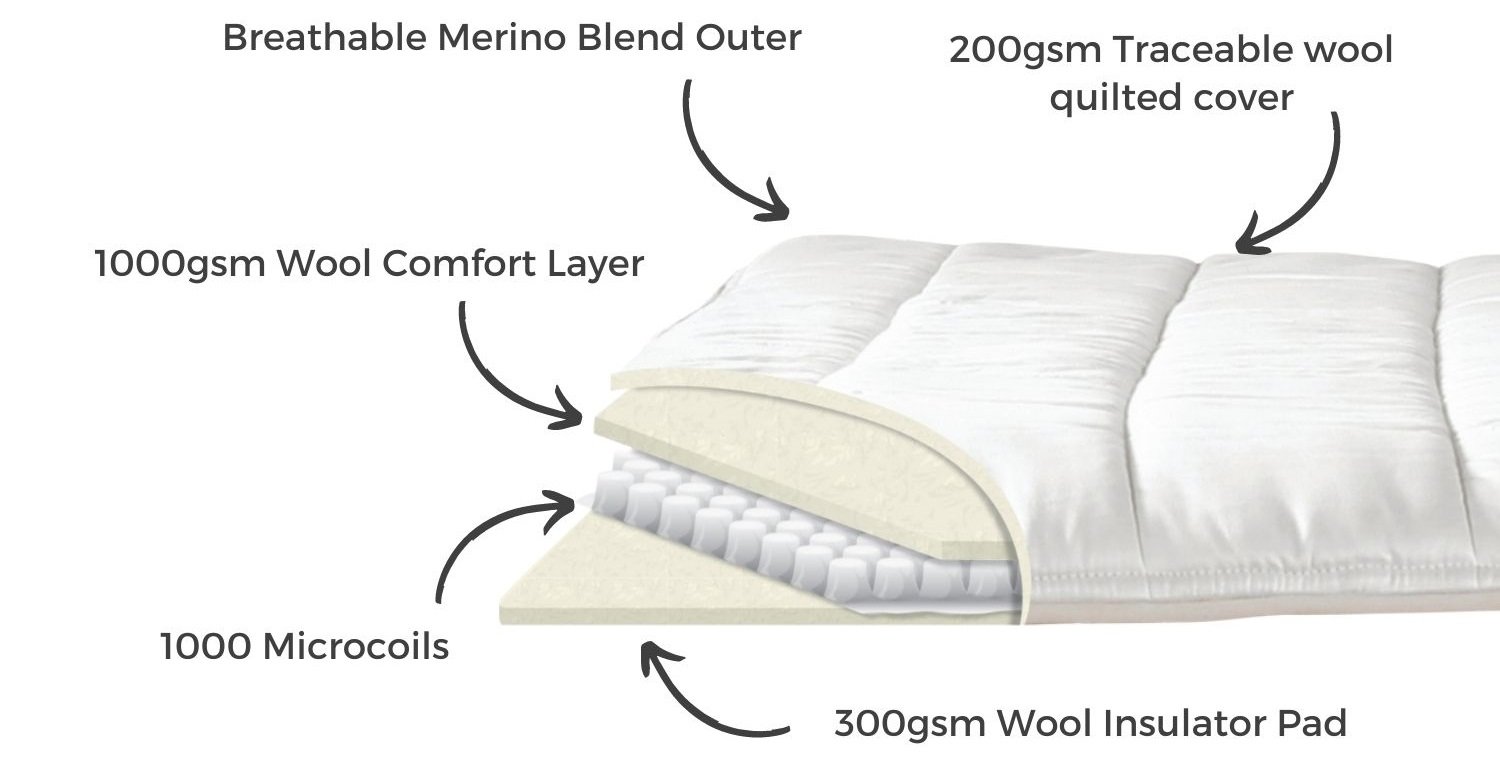 Innovative Pocket Sprung Mattress Topper
As sleep experts, we know what it takes to achieve happier, healthier sleep and we've taken
wool mattress toppers
to the next level. Our woolly mattress topper combines a soft British wool filling with micro coil technology to provide exceptional support that is unmatched by memory foam and other synthetic alternatives it's a unique construction that works with your new or existing mattress to offer a cloud-like surface for happier, healthier sleep.
The layers of micro coils provide exceptional three-dimensional support, as well as reducing compression for enhanced longevity, while the British wool comfort layer provides a soft surface to sleep on.
Traceable British Wool with Wool ID®
Peace of mind for our customers has always been at the forefront of our minds after all, an unsettled mind leads to unsettled sleep. That's why we've developed our
Wool ID® Programme
. It's our promise to doing right by our sheep, farmers and the planet. It means that you can trace the wool in your sprung mattress topper right back to the British farm that it came from.
Ultimately, it provides sourcing integrity and promotes healthy animal welfare. We can offer definitive proof of the sustainable, ethical nature of the wool used in our wool mattress topper with springs. So, the only sheep you need to worry about are the ones you count to fall asleep.
Are Mattress Toppers Hot to Sleep On?
Generally, mattress toppers aren't hot to sleep on, but there are some materials (namely synthetics and memory foam) that retain more heat and therefore lead to overheating v resulting in a clammy sleep environment and a bad night for you.
Our wool mattress topper with springs works with your body to create a comfortable space for better sleep. Topped with a thick layer of British wool over our innovative spring technology, we can add extra comfort as well as aiding temperature regulation keeping you cool when you're hot, and warm when you're not! It absorbs any moisture when it gets a little stuffy, and holds onto the warmth when the surrounding temperatures are dropping, keeping you at an optimum temperature for snoozing all year round. Not to mention the natural hypoallergenic properties of wool that work to fight off dust mites and other allergens.
Now that's why we choose wool.
100 Night Sleep Trial
We're so confident that you'll sleep better on one of our natural sprung toppers that we'll offer you a 100 Night Sleep Trial when purchased with one of our wool mattress protectors*. Simply put, if you're not sleeping markedly better, we'll offer you a full refund on your topper.* Please note we recommend our 45cm skirt (deep protector with the Woolly Topper
Do I Need a Mattress Protector or Topper?
Mattress toppers and protectors offer a whole host of benefits:
Mattress Protector:
Love your mattress? Want to keep it free from stains? A wool mattress protector provides temperature regulating layer between you and your mattress whilst also helping to help protect against spills and mess, keeping your mattress fresher for longer.
Mattress Topper:
Struggling to sleep on an uncomfortable mattress? Choose a wool mattress topper to add an extra thick layer of padding to your bed for maximum, luxurious comfort.
While our sprung mattress toppers and wool protectors work separately to enhance your sleep, they both have different functions. So, investing in both will, quite literally, help you cover all bases.
Delivery Information
Delivery within 10 working days*
Delivery to the door
Technical Specification
Technical Specifications
Perfect for: Added additional comfort to a firm or old mattress. Good for temperature regulation too.
Filling weight: 1000gsm
Thickness: 9-10cm
Filling: 100% traceable British wool
Outer Fabric: 100% unbleached 200 thread count organic cotton
Attachment: Elasticated corner straps
Construction: Carded traceable wool enveloped in 200 thread count organic cotton
Care Instruction: Dry clean using a non-toxic service for best results. This topper cannot be machine washed or tumble dried.
Designed and developed in the UK. Assembled in the EU.