Do you struggle with high body temperature or a fever in the evening? Here we look at the science behind body temperature control and some of the reasons why you might be overheating in bed. With our 30 and 60 night sleep trials available on selected bedding products, we have taken the risk out of your purchase, allowing you to try your products before committing. If they don't help with your quality of sleep and aren't performing as you expect then you can return your order for a full refund. Simple, convenient and completely risk free, and it will even be delivered in 1-2 days at no extra cost!

Why is your body temperature too high?
Did you know that temperature fluctuations at night are completely normal? So, if you're finding that you have a high body temperature that's disturbing your sleep, know that you're not alone. In fact, it's part of your body's circadian rhythm or internal clock, helping to control your sleep cycle. Thanks to your body's natural hormones, your core temperature drops in the evening ready for sleep. This is what helps you to nod off. It then rises again in the morning preparing you to wake up. Some people can be particularly sensitive to this change, leading them to wake up feeling too hot during the early hours.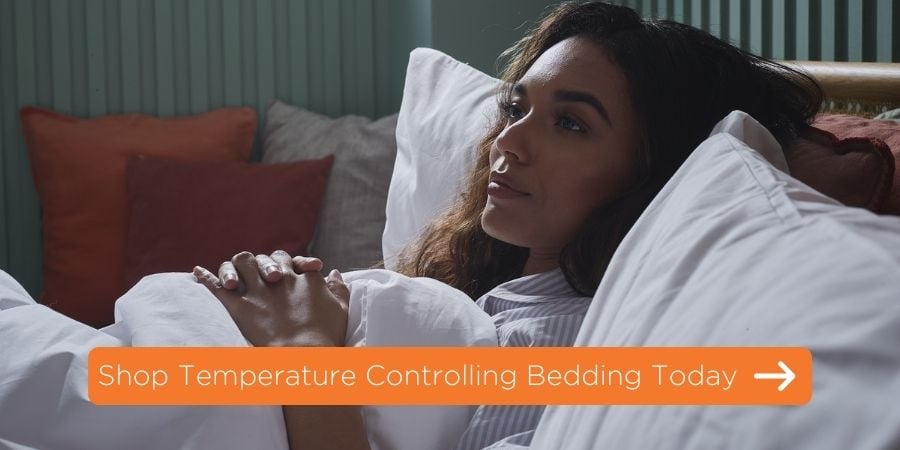 How to regulate body temperature
If you suffer from a fever in the evening or a high body temperature, what can you do to control it? Firstly, it's important to know the science behind the problem. Your body temperature regulator is called the hypothalamus. It is located at the base of your brain and works like a thermostat, responding to internal and external factors to keep your body within a degree or two of 98.6°F. The hypothalamus releases chemicals and hormones and works together with other parts of your body that are responsible for body temperature control - such as your skin, sweat glands and blood vessels. Together they allow your body to warm up or cool down as needed to maintain a constant healthy temperature. The main two ways your body does this are through shivering and sweating.
Common issues with body temperature control
Sometimes, the hypothalamus struggles with body temperature control. This can lead you to warm up or even overheat. When this happens at night it can be particularly unpleasant, leading to broken sleep and even uncomfortable
night sweats.
There are a number of reasons this might happen...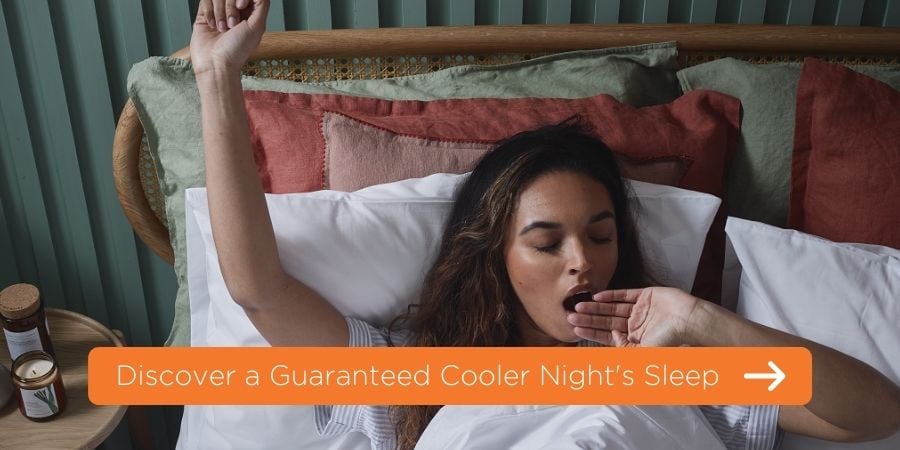 Reasons you might experience high body temperature when sleeping
If you're wondering how to control body temperature, it's worth learning a bit more about what might be causing it in the first place to see if you can eradicate some of the problems naturally. Here are some of the reasons you might find you struggle with extremely high body temperature while sleeping:
Female hormones have a lot to answer for. As a woman, you'll notice that in the days leading up to your period, your temperature rises slightly. While it might not be much, this can affect sleep and leave you feeling hotter than normal under the covers.
At a more extreme level, when you reach perimenopause and menopause you may find that erratic estrogen hormones lead to blood rushing to blood vessels under the surface of your skin. This will cause your skin to flush and can result in hot flashes at any time of the day or night. But many women find that these are more disruptive at night.
Pregnancy can cause you to struggle with body temperature control, again because of the high levels of estrogen circulating around your body.
A cold or fever may lead to high body temperature at night as your body fights to rid itself of infection.
Certain drugs, such as prescribed antidepressants and other psychiatric medications, can lead to high body temperatures at night.
Certain medical conditions such as thyroid disease and some cancers can disrupt the number of hormones that are released into your body to regulate metabolism and other processes. This might lead to unwanted symptoms such as sweating or an increased sensitivity to temperature. This can be worse at night as your body's temperature naturally rises in the early hours.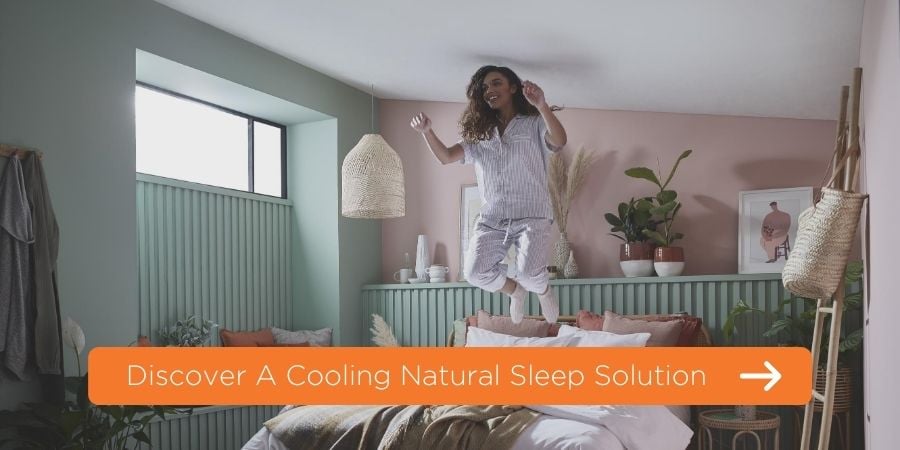 Other factors that can affect high body temperature at night
While there's not much you can do about the natural occurrences of your body, there are a few lifestyle changes you can make that will help with body temperature control. Your sleep environment can hugely affect your body temperature, causing you to wake if you become too warm or too cold. Here are some things to consider if you're consistently waking with a high body temperature at night:
Room temperature – a dip in temperature is useful to help your body ready itself for sleep. That's why a cool room can be beneficial. Keep layers on hand though, so that if you awake feeling chilly later in the night you can pull another blanket over yourself.
Mattress temperature regulation - some types of mattress can make body temperature control more difficult than others by trapping warm air between your body and the mattress itself. Memory foam in particular could cause you to experience high body temperature while sleeping. Why? Heat from your body is transferred into the foam to help make it warm and mold to the shape of your body. While this may make the mattress more supportive, this heat is reflected onto your body and can lead to overheating. Adding a wool mattress topper to your bedding is the way to go if you want something that acts as a body temperature regulator. With its temperature regulating capabilities, you're much less likely to be woken up by a hot sweat or a fever in the evening
Choice of comforters and bedding – non-breathable bedding (such as polyester) could exacerbate any problems of high body temperature while sleeping, as your body heat will be trapped inside the covers with nowhere to escape to. Instead opt for breathable wool bedding that will help with your body temperature control and reduce the likelihood of night time awakenings through being too hot. By choosing bedding that helps to keep you cool when you're warm and warm when you're cool, you'll be much less affected by spiking temperatures overnight.
Is your body temperature too high while you're trying to get some shut eye?, try creating a more cooling sleep environment by using some of the tips above. But if you continue to struggle, or you can't pinpoint the cause, you should discuss your concerns with your physician.
Find more ideas to help you sleep better at night when you visit our
Sleep Health & Advice hub.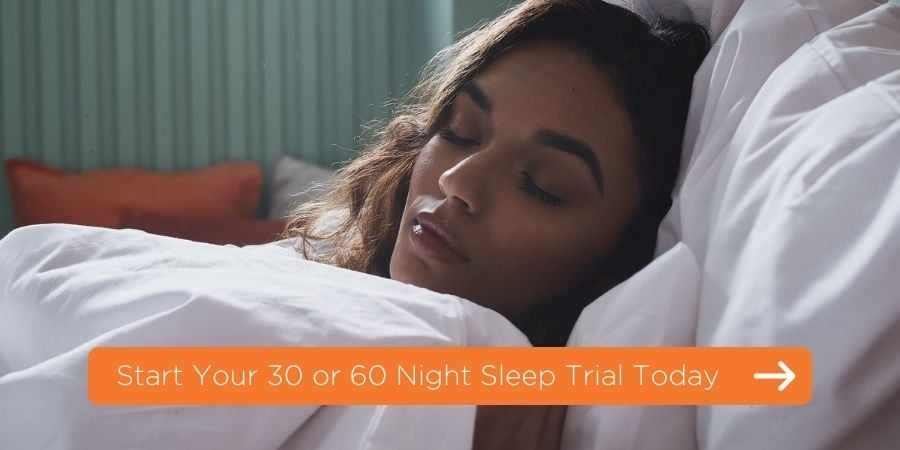 Comments
I'm 36. Upstairs is set to 66* (HVAC) and I still run a window unit on full blast. I freeze my husband unless he cuddles to me and then he wakes up sweating too. I've had my thyroid checked and I'm not on any kind of medications. I sleep with minimal amount of clothing, cooling tech. mattress and pillow and bamboo sheet. * I don't use a blanket because they're too hot* I'm miserable. He's miserable *he usually goes to one of the kids rooms and sleeps there*
Please help
Woolroom's Customer Care Team
HI,

We are sorry to hear you are struggling. Do you have any latex in your mattress or memory foam as this can cause over heating?

Sounds like you are on the right track with natural so it may be something in your sleep environment such as the mattress that could be making the increase in heat.

Thank you,
Woolroom
"
I Gt A Sudden Hot Flash
"
Im 42 man i recently sufferd frm the covid n recoverd hwever ever since i try slping n suddenly wake up n cnt go bck to slp this destroying me bcuz im gtting very little slp at night sumtimes 1 or 2 days w no slp at a time seems to keep gtting worse no matter hw tired i am..
Woolroom's Customer Care Team
Hi Alfred,
Many thanks for your post, you should try our bedding as this will help you to regulate your body temperature, and help you get some quality sleep.
Kind regards
I am 50 years old, I had a child at 43 which threw me into menopause. I have night sweats so bad, I sleep with a fan on all year round. I know that that is not good cause it's messing with my sinuses and making my bones stiff but I be burning up. I been in and out of the doctors office and she has run all kinds of test. No solutions. I'm talking soak and wet hot. My hair and all, from head to toe. I see you say wool bedding. I am highly allergic to wool so do you have any other solutions that can help me. I really need it cause I don't get any good sleep at night. My 2 sons complain cause I have the house freezing with the air conditioner and the fan on. I'm up turning it off and back on all night cause my body temperature is going crazy.
Woolroom's Customer Care Team
Hi there,

Thank you for reaching out, and I'm sorry to read that you're suffering horrifically with night sweats. Unfortunately, we only specialise in wool so don't offer any alternatives. Wool really is the most effective fibre for keeping you at a cool temperature while sleeping.

Can I just check whether you have a lanolin allergy, or whether it's the prickle from wool that brings you out in rashes? All the wool in our bedding is beautifully encased in cotton, meaning you'll never feel the wool against your skin.

We twice scour the wool which removes almost all of the lanolin within the fibre, but if you're suffering with a lanolin allergy, I wouldn't be able to absolutely guarantee that you wouldn't have a reaction to it as there is still a trace left in the fibre.

If you'd like to discuss this further, please don't hesitate to get in touch with our sleep experts by phone, email or livechat and we'll be able to help further.

Thanks,
Adam

by

Christine Millership


08 Nov 2020
"
Consider Checking Your Health Via Blood Tests With Your Doctor.
"
I started the peri- menopause in my early forties and had completed the menopause by age 52. However, I still had hot flushes at night after that. I moved areas and got a new doctor who took this seriously and following lots of tests I was diagnosed with a rare type of blood cancer (with a small c.). It won't shorten my life, it is very slow growing, and is controlled by one daily tablet. The only symptom is being very hot at night and this can turn to itchiness during the summer. I now sleep wearing cotton, on cotton bedlinen and an old fashioned mattress that lets my skin breathe, and although I'd love to snuggle down in the warm, if I did I would be itchy until I cooled down! Shame, but there it is.
Woolroom's Customer Care Team
Hi Christine,
Many thanks for the review.
Kind regards
Sarah
So, these days, my body gets to be hot and warm immediately it's night. Most times, I get feverish, too. But what is more concerning to me is that, recently, my stomach gets to be warm/hot whenever I start heating up and it gets me restless and sleepless. I only get to sleep in the midnight. Is it healthy or should I go for a checkup. I am 24 years old. Thanks.
Woolroom's Customer Care Team
Hi,
Many thanks for the review.
Kind regards
Sarah

by

Layla Bonvi


17 Oct 2020
Hi there,
I'm a still sleeper, so once I find my position and sleep in it I usually tend to wake up like that. I wake up with my bed spot damp and if my hair was straightened the night before I wake up with it curly. I sleep aloe but if someone is by me for the night they can barely cuddle because I'm burning up. I'm a 26 year female with standard weight and no health serious conditions. I know they say a women's body gets like that during her menstrual cycle but what if it's always like that.
Woolroom's Customer Care Team
Hi,

It may be your sleep enviroment, if you are sleeping with made made fibres like poylester or polycotton sheets that can cause over heating during the night. You could try more natural bedding or PJ's and see if this helps.


Thank you,
Woolroom
"
Overheating When I'M Trying To Sleep
"
This may sound odd, but I've experienced this for about 15ish years. I'm already a hot bodied person, especially now that I'm adult & overweight. (I wasn't always) But at night it definitely gets worse. I usually spend between 30 minutes to several hours CONSTANTLY switching from laying on my right side, to my left side, to my stomach, to my back, and repeat. What makes me do that is embarrassingly.. my butt. It feels like it's on fire. I'm 20 years old and since I was about 4 or 5 I have to go to sleep laying on an ice pack. It kind of numbs all the heat so I'm focused on a different feeling- the coldness, and it usually helps put me to sleep. When I wake up in the morning I'm not hot though. I'm usually very comfy, sometimes even a bit chilly. It makes me dread going to sleep, dealing with that every night. I plan on seeing a doctor soon but has anyone experienced that? Or at least one specific body part overheating at night?
Woolroom's Customer Care Team
Thank you, we would certainly say to contact your doctor as this is not something we have had before. We have general over heating but not in one specific area so I would see a doctor and go from there.

Woolroom
I'm a 22 year old healthy male. I have to be cold in order to sleep. I keep my apartment on a low 63. I can literally lay in bed with a hoodie and thick cotton pajamas on and be freezing cold during the day morning afternoon evening etc but as soon as i go to lay down i take all those clothing layers off and lay in bed to sleep, and start sweating and tossing and turning all night from being hot
Woolroom's Customer Care Team
Our bodies react differently when we sleep so it could just be you body temperature not regualting very well as you sleep. You could try natural bedding and see if that will help.

Woolroom
Leave your comment
Your email address will not be published. Required fields are marked*