Classic Wooly Mattress
product code: US_0201CLAWOOLYMATTRESS
Our Classic Wooly Mattress offers an affordable all natural mattress combining 2000 coils with the finest hand-selected natural fillings to offer a supportive and comfortable sleeping surface. A simple, yet natural design provides you with a natural environment to let you sleep peacefully.

Order today and take advantage of our 100 Night Sleep Trial when purchased with a Deluxe or Organic Washable Mattress Protector.


SAVE AN EXTRA 5% OFF UNTIL MIDNIGHT TONIGHT
USE CODE - WOOLROOM5


 Free 2-5 day shipping on all orders over $100*. Free returns on all orders*.

Available for free home delivery via FedEx in 7-10 days*
Description
Introducing The Classic Wooly Mattress: A simple, yet natural design.
The Classic Wooly Mattress offers the most natural and superlative sleeping experience with provenance back to the farm. Expertly hand-crafted by fourth generation mattress makers in South Carolina. The Classic Wooly mixes the best of British design and technology with the expertise of local craftsmanship. Independent pocket coils are coupled with hand-picked traceable British wool offering a beautifully supportive and comfortable sleeping surface, whilst a merino wool blend cover ensures this mattress meets all the flammability requirements naturally.
Classic Wooly Mattress - Product Benefits:
Designed and developed in the UK, hand-crafted in the USA
Fully traceable & organic British Wool Comfort Filling
Independent pocket coils to provide exceptional comfort and support as well as longevity
Naturally Fire retardant through a unique merino wool covering that naturally meets US regulations for flammability. (CFR 1632 and 1633)
Latex, Foam, Synthetic and glue free fillings and cover for a 100% natural mattress with no toxic off-gassing
100 Night Sleep Trial when purchased with a Deluxe or Organic Wool Mattress Protector
Shipped to your door in 7-10 working days via a tracked FedEx Ground Service
10 year manufacturing warranty
The Classic Wooly Mattress works great on any flat, sturdy foundation. You can put it on a platform bed, slats, box foundation, adjustable bed, or even the floor.
Classic Wooly Mattress - Technical Specifications:
Coil Count: 2000 coils (based on a Queen)
Coil Types: Edge zoned Inner Coil Unit for extra support
Mattress Depth: Approximately 8 inches
Fillings: Traceable & organic British Wool back to a UK farm
Outer Cover: Natural Merino/Natural Viscose Blend on top and side, organic cotton on the underside
Tufting: Hand-tufted with wool pom-poms for added comfort helping to reduce fillings migration
Chemicals: None
Tension Rating: Medium (6 out of 10)
Hand-crafted in South Carolina, USA by fourth generation mattress makers
Classic Wooly Construction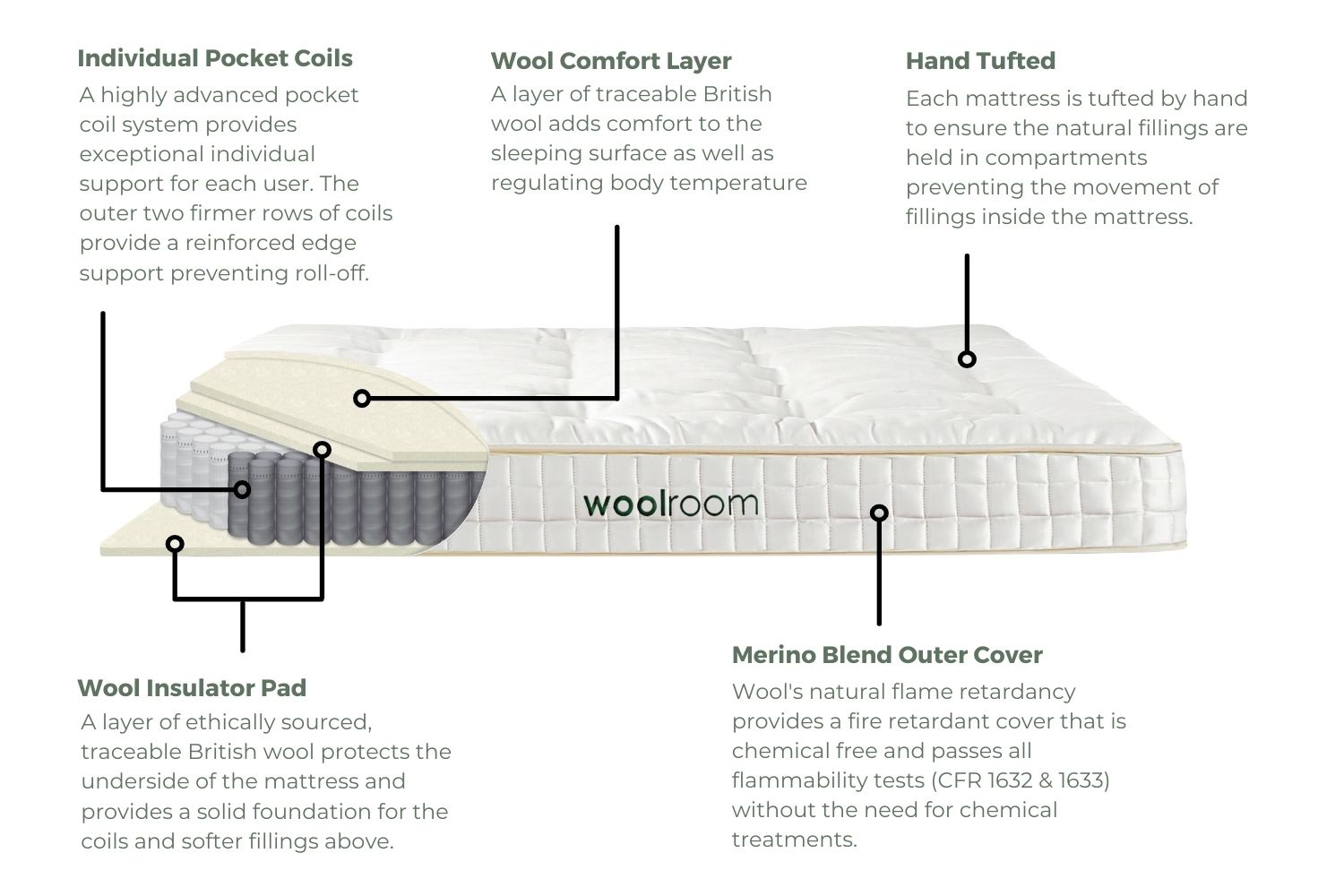 Fully Farm Traceable Wool
Peace of mind for our customers has always been at the forefront of our minds and we have always been proud of our ability to offer high quality, clean and ethically sourced wool from non-mulesed sheep in our product collections.
The Classic Wooly, we believe, is unique in the market in that all of the wool used in the mattress is traceable back to UK farms. We are able to offer definitive proof of the sustainable, ethical nature of our wool - right down to its source at the farm, something that no one else is able to provide. Not only is the wool we buy grown responsibly, but the sheep and the land they live on have also been expertly cared for and each of our farmers are carefully audited to ensure the highest levels (UK Animal welfare act of 2007) of animal husbandry.
Discover our Wool ID® farmers here > >
The Latest Coil Technology For Comfort and Support
The Classic Wooly Mattress combines independent coil technologies together with different layers of hand-picked organic British wool types. Using the very latest coil technology the mattress offers an exceptional level of support that memory foam or latex cannot match whilst offering improved breathability.
Unlike many other mattresses, The Classic Wooly is free of foams, synthetics, glues/adhesives, petrochemicals and chemical flame retardants. Every component of The Classic Wooly Mattress is recyclable, breathable, eco-friendly and ethically sourced to provide the ultimate comfort to you and sustainability for our planet.
Naturally Flame Retardant - No Chemicals Used
Most mattresses will use an Flame Retardant (FR) sock or barrier (which is synthetic) or FR chemicals to meet the local laws on flammability. The Classic Wooly has incorporated knowledge learnt from nearly 40 years of strict legal requirements in the UK on flammability and uses the natural flame retardancy of wool (high nitrogen content stops it burning) in the surface fillings and the cover to meet all requirements (CFR 1632 and CFR 1633) naturally.
Cooler Sleep
The Classic Wooly provides a far great level of breathability and moisture management which will result in an improved quality of sleep due to the lack of foam, latex or synthetic fibers. Wool will move significantly more moisture and heat than other fibers and this coupled with the coils will deliver a cooler sleep and also increase the lifespan of the mattress significantly as latex and foam has the potential to breakdown when exposed to moisture for a period of time. As with our wool bedding, wool adjusts to the sleepers body temperature to help manage humidity and temperature resulting in a more comfortable night's sleep.
Technical Specification
Classic Wooly Mattress - Technical Specifications:
Coil Count: 2000 coils (based on a Queen)
Coil Types: Edge zoned Inner Coil Unit for extra support
Mattress Depth: Approximately 8 inches
Fillings: Traceable & organic British Wool back to a UK farm
Outer Cover: Natural Merino/Natural Viscose Blend on top and side, organic cotton on the underside
Tufting: Hand-tufted with wool pom-poms for added comfort helping to reduce fillings migration
Chemicals: None
Tension Rating: Medium (6 out of 10)
Hand-crafted in South Carolina, USA by fourth generation mattress makers