Ever found yourself surrounded by the crumbs of your evening snack in bed the following day? Or perhaps you've treated yourself to a morning coffee in bed, but you've ended up spilling it instead… We've all been there. But when you've invested so much into your sleep environment, you want to make sure that it feels and looks fresher for longer. And seeing as you spend an average of 26 years of your life in bed, your sleep environment deserves a second thought, right?
Wondering how to clean a mattress to keep it squeaky clean? We've got some top tips for cleaning a mattress naturally, as well as some advice on how to clean a mattress made of wool.
How to deep clean a mattress
You spend approximately 1/3 of your life in bed, so making sure that your sleep environment is well-kept and clean is a sure-fire way to achieve healthier sleep. But when it comes to cleaning a mattress, the faster you can act, the better. Find out how to clean mattress stains, how to dry a mattress and more below.
How to get stains out of mattresses
Want to know how to get stains out of mattresses without using nasty chemicals? As a general rule, you should avoid using common mattress cleaning products, as the majority of these contain bleaches or peroxides that may compromise the quality of your mattress. Instead, try mixing together some baking soda, white vinegar and warm water. You can use this mixture to dab away any marks or stains with a cloth, without risking the quality of your bedding. Stuck with the smell of vinegar? Try adding a few drops of natural lemon, lavender or tea tree oil to keep it smelling fresh.
Top Tip:
Before you spot clean, make sure you remove as much of the liquid as possible using a cloth – although avoid wiping or scrubbing, as this could spread your stain even further.
Spilt wine? Dap a small amount of sparkling water on the stain or pour over salt to help soak it up.
How to dry a mattress
Weather permitting, take your mattress outside and let it air dry. If this isn't an option, try leaving it inside with a fan or dehumidifier. The point is to maximise exposure to air circulation to help it dry faster. Leave your mattress to dry for around 24 hours before you use it again, as you will slow down the process.
How to clean a mattress made of wool
Wool is naturally hypoallergenic, chemical-free and generally more hygienic – meaning that it takes a lot less work to maintain. But if you've happened across a few small stains, or if your furry friend tends to leave lots of hairs behind, there are a few things you can do:
Crumbs? Pet hairs? Use a soft brush with light motions to avoid disturbing the wool filling. Most mattresses can be hoovered using the upholstery attachment, but we wouldn't recommend this for wool as the loose fillings get pulled out of place – removing any comfort or support.
Smell? When you first order your wool mattress, you may find that it has a fresh woolly smell. This should disappear after a few days, but after that we recommend airing it out once every week to make sure that it's effectively desorbing and releasing any moisture. Simply remove all of your bedding (including any mattress topper or protector) and leave it for a few hours, opening a window if possible.
Stains? Treat them immediately by drying them out with a dry towel and spot cleaning with a moist cloth – avoid using harsh detergents, cleaners or chemicals when cleaning a mattress made of wool to avoid bleaching the outer fabric. If possible, stand your mattress up to prevent the spill from seeping into the inner fillings. Let it air out for a few hours before jumping back in.
Protection? To shield your mattress from any tough stains or damage, always use a mattress protector. That way, if you come across any larger stains, you can stick your protector in the wash and keep your mattress fresh.
For more top tips on looking after your wool mattress, check out our
wool mattress care guide
– including advice on rotating and turning, choosing the correct base and the do's and don'ts of mattress care.
Time for a new mattress?
Now you know how to clean a mattress, without the use of harsh chemicals, it's time to tackle your own. Are your mattress stains beyond repair? Whether you're looking for something more long-lasting or are hoping to switch up the tension,
finding your most luxurious mattress
can be a bit of a challenge. But with our wool mattresses, you're guaranteed your healthiest, most comfortable sleep yet. Containing natural fillings, no synthetics and no flame retardant chemicals, our mattresses are designed for true comfort. We offer a range of sizes and tensions in our three ranges:
Classic Range: Our entry-level wool mattresses that bring all the benefits of wool at great value prices.
Deluxe Range: Made from British wool and eco-friendly hempure, featuring revolution pocket springs and HD springs for added comfort.
Luxury Range: Handmade from British wool, cashmere, cotton, mohair and hempure – featuring revolution pocket springs, HD mini springs and luxury HD mini springs for our most luxurious sleep yet.
Invest in your sleep environment with a hypoallergenic, natural mattress from Woolroom. Not convinced? Activate your 100 Night Sleep Trial by adding a mattress protector or topper to your basket when picking up one of our
wool mattresses
today.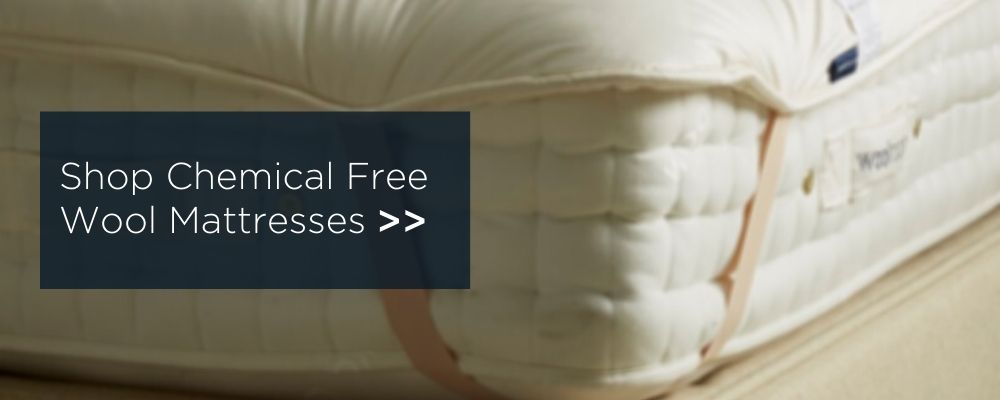 Comments
Leave your comment
Your email address will not be published. Required fields are marked*