We've all been told that counting sheep in our heads will help us nod off to sleep. But the contribution sheep have on providing the perfect sleep goes far beyond that. With wool being regarded as the best material for sleeping, it's no wonder more and more people are choosing wool bedding to snuggle up with at night. But the big benefit of opting for natural wool bedding over a synthetic alternative is that you know exactly where your bedding comes from. As the UK's leading
traceable wool bedding company
, we offer ethically produced wool from flocks of happy and healthy sheep that are cared for by our trusted team of farmers. This added bonus of traceability means you'll get complete transparency on the source of your bedding – from the farm right through to your bedroom.
But where does wool come from? And how is wool made? Find out more about the journey of wool, from the field of sheep to the perfect bedding.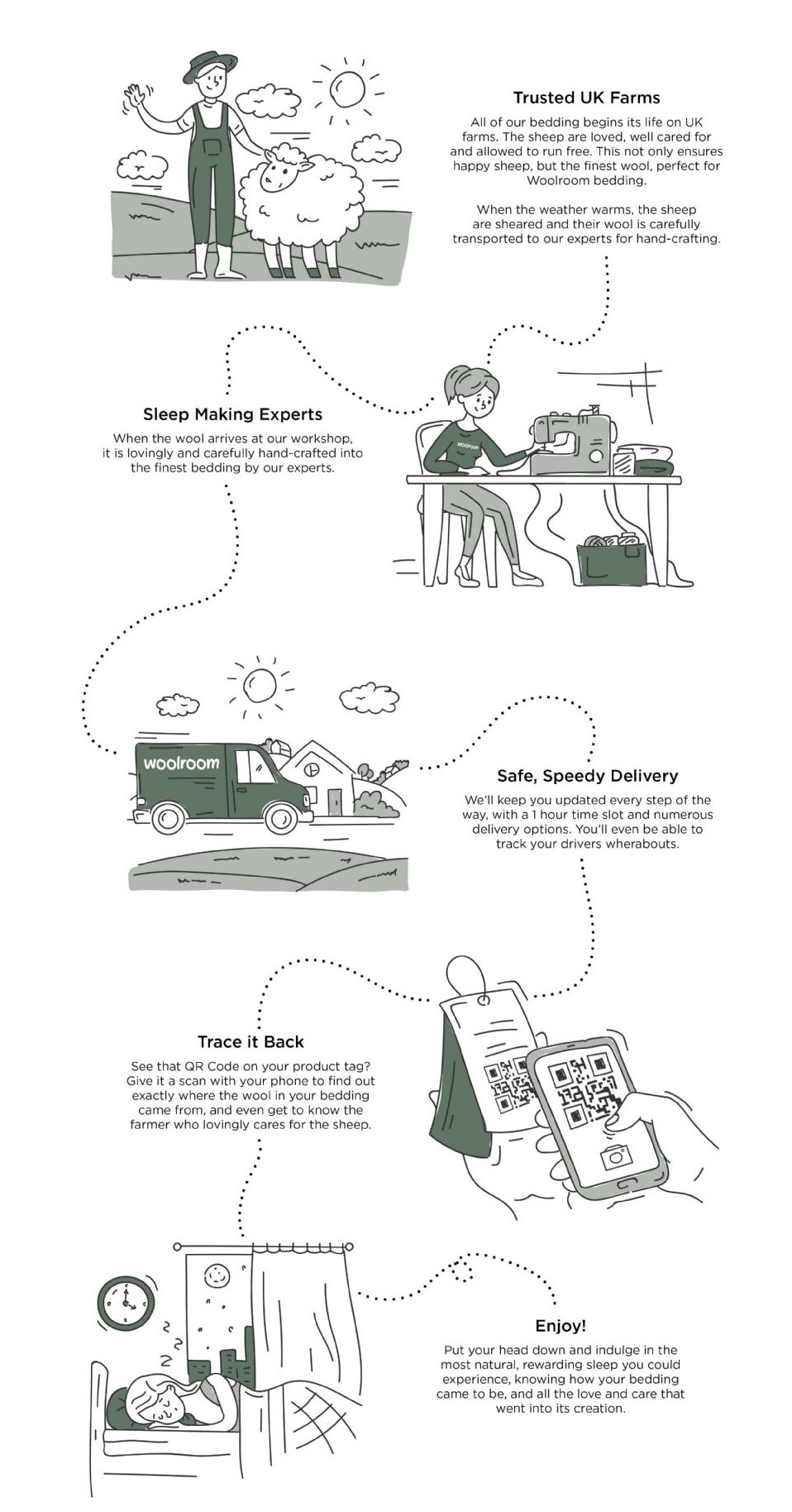 Where does wool come from?
Not only does wool offer a whole host of unbeatable benefits that enhance our sleep, but it's also one of the most ethical, natural fibres out there. And this all starts with where the sheep live.
Step 1
In line with our 5 Freedoms Policy, the farms that our wool is sourced from are independently verified and audited for complete assurance. With no use of pesticides or toxic chemicals, our sheep have been fed on organic pastures for at least two years. This in turn leads to happy sheep, which ultimately paves the way for better quality wool, better quality bedding and a better quality night's sleep.
Step 2
Our traceable wool is organically certified, and sourced from soft, downs type wool from breeds such as Poll Dorset and Texel's located right here in the UK. These sheep are nurtured and cared for by our trusted expert farmers, who are passionate about providing the highest quality of wool.
Step 3
When the time is right, the sheep are shorn by their farmer. Not only is this the first big step in delivering the softest, cosiest wool for your bedding, but it's also a great day for the sheep! We all love a new haircut, but the weight lifted from a sheep's body during this process makes them feel lighter, more free and much cleaner.
Step 4
The wool is then graded, scoured and washed twice in the UK before it is made exclusively for us at the very best factories across the UK and the EU, and many of them boasting hundreds of years of experience between them in their area of expertise. We believe in putting people first, so by investing in the very best companies, we endeavour to ensure that these trades will be around to supply us with the highest quality for decades to come.
Step 5
Once it's squeaky clean and ready to go, the wool is carefully quilted and lovingly crafted into our high-quality bedding by only the most experienced of craftspeople.
The final step of the sheep to sleep journey? It's delivered straight to your door, ready to transform your relationship with sleep forever. And with Woolroom, you'll be able to trace it right back to the farm it came from – even down to the name of the farmer and the breed of sheep!
The journey of wool: from sheep to sleep
Whether you're in the market for a sheep wool duvet to regulate your temperature at night, or you're hoping to find a mattress that puts a stop to your allergy flare ups, the Woolroom sleep solution can help. Our new traceable range is sustainable, biodegradable, natural and completely organic. Discover the ultimate sleep with our collection of
wool bedding
. Got more questions? Find out more facts about sheep's wool and how wool bedding can boost your health by visiting our
Sleep Advice Hub
.
Comments

by

Gillian Shakesheave


25 Feb 2021
It all looks fresh and cosy but is it suitable for people with allergies ie Asthma and Eczema etc
Woolroom's Customer Care Team
Hi, All our bedding is suitable for allergies such as the ones you have listed. Wool doesn't harbor dust mites and is self cleaning so is great and completely natural.

Woolroom
Leave your comment
Your email address will not be published. Required fields are marked*