The Wool Room duvet featured in The Independent
The Wool Room feature on a list of Top 10 duvets in The Independent
Less than a week after our
wool mattress topper was featured in the Daily Mail
(and won 'best on test'), our
wool duvets
have now been featured in an article on The Independent. The article, posted by the daily newspaper, features ten of the best duvets money can buy and ours made the list – hurrah!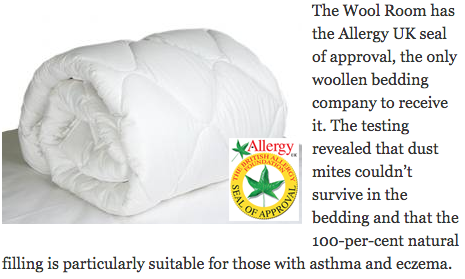 Our duvets are available in 3 ranges – known as Classic, Chatsworth and Organic Washable – and suit all standard UK sizes (Single, Double, King and Super King). Along with their proven medical benefits, our bedding is scientifically proven to deliver up to 25% more regenerative sleep – you can't say fairer than that!

The Classic range of duvets start at just £69.99 and is made from 100% British Wool with a 100% cotton case and 0% synthetic. The Classic range is naturally hypoallergenic (We're the only wool bedding manufacturer to have been awarded the Allergy UK Seal of Approval) and naturally regulates body temperature, making it a perfect solution for night-sweats.

The Chatsworth range is our most popular range, it is also made from 100% British wool and is free from synthetics. Unlike the Classic range, the Chatsworth range is machine washable. The Chatsworth range is available in all standard UK sizes and comes in 4 different weights, all of which are certified by the Allergy UK seal of approval.

Our Organic Washable range features a blend of luxurious British wool with a high thread count organic cotton outer. The Organic Washable range is completely organic and machine washable, though the anti-bacterial and anti-dust mite properties of wool mean you should rarely find the need wash it.
View The Wool Room bedding range here...
Comments
Leave your comment
Your email address will not be published. Required fields are marked*