The Great Woolly Bake Off – Rob's Pavlova
Week 7 of the Great Woolly Bake Off saw our Buyer make his delicious take on a Delia Smith pavlova…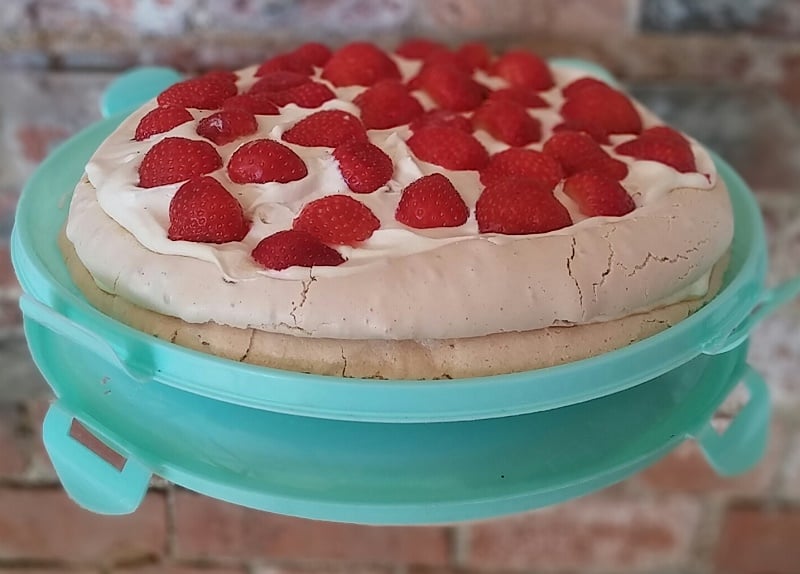 Ingredients:
For the meringue bases (Rob made two)
6 Fresh Egg Whites
350g Caster Sugar
For the topping
Icing Sugar
350g Strawberries
275ml Cream, whipped
Method:
Rob started by preheating his oven to 150c.
Rob then got a glass bowl and placed all egg whites in, before vigorously whisking until stiff peaks formed. Once Rob was able to turn the bowl upside down without the mixture falling out, he knew it was ready.
At this point, Rob slowly added the sugar to his mixture, while continuously whisking until it was all incorporated.
Once done, Rob then spooned half of the mixture out onto a prepared baking sheet and flattened until he had a circle about 20cm in diameter. He repeated this with the remaining mixture to make a second meringue.
Rob added the meringue bases to the oven and instantly turned the oven down to 140c. After 1 hour, Rob turned off his oven, and left the meringues in it to completely cool down.
Once cooked, Rob spread a generous amount of cream onto one of the bases (he incorporated the small amount of icing sugar to his cream) and then added a layer of fresh strawberries before adding his second meringue on top and spreading another layer of the cream.
To finish, Rob then added more fresh strawberries to the top of his bake.
The result:
This pavlova was absolutely delicious, and tasted incredibly light and airy.
Comments
Leave your comment
Your email address will not be published. Required fields are marked*