5 Ways To Create a Boutique Style Bedroom in Your Home
Do you long for that luxurious feeling when you first dive into a sumptuous hotel bed? You're not alone. Your bedroom is your sanctuary. It's a place for relaxation and everyone deserves the chance to experience a boutique style bedroom from the comfort of their own home – away from the stresses of life.
Carefully designed to be individual and personal to you, boutique bedrooms are intended to create a beautiful space… and always with an outstandingly comfortable bed. Because let's face it, that's the most important thing! But what makes your bedroom feel like a luxury hotel room? Find out how to create a hotel bedroom look at home below in five simple steps.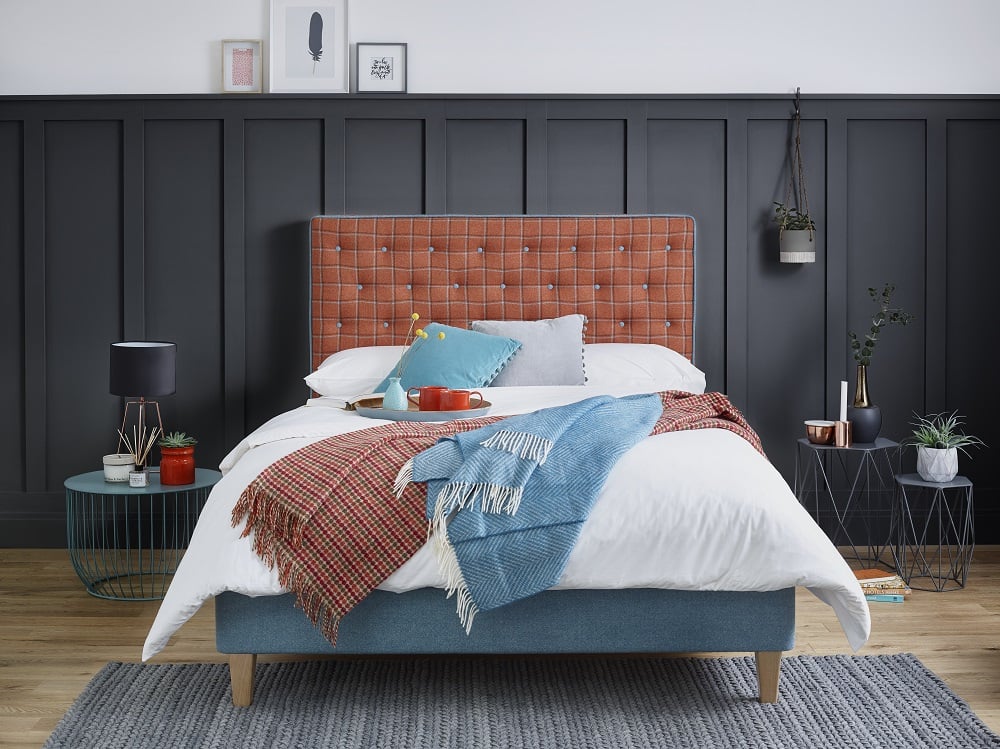 How to create a hotel bedroom look at home
Sleep is not a chore. Take one step closer towards luxury with our boutique hotel style bedroom ideas – the key to feeling like you're on holiday every day (just without the pillow chocolates and turn-down service!).
1. Choose a cohesive colour scheme
First of all, you'll need to decide on the feel of your boutique style bedroom – that includes wall coverings, soft furnishings, artwork and ornaments. Are you after a sleek and contemporary design? Or something a little more quaint and homely? Whatever finish you're after, make sure that your accessories reflect it. But the first stop in our boutique bedroom ideas is the colour palette – choose calm, restful blues and greens, or darker more luxurious shades for warmth. Boutique bedrooms are often eccentric and highly individual. So start adding your own touch with quirky accessories and a large mirror to bounce light around the room. Go as simple and elegant or eccentric as you want to. A lot of designers gather inspiration from Pinterest and Instagram so, if you're out of ideas, this is a great place to start.
2. Maximise the mood lighting
Picture this: you're settling down for bed. Your pillows are plump and the lighting is low. All the best boutique hotel bedrooms use clever lighting to help set the mood. It's one of the simplest and most effective ways to transform your humble bedroom into a soothing sleep sanctuary.
Turning down the lights helps set you up for a good night's sleep. So if your only option is a glaring bulb overhead, you'll find it difficult to relax. At the very least, invest in warm white low wattage bulbs for your overheads, but better still, use smaller lamps to set the mood. You might already have small lamps by your bedside, but why stop there? Light up dark corners with a cosy glow that will make you want to cuddle up and revel in its warmth.
3. Make your bed the centrepiece
There's nothing better than cosying up in a comfy hotel bed with crisp, fresh sheets… and then comes the disappointment of heading back home to your own bed. But the luxury doesn't have to stop there. Why not bring it with you? Our hotel style bedroom ideas will have you sinking into your bed in no time. Tempting, isn't it?
Here's how to dress a bed like a hotel boutique style bedroom:
Start with a luxury mattress – choose one made from natural materials, with as many springs as possible, so you'll simply sink into it, while remaining supported.
Top with luxury wool bedding – thermo-regulating to keep you cool when it's warm and warm when it's cool, hypoallergenic and lightweight enough to drape beautifully over your bed.
Choose plump, wool pillows – encase them in cool, crisp cotton for a sumptuous sleep experience.
Opt for deluxe Egyptian cotton bed linen – to maximise breathability and enhance the wonderful qualities of the wool.
Finally, no boutique bedroom is complete without plenty of plump scatter cushions and throws – just make sure they're in keeping with the design of your room for a complete finish.
Hotel style bedroom ideas:
Make sure you iron your duvet cover and pillow cases for a crisp hotel bedroom style that will make you want to jump into bed the second you've put the covers on.
4. Add freshly cut flowers or plants
Nothing brings a feeling of peacefulness like a little bit of nature. Most people will choose freshly cut flowers and plants that match their aesthetic, but there is method to the madness. There are actually
certain plants that can help you to feel better, sleep better
and wake up with a clear head – making them the ideal addition to any boutique style bedroom.
Try jasmine or lavender for a beautiful scent that will fill the room and help you nod off into a blissful slumber, as well as creating that luxury hotel ambience. Or, if you're not remotely green-fingered, pick up some fresh cut flowers, choosing a colour that works with your scheme. Failing that, cheat and spritz the room with a room freshener of your choice!
5. Lose the clutter
When you walk into a luxury hotel room, are you greeted with cluttered surfaces and walls? No. Recreate this look in your own boutique style bedroom with clever storage. If money is no object, fit floor to ceiling wardrobes, designed especially for your clothing. By maximising the space, you'll be less likely to need freestanding chests of drawers.
Or, if that is a little out of your price range, work on incorporating baskets or boxes that are in keeping with the décor to make sure that everything can be packed away neatly – out of sight, out of mind. Use pretty trinket boxes and knick-knacks to capture the inevitable bits and pieces that always end up lying around.
Create your own boutique style bedroom
Hopefully our boutique bedroom ideas have given you some inspiration for how to create a hotel bedroom look at home. Most of all remember to have fun with your bedroom style. It's a very personal space – your safe haven, if you will. So make sure it's somewhere that instantly relaxes you when you walk in and you can't go far wrong.
Comments
Leave your comment
Your email address will not be published. Required fields are marked*