On the market for some new bedding but not sure which direction to take? Wool and down bedding both make several claims as to why they're the best, so it can be hard to tell the difference. Both are designed for typical needs and both are available in a range of varieties – which is often what makes things even more confusing.
Both materials are sourced from animals, but which is more sustainable: wool or down? And which filling is lighter to sleep with? These are all questions that you might be deliberating – which is why we've decided to highlight the main differences between wool vs. down, to help you on your journey towards a better night's sleep.
Wool vs. Down: where does your bedding come from?
When shopping for more sustainable bedding, it's important to get to know your sources. We've highlighted the origins of both wool and down filling below.
Wool
The most common source of wool bedding is, of course, sheep. We source our wool from soft, downs type sheep, like Poll Dorset or Texel breeds, that are located right here in the UK. Our sheep are cared for in farms that are independently verified and audited for complete assurance – being fed on organic pastures that have not been treated with pesticides or chemicals. Then, when the time is right, the sheep are sheared.
Find out more about the
Woolroom journey
and where our wool comes from.
Down
So where do down feathers come from? Typically, goose down duvets are made with feathers that are already available as a by-product of the farming industry. Several organisations exist to ensure that live feather plucking is no longer used, but there's no hiding the fact that the down and feathers used in bedding are typically taken from birds that are deemed as a natural by-product of the food industry.
What's more sustainable: wool or down?
Unlike down, wool is a completely natural, sustainable and ethically sourced material. To add to that list, as one of the few sustainable fibres that can be shorn and then regrown by the following year, it's also renewable. And shearing isn't bad for the sheep, either. The weight lifted from their body makes them feel lighter, unrestricted and much cleaner – similar to how you may feel after a fresh haircut! So add
traceability
into the mix and you've got a completely sustainable
bedding set
that's good for your sleep and the environment. Our wool bedding is also biodegradable, so once you're done with it, within 6-12 months it will become fully decomposed, nitrogen-enriched compost.
Which is lighter: feather down or wool?
We've discussed the sustainability aspects of wool vs. down, but which one's better to sleep with? And what's warmer: wool or down? Down bedding is lightweight but delivers efficient warmth as the clusters trap and insulate the air, while wool helps you to reach the optimum temperature for a good night's sleep, as it's
more effective at managing moisture
. Wool is also breathable, making it the ideal choice all-year-round.
So, are wool or down quilts better for you and the environment?
You might be wondering: "are wool duvets better than down?". Wool surpasses down and feather bedding across a range of areas. Not only is wool more sustainable and ethical, but it is also hypoallergenic – leaving your sleep environment clear of dust mites and fungal spores, making it ideal for those who suffer from asthma and other allergies. How? Wool wicks moisture away from your body and releases it from your bedding, creating an environment that's too dry for dust mites and allergens to survive in. While feather and down often trigger allergies amongst users, leading to a restless night's sleep. In fact,
research carried out by the University of Leeds
, and commissioned by Woolroom, shows that your chances of a better night's sleep are much higher with wool a wool duvet. So when you're choosing between wool vs. down, the answer really is a no-brainer.
Find out more about
why wool duvets are better than goose down alternatives
. But you don't just have to take our word for it. Check out some of our customers' reviews to see what they have to say.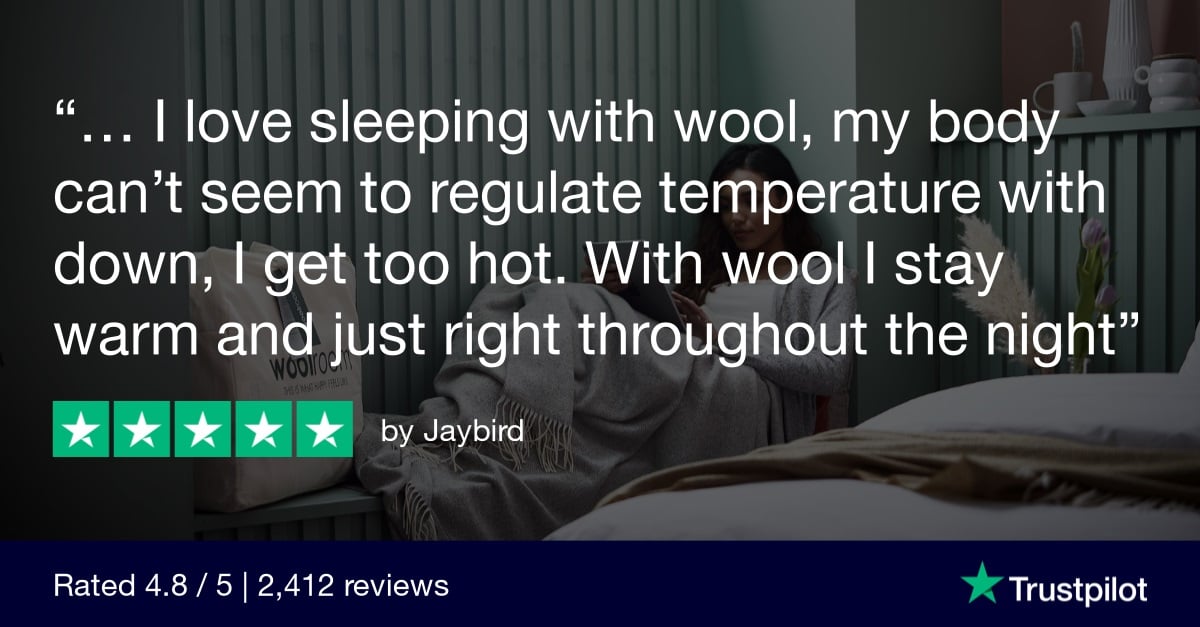 But overall, when it comes to the debate between wool vs. down, wool is a much more sustainable bedding source, designed to bring you quality sleep. And that's the Woolroom difference.
Discover the secret to better sleep with a quality
wool bedding set
from Woolroom. Build your bundle today and feel the benefits in the future.
Comments
Leave your comment
Your email address will not be published. Required fields are marked*