Bedding
Bring the sleep enhancing benefits of natural wool to your bedding. Our bedding range includes duvets, pillows, protectors and toppers; all made from British wool or alpaca fibres.

Browse our bedding range below to find your perfect wool bedding combination.
Sleep Easier with Bedding from The Wool Room
Sheep have got it sussed. Wool has a whole range of qualities that can help you sleep better. In fact, it's scientifically proven to improve sleep quality. Research suggests wool bedding can help provide up to 25% more stage four regenerative sleep. So you'll wake up feeling revitalised and ready to face the day.
Your sleep struggles solved
Night sweats, allergies, simply being too hot or too cold – sleeping with wool bedding can help to alleviate disturbances that wake you during the night.
Its heat-regulating qualities keep you warm when you're cold, and cool when you're hot. Meanwhile, its hypoallergenic properties help to keep dust mites, fungus and other allergens at bay. All of which makes wool bedding a smart choice for sleep.
Discover Better Bedding
We're firm believers that better bedding means better sleep. So what makes our bedding so special?
- It's made from premium natural fibres. We partner British wool with other natural materials such as alpaca and cotton to create your comfiest bedding.
- Hypoallergenic and easy-care. Our bedding has proven effective at keeping allergens away, without the need to freeze it or wash it at high temperatures. That makes maintaining your new hypoallergenic bedding a whole lot easier.
- Allergy UK approved. We're the only wool bedding manufacturer to have been awarded the Allergy UK Seal of Approval.
Ready to discover the sleep-supporting benefits of wool? Browse our full bedding range.

Hypoallergenic bedding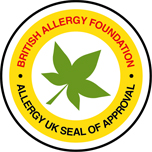 Wool bedding from The Wool Room is the first scientifically proven woollen hypoallergenic bedding solution that is also 100% natural! Recent scientific tests have shown that our bedding is resistant to house dust mites, house dust mite allergen and fungus.

There are many other types of anti allergy bedding solutions on the market, but ours has been proven to be effective without freezing or washing at high temperatures. Bedding from The Wool Room is ideal for anyone who suffers from allergies, asthma or eczema while providing 25% more deep regenerative sleep! We're the only wool bedding manufacturer to have been awarded the Allergy UK Seal of Approval.
Bought for my husband as he has skin allergies. Perfect temperature as he normally over heats in bed . I like to be cosy and it keeps me warm . My husband has found his skin is much better and is getting a sound sleep rather than being woken loads in the past with other duvets . Would definitely buy again
Claire Mackenzie-Fotheringham