US Size Luxury Alpaca Organic Comforter - Super Light
product code: US_0102LUXURYSLIGHT
This is our most organic range to date. All the great benefits of natural wool bedding with a little added luxury and superior softness.

Available for Home Delivery or Click & Collect

Available for Home Delivery
Description
This is our most organic range to date. Filled using a 50/50 blend of organic wool with organic alpaca fibres, and quilted between organic unbleached cotton to deliver our best natural sleep experience. All the great benefits of natural wool bedding with a little added luxury and superior softness.
Feel the Difference
Compared to other types of common Comforter fillings like feather, down, and synthetics you'll notice a difference immediately. All of our Luxury range of bedding is designed to keep you sleeping for longer at just the right temperature. The unique combination of fillings allows this Comforter to manage heat and moisture to effectively reduce humidity throughout the night, bringing you natural healthy sleep.
You'll also have the added benefit of adjusting your required level of warmth with the two distinct layers. The lighter 200gsm layer offers cool summer sleep, the 300gsm layer is great for spring and autumn comfort, while combining the two delivers sumptuous snuggly winter warmth.
Beautifully British
Our Luxury bedding range is hand-crafted using British wool and alpaca which is graded by British wool merchants with centuries of experience in selecting the finest quality fibres.
Product Benefits
Constructed using organic British fibres & organic fabric for the ultimate natural sleep
Contains no synthetic materials or fibres
Naturally flame retardant without any unpleasant chemicals
Naturally hypoallergenic - approved by Allergy UK
Naturally mould, mildew and dust mite resistant
Technical Specifications
Filling weight: 200gsm (equivalent to 3-5 TOG) + 300gsm (equivalent to 6-9 TOG)
Filling: 50% organic British wool, 50% British alpaca
Outer Fabric: 100% organic unbleached cotton
Construction: carded wool and alpaca enveloped in 300tc organic cotton
Care Instruction: Our luxury bedding is entirely natural, so shouldn+t need cleaning often (simply airing the product can do it the world of good). When you do come around to cleaning it, it would need to be taken to a dry cleaners. We highly recommend Johnson Cleaners, who have a fantastic, non-toxic service called Green Earth.
You might also want to consider...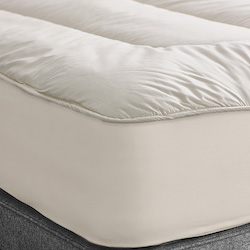 Twin (39x75 inch)
(£249.99)

£199.99
Full (39x80 inch)
(£269.99)

£215.99
Queen (60x80 inch)
(£379.99)

£303.99
King (76x80 inch)
(£459.99)

£367.99
Organic British wool & alpaca blend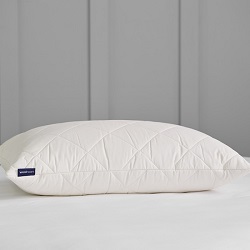 Organic British alpaca & wool blend, standard tension
Other Lightweight Duvets...
We had a low cost hollow fibre duvet, & due to my age, I was feeling boiling hot & then cold at night. I researched thoroughly what might be able to help, and wool duvets came up. I purchased one from the Wool Room, which had fantastic reviews, and am absolutely amazed at the difference it has made. My husband thought that I was going to force him to sleep under a duvet that was going to make him feel cold. Anyway, we are both toasty warm with our different temperature requirements!
Sarah Wilkins